Nine new Hall of Famers added by IJF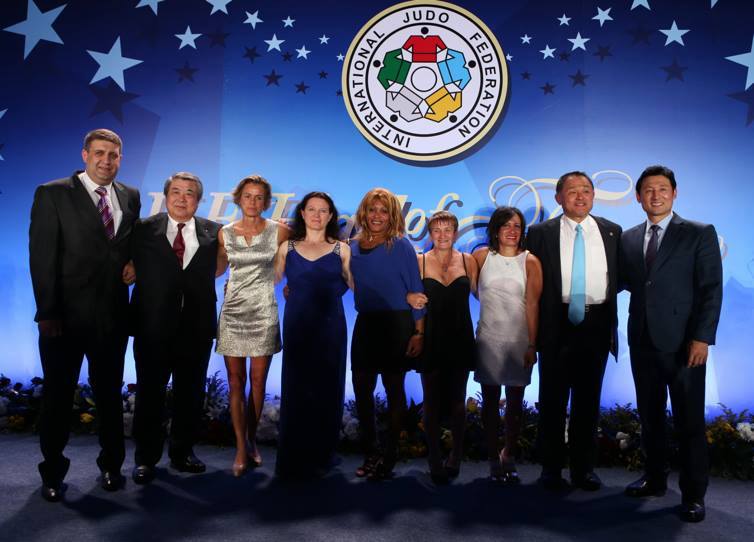 22 Aug 2015 21:25
IJF Media Team / International Judo Federation
Nine new Hall of Famers were added by the International Judo Federation at the occasion of a gala in advance of the World Championships in Astana. The IJF started the Hall of Fame in 2013 and continues this tradition to honour the best athletes in the history of judo.
The IJF presents its Olympic and world champions as heroes and gives them the spotlight their immense talents deserve. The Hall of Fame gala recognises the contributions of these figures in a special setting and a special night to bestow one more honour on these heroes of our sport. The class of 2015 includes Ramaz Chochishvili (GEO), as son of Shota Chochishvili - Haruki Uemura (JPN) - Gella Vandecaveye (BEL) - Maria Pekli (AUS) - Driulis Gonzalez (CUB) - Karen Briggs (GBR) - Soraya Haddad (ALG) - Yasuhiro Yamashita (JPN) - Ki-Young Jeon (KOR).
Ramaz Chochishvili the son of Shota Chochishvili was congratulated for the honours of his father Shota, a legend for Georgian judo, in the time of the Soviet Union. Shota Chochishvili was 1972 Olympic Champion for the Soviet Union. He won bronze in Montreal in 1976. The Georgian legend was suffering from cancer and was undergoing chemotherapy from 2004 until 2008. In 2003 he had a heart surgery and was diagnosed with cancer. He passed away in 2009. Ramaz Chochishvili himself won 3 European Championships medals 1996-2003 and he won four international medals at World Cups.
Japanese Haruki Uemura is the 1976 Olympic Champion and became the 1975 World Champion. He was finallist at the worlds in 1973. He became President of the All Japan Judo Federation.
Belgian Judo legend Gella Vandecaveye is 1996 and 2000 Olympic medallist and 1993 and 2001 World Champ. She won 7 European titles (1994-2011) and 11 medals. Always supported by Eddy Vinckier, coached by Jean Marie Dedecker. Vandecaveye Travelled the world and met with Vladimir Putin and Daila Lama. Tonight she was added with a high honour as Hall of Famer.
Maria Pekli was born in Budapest, but in1996 she moved to Australia she got in conflict with the Hungarian Association which cost her 3 years competition. Lives in Melbourne and won a 2000 Olympic bronze medal. Five times Olympic participant and a legend for Australia. The first Oceania IJF Hall of Famer.
Cuban Driulis Gonzalez is triple World Champion (1995, 1999 and 2007) and 1996 Olympic Champion from Atlanta. Winner of 4 Olympic medals 1992-2004 and 7 World medals. She won over 10 Pan American titles. She dominated the categories U57kg and U63kg.
British Karen Briggs was four times World Champion 1982-1989 but finished 5th at the Barcelona Games. Briggs won 10 European medals including 5 titles U48kg. She won the Tournoi de Paris in 1992. Briggs won countless events in Fukuoka, London, Leonding and many other judo cities.
Algerian judoka Soraya Haddad was 2008 Olympic bronze medallist in Beijing U52kg. She was 2005 Worlds bronze medallist and 7th at 2007 Worlds in Rio de Janeiro. She is multiple African Champion. She had a strong Tai-Otoshi and was coached by Dan Gherghie.
Japanese super star Yasuhiro Yamashita is the best judoka of his generation, a judo phenomenon who won the All Japan title from 1977-1985, 9 years in a row. He won four world titles in 1979, 1981 and 1983. In 1984 he finally won the Olympic title in Los Angeles. Yamashita won 203 matches in a row since 1977 most by ippon. Yamashita was not only added to the Hall of Fame but also in the executive committee of the IJF during the IJF Congress to promote judo around the globe.
Korean Jeon Ki-Young was one of the best judoka of his country. He became Olympic Champion in Atlanta 1996. He was 1993 and 1997 World Champion and fought U78 and 86kg. Later he turned coach and raised a new skillful generation.