Overwhelmed and speechless: golden Howell and Giles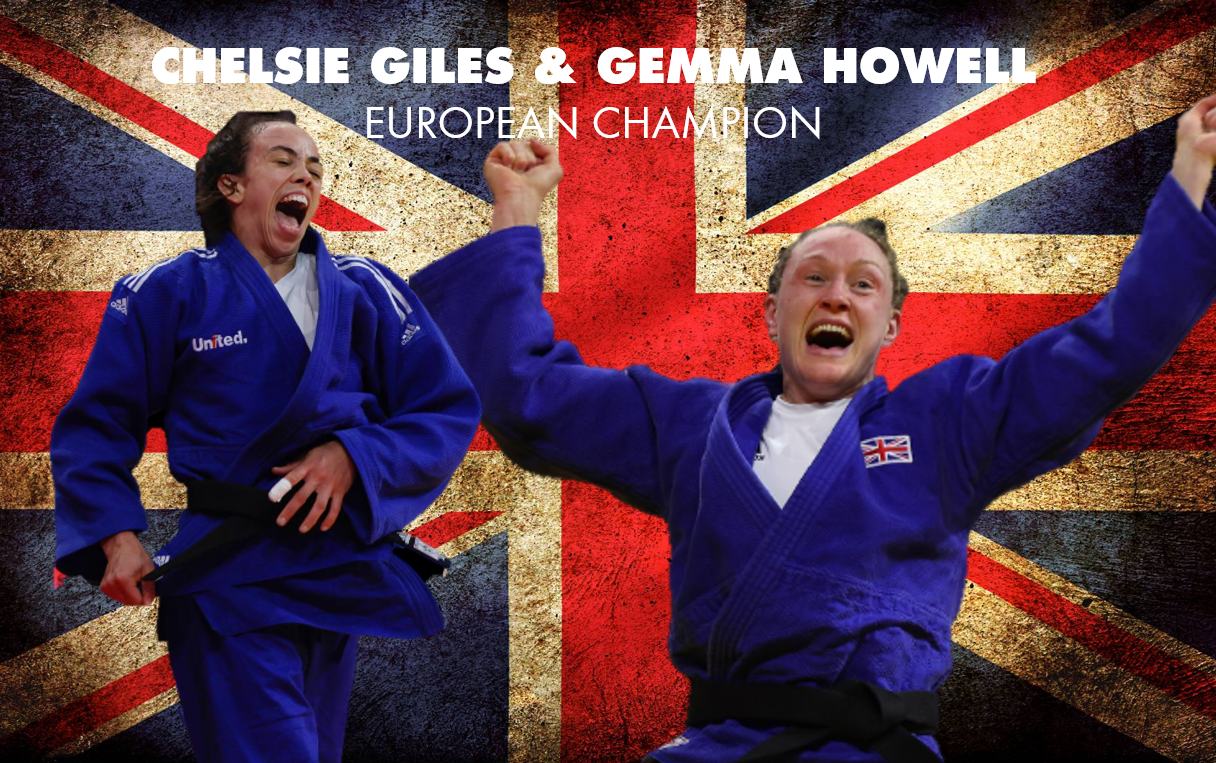 2 May 2022 09:35
JudoInside and British Judo
European Judo Union / EJU / Copyright: www.eju.net
Great Britain celebrated the first European Champions since Sarah Clark in 2006. With Chelsie Giles and Gemma Howell Team GB took two gold medals. It was the first time since 1992 when this happened for two women, 30 years later Giles and Howell were the names on the highest stage of the podium.
Chelsie Giles claimed her first major title as she added the European crown to her Olympic bronze medal in Tokyo on the opening day of the European Championships in Sofia. Following an opening round bye, Giles overcame a tricky opening round contest against Aleksandra Kaleta (POL). The contest entered Golden Score where Giles unleashed her trademark newaza to book her place in the Quarter-Finals. Giles booked her place in the Semi-Finals following a hard fought 8-minute contest against 2x Olympic medallist Odette Giuffrida (ITA). Giles countering a Giuffrida attack, turning her for waza-ari score.
If the opening two contests were a battle of endurance, the Semi-Final was all about strength and power. It took Giles just 90 seconds to defeat Mascha Ballhaus (GER) to secure her place in the Final. Giles displayed some excellent newaza to progress to the Final Block to face world number one, Amandine Buchard (FRA).
There was nothing between the two fighters at the end of the mandatory 4-minutes and the contest entered Golden Score. Two shidos either side of Golden Score put Giles onto the backfoot. An onslaught of Buchard attacks followed, which Giles defended well before the scorecard was evened up at two shidos each. Giles continued to bide her time and when another Buchard attack came, she countered for waza-ari score to claim her first major title.
A speechless Giles couldn't quite believe what she had achieved: "I cannot believe it. It's so overwhelming, I think it will take a while to fully sink in."
Giles has faced Buchard on three previous occasions, with the French fighter coming out on top at all three occasions. Speaking about what she has changed this time, Giles said: "I have spent a lot of time studying those losses to see what I did well and where I can improve. Jamie and I worked on a plan and I am so happy it paid off today."
"I am looking forward to having some time off now and enjoy the moment before the hard work starts for the remainder of the season."
Gemma Howell in shock
Following the gold medal success on day one, Gemma Howell ensured that British Judo fans would not have to wait another 16 years for the next European title. In fact, less than 24hrs.
Howell made it through a potentially tricky opening round contest against Barbara Timo (POR). Howell went to ground, got the arm lock, and forced Timo to tap out.
The current World Championship silver medallist, Andreja Leski (SLO) was next for Howell. As the contest entered its final minute, Howell registered a waza-ari score which was enough to see her progress to the Quarter-Finals. In the Quarter-Final contest, Howell registered a waza-ari score against Geke Van Den Berg (NED) and quickly transitioned into her favoured newaza, applying an armlock which forced her opponent to tap out. European U23 Champion Szofi Ozbas (HUN) stood between Howell and the Final.
Howell picked up a shido early in the contest before the scorecard was levelled. Howell picked up a second shido before the contest entered Golden Score and the scorecard was evened up again. As the fight neared the 6-minute mark, Howell capitalised on an Ozbas error to register a waza-ari score and book her place in her first major championship final.
Howell flew out the block and registered a waza-ari score in the opening 30-seconds of the Final against Laura Fazliu (KOS). Howell continued to dominate and with 90 seconds remaining, registered a second waza-ari score to win her first major title at the age of 31.
Speaking after her final Howell said: "This is the best feeling in the world. To win my European bronze was incredible, so I think I am still in shock!"
Howell has famously battled back from multiple injuries to be where she is today: "The injuries make today even more special. There have been numerous occasions when I have thought 'is it worth this', but it's moments like today that make all the surgeries and months of rehab worth it."
Having recently stepped down to the U63kg category post Tokyo, Howell entered the competition in an unseeded position, facing two world medallists in her opening two contests: "I always knew it was a tough draw and I was in for a hard day, but I just took it one fight at a time, just like any other competition. "I went into each contest with a game plan and I am so happy that all the hard work has paid off. My mum and auntie have travelled out to watch me compete, and it was so lovely to see them in the crowd at the end of each fight smiling."