Kosovo's Driton Kuka wins judo IJF coaching achievement award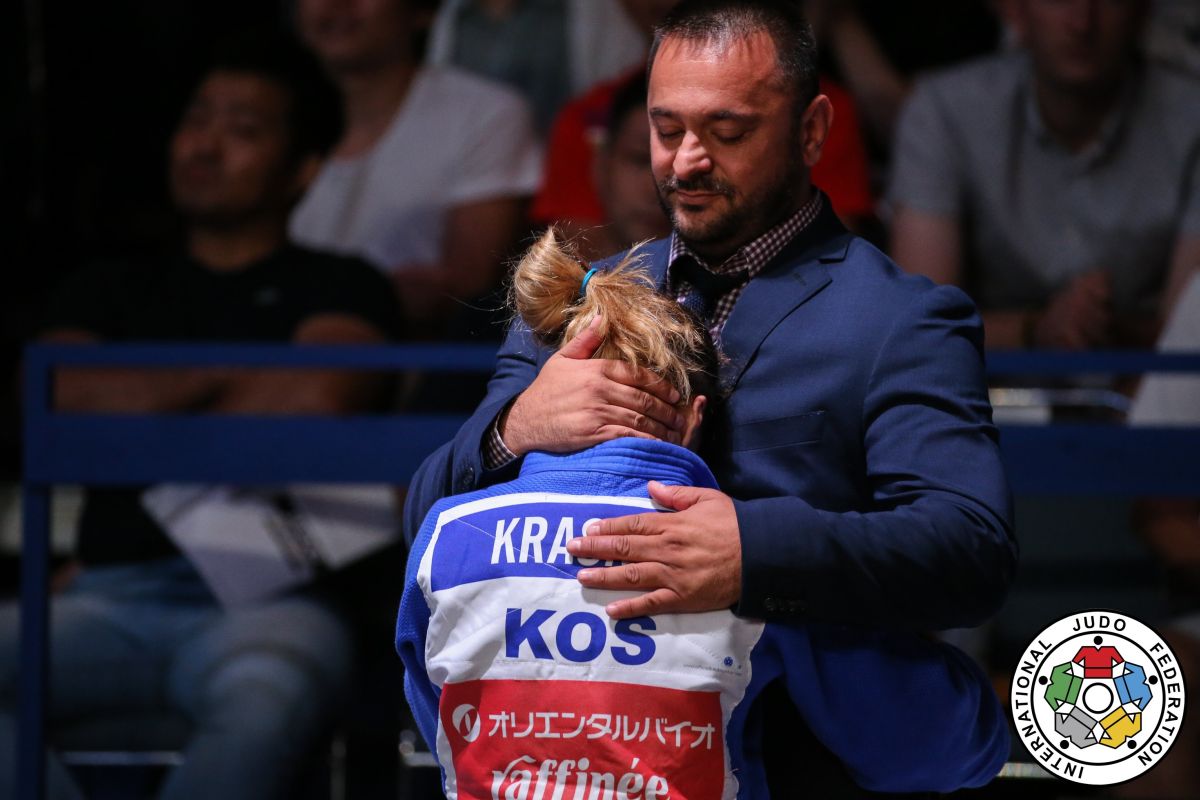 21 Dec 2021 13:05
IJF Emanuele Di Feliciantonio / International Judo Federation
Driton Kuka became the winner of the coaching achievement award for the performance of the Kosovan Olympic team. The coach of the year was announced at the annual IJF Judo awards which was broadcasted online at the IJF YouTube channel. The coach of Kosovo delivered two Olympic titles with Distria Krasniqi U48kg and Nora Gjakova U57kg which makes his total score three Olympic champions in 5 years.
Driton Kuka followed up the Rio Olympics with two titles. Kuka: "All coaches are all winners as it was not easy to establish this extra year to keep the good performances for our athletes. We all know that we work for a periodization of 4 years to make a good peak and this period was not easy to find a good way of motivation for everyone. We didn't ourselves with training, not even during the pandemic and it ended with amazing results. We have 5 athletes in the Olympic Games and all of them had a good possibility to make a good result. But if you asked me in advance to get two gold medals I would not be so optimistic. But in the end two gold medals was a great achievement and as a small country Kosovo we are showing to the world that a small judo community can make a good result. Not only for our athletes, our people in Kosovo, for my team and country but also for the judo family in the world because we are a good example that anything is possible, also for small countries."
"I am really happy and a great honour to be in the top 5. Each of us won this award. This is an award for Kosovo and our small country with beautiful people. They were also in a good mood to vote for us. We like this kind of nominations. I am quite excited because I am the winner but there were teams with better results but if you compare the number of population, we did also a good job. I wish to my colleagues all the best in the future and the next Olympic cycle. Special wishes for my colleague Inoue who is the most respectable coach in the world who is not a head coach anymore but for sure in any job he will be successful as he was as a coach in the last cycle."
Nominees
Yvonne Boenisch was not long in Austria and already had so much success. "At Judo Austria we got a lot of medals this years, an incredible year. It feels just amazing to be on the list with so many great coaches."
Also Kosei Inoue was honoured to be nominated. He won even nine Olympic titles with his Japanese athletes. "The Olympic Games where held in a challenging period. The athletes and participants completed the Games in the spirit of judo. As a coach I made many friends and the connections along the journey. More over I was able to grow as a human being and based on these experiences I could hand over the values of judo to the world."
French coach Christophe Gagliano was happy with the nomination for himself and Larbi Benboudaoud and he cherished the nice moments that judo created. "It was a big Olympic year for us and we have good energy for the coming years and in Paris in 2024."
Swedish coach Robert Eriksson achieved two unique medals at the Budapest World Championships. "It means a lot for me and for our country to be nominated. We are also a small judo nation and we work hard and years to achieve something like this and we are really happy proud to do it and hopefully it gives us good inspiration for the coming years for Swedish judo." Eriksson announced to step back as a head coach, a simular move as Inoue and will be replaced by Sally Conway.