Judo in the time of Covid-19: Yvonne Boenisch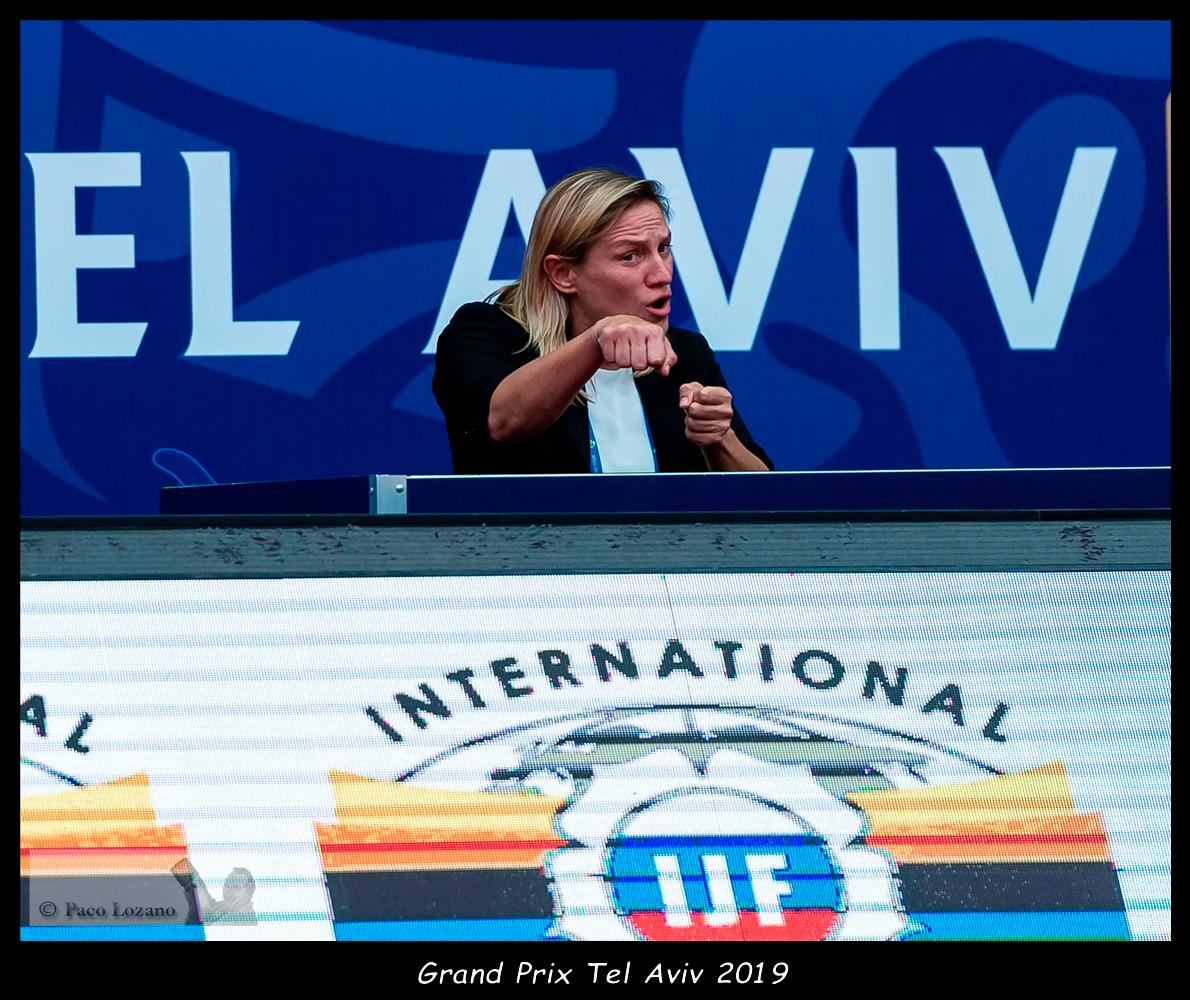 26 Apr 2020 14:20
JudoCrazy by Oon Yeoh
Paco Lozano / Judo y Otros
Yvonne Boenisch became 2004 Olympic Champion in Athens. That one day that changed her career, her life as she lost two World Championships final, but it was all worth it. She knew this was her day. After her career she became a coach, first in Germany in her city Potsdam and later as coach of the Israelian women's team. Oon Yeoh spoke to Boenisch about that one day, her opponents and her current job in the time of Covid-19.
JIC: Your final match-ups against former Olympic Champion Kye Sun-Hui of North Korea is one of the great rivalries in judo. The two of you met in three consecutive finals over three years: 2003 Worlds, 2004 Olympics and 2005 Worlds. You had lost to her in 2003 and 2005 but beat her in 2004. What do you think was the deciding factor in the Olympics that allowed you to overcome her?
YB: It may seem like a great rivalry, and it was in many ways, but in my judo career, I had fought her only these three times. They just happened to be in the finals of these major events. In 2001, she was still fighting at -52kg and I saw her defeat my teammate, Raffaella Imbriani, in the final of the Munich Worlds but I had never fought her prior to the -57kg final of the 2003 Worlds, so I didn't know what to expect. After I lost to her, I did my homework to figure out ways to beat her. I was in good shape in 2004. I had no injuries going into the Athens Olympics and when I won my first fight, against the defending Olympic Champion Isabel Fernandez of Spain, I felt this was going to be my day. So, I went into the final with a lot of confidence and a will to beat her. As for 2005, I guess she did her homework better than I did… ha… ha…
JIC: Aside from the massive changes in competition rules, what would you say are the main differences in judo today compared to during your time as a competitor?
YB: The main difference is the competition calendar. The athletes today have way more competitions than we did. It's all year round and all over the world: Grand Prix, Grand Slams and plus you now have the World Championships every year (it used to be every two years) and you also have the World Masters as well. So, it's a challenge for athletes and coaches alike to prepare for these events and to stay in shape all year long. Athletes are definitely much busier now than during my time, with more pressure and less time for recovery. You can say they have no time to take it easy at all. During my time, when there were far fewer competitions, we trained in blocks, with the aim of peaking for one big competition in the year.
JIC: What do you think of rule changes that have been implemented over the years?
YB: Like all things in life, there are things I like and things I don't quite like. I'm not the biggest fan of having only waza-ari and ippon as scores. I love to at least have yuko back and I would prefer if there were a fourth shido. But I really like the concept of Golden Score and that matches are decided that way rather than by hantei.
JIC: Do you think judo is better off without leg grabs?
YB: I loved doing leg grabs myself but it's nice to see how athletes have managed to improvise to deal with restrictions. For example, you see a lot of them doing kata-guruma without having to grab the legs. During my time, leg grabs were common but now, a whole generation of athletes have grown up without doing any leg grabs. If you were someone who saw judo for the first time today you would never imagine that leg grabs were ever a part of judo.
JIC: After you retired from competition, what did you do before you moved to Israel?
YB: In 2009, after I retired, I worked as a regional coach and from 2012 I was the head coach of the regional centre in Potsdam. Together with my best friend, Mario Schendel, and my former personal coach, Axel Kirchner, we created quite a nice system and developed the centre in Potsdam to be the main centre for youth talent in Germany. After I took up my job in Israel, Mario became the head of the centre and I was delighted to see that in 2019, it got upgraded to become one of the Olympic Training Centres for judo in Germany.
JIC: How did you end up getting a job coaching the Israeli women's team?
YB: I think it was around 2010 when I first visited Israel and met Shany Hershko. I had stayed I touch with Yarden Gerbi and I think she gave Shany a nudge my way when they were looking for some new coaches after the 2016 Rio Olympics. It's an offer I couldn't refuse. First of all Israel is a country I always loved. I visited the country 4 times before coming to work here. Second of all, I thought of it as a nice challenge for myself to coach in a different country. And third is that I knew Shany was setting up a new system to build upon their success at the Olympics and I was interested to be a part of that.
JIC: What was the most unexpected thing you found when you started working there?
YB: The biggest surprise for me was the reaction of the girls in the team. They accepted me immediately and were willing to work with me right from the start. There was no wariness or hesitation on their part at all.
JIC: Was there any culture shock for you adapting to a new place?
YB: I wouldn't say that I had any culture shock but Germans and Israelis are temperamentally very different. The Israelis are very open about their feelings, they are very fiery and love to argue out loud. If you weren't familiar with their language and their culture you might think you are witnessing a fight but it's just them being very passionate. But I must say that I've fallen in love with this culture and the people. Everyone has a big heart and they accept you as a member of their family straight away.
JIC: Judo athletes are very busy. Are coaches just as busy, or perhaps more so?
YB: When I was an athlete my training plan was fixed by my coach. Now that I'm a coach, I'm the one who has to do all the planning. I would say that we coaches are very busy most of the time.
JIC: Do you have time for any hobbies or interests?
YB: It's no secret that I love the sun. Fortunately for me, Israel is sunny most of the time. I love to travel. It's crazy how much there is to see in this small country. Besides the sea, there's the dessert and the green mountains in the north. You can even ski here during one month in the year when it snows. I did so this year, for the first time, and it was amazing!
JIC: Do you go back to Germany often?
YB: I try to go home every few months to see my family and friends because I miss them dearly but my friends also like visiting "Hotel Boenisch", so they come here often for the sun, the beach and of course, to keep me company!
JIC: Speaking of Germany, do you think German judo today is better or worse than during your time as a competitor?
YB: In Germany there's a saying: "Don't compare apples to pears". I guess in English you would say "apples and oranges". But basically, you can't really compare players from different eras. The conditions are very different. During my time, it was possible to make long-term preparations for one main competition in a year. Everything built up to that because there would usually be only one highlight event for the year for each member of the national team. Most of us never fought the World Championships and the Europeans in the same year even. So, it's very different. These days, players have to be 100% in shape all year long and that's a big challenge.
JIC: Do you speak to your players in English or did you learn Hebrew?
YB: Luckily for me, the girls all speak English and that's the language we use to communicate. I learned some basic words in Hebrew but as you can imagine, mostly bad ones. Quite useful sometimes, though. Yalla!
JIC: What's the main difference between how the Israelis train and how German players train?
YB: Israel is a very small country so all members of the national team — cadets, juniors, seniors — all train together. In Germany, there are seven Olympic Training Centres for judo that are spread across the country. So, it's not centralized in the way it is in Israel.
JIC: Do you detect any difference in the way the Israeli and German players fight?
YB: I think there's a connection between the Israeli's temperament and the way they do their randoris. There's a lot more fire on the mat here than what I see in Germany, and I really like that actually.
JIC: Which current crop of international players impress you the most?
YB: I'm really impressed with the team from Kosovo. They work in a very small group and produce massive numbers of medals.
JIC: What type of athlete do you admire?
YB: I would say those who are very versatile and have a solution for every situation. Over in Israel, we have someone like that in Sagi Muki, who can seemingly throw from any situation, left and right, standing or dropping.
JIC: What's a typical day like for you?
YB: The day starts with a morning session of gym or judo and in the afternoon another session. Of course, there's also personal training, watching videos and meetings.
JIC: How are you doing your job during the lock-down?
YB: Shany planned how we should train during lock-down even before the government announced it. Our top team was divided into pairs. They live and train together and follow our trainings plan while we monitor them live through Zoom.
JIC: How long do you envision yourself stay in Israel for?
YB: Well, my contract is for until the end of 2020 but now, with the Olympics being postponed, I guess there's likely to be a change of plans.
Are you JUDOCRAZY? The become a JudoCrazy Patron and read all their stories here