Yael van Heemst youngest European World Cup winner of the decade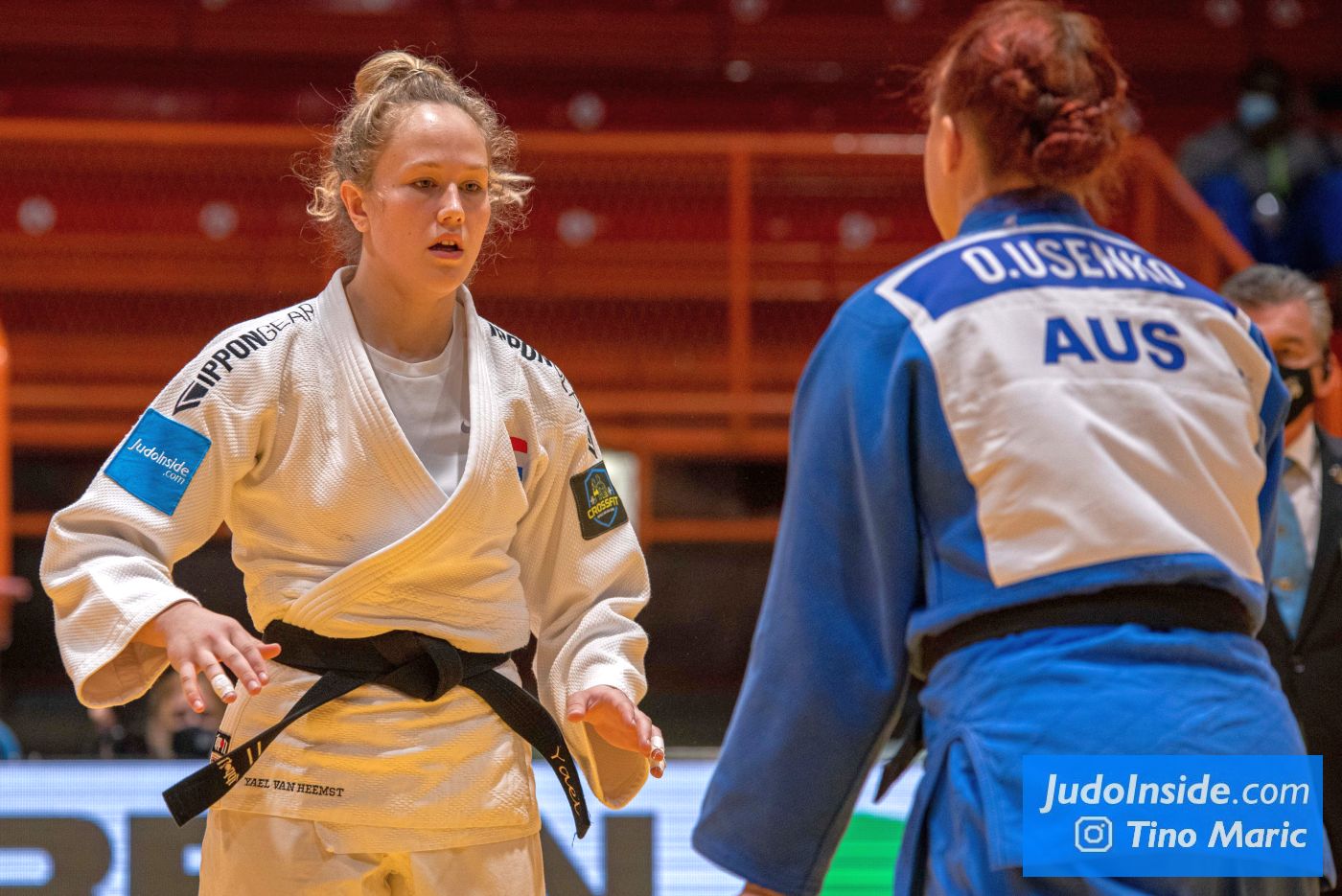 4 May 2021 16:05
Tino Maric - HRJudo / Croatian Judo Federation
Three teens have won a European Open this weekend. The Euro Open in Zagreb was a typical event for young talent. On Saturday Roie Rosen and Assunta Scutto took gold in Zagreb whilst Yael van Heemst claimed her first World Cup victory being 19 and the youngest of all gold medallists.
In fact Van Heemst is the youngest European winner of an Olympic qualification tournament in this decade. Going back even further in 2019 only Lea Fontaine, Lasha Bekauri and Daria Bilodid and Marica Perisic were a few days younger. They will all compete at the World Championships or Olympic Games in the next months. It's clear that Van Heemst is eyeing on the Paris Olympic Games.
Van Heemst defeated the Italian Alessandra Prosdocimo in the final. Prosdocimo is back on the stage after a long absence and Van Heemst was warned for her dangerous Ko-Uchi-Gari and The young Dutch started with a wazari lead, but came into an unfortunate oseikomi but escaped just in time for Prosdocimo could note an equalizer. With a take-over in the dying seconds Van Heemst could secure the gold medal and her first World Cup victory… like in the Netherlands there is a shortage U78kg. With Olympian Guusje Steenhuis, Former World Champion Marhinde Verkerk, Grand Slam Tbilisi winner Natascha Ausma, Tbilisi finalist Karen Stevenson and Prague winner Renee van Harselaar, the line-up U78kg is huge. Notably the Dutch have a European junior medallist with Kim Hooi. Still Van Heemst showed what she has to add. With four matches, all won by ippon she cleared her path to gold and seems hungry for more.
Van Heemst differs eleven years with +78kg winner Ana Velensek of Slovenia. She was the highest seeded athlete in Zagreb over all categories, as in fact this event was clearly for young talent or the more experienced who's roof is European Open level for the moment. Velensek defeated Paula Kulaga of Poland. Velensek won an Olympic medal in Rio in the category of rookie Van Heemst and knows what it takes to get to the world top in this category.
Swiss Alina Langweiler added her second World Cup victory U70kg. In 2019 she won in Tallinn, last Sunday she claimed gold against Silja Kok of the Netherlands. Lara Cvjetko continues to show her way up to senior level with a bronze medal in Zagreb for the home nation.
The largest weight category by far was the men's U81kg category with 71 fighters. Only at the World Championships in Tokyo in 2019 this category had more participants (82). It says enough about the talent but also the persistence the winners have. Alfonso Urquiza Solana and Jose Maria Mendiola Izquieta came together for the final. They know each0other so well and Urquiza showed regrets he had to win gold over country man Mendiola.
Of course coming from Spain they have encountered one another numerous times whether in training, camps or national competition. For the team is was already a gold medal and a win regardless of who came out on top, but for the pair it was an unfortunate end. In a tense final it was Urquiza who scored waza ari twice to take the gold.
With 55 competitors the U90kg category wasn't easy at all. No walk in the park for Lorenzo Rigano of Italy who was close to gold at the European Open in Rome in 2019 but this time had the recipe to snatch the gold against Jiri Petr of the Czech Republic. Not the most common names in the circuit which makes it fun to follow the outcome of these events, with many top 200 players, but most outside the top 50.
It seemed that the Ukraine sent its whole team U100kg to Zagreb as they dominated the top five, only Shpati Zekaj of Kosovo could resist the Ukraine opposition and reached the final, where Anton Savytskiy took the gold.
Slovenia won a second gold medal as Enej Marinic took gold just like Velensek. Marinic is well-known for his talent, but it's so tough to reach the top in this category that these events give the experience, the persistence and necessary match rhythm to guys like Maranic to make it a step higher soon. Marinic overcame Italian Vincenzo D'Arco in the heavyweight final. Both know the hall well from their memories, but Marinic was able to book another success in the Croatian capital.
With three gold medals and three silver, Italy won the medal table.