The latest Judo News offered by JudoInside.com
European U23 Champion Mathias Madsen pays out for Denmark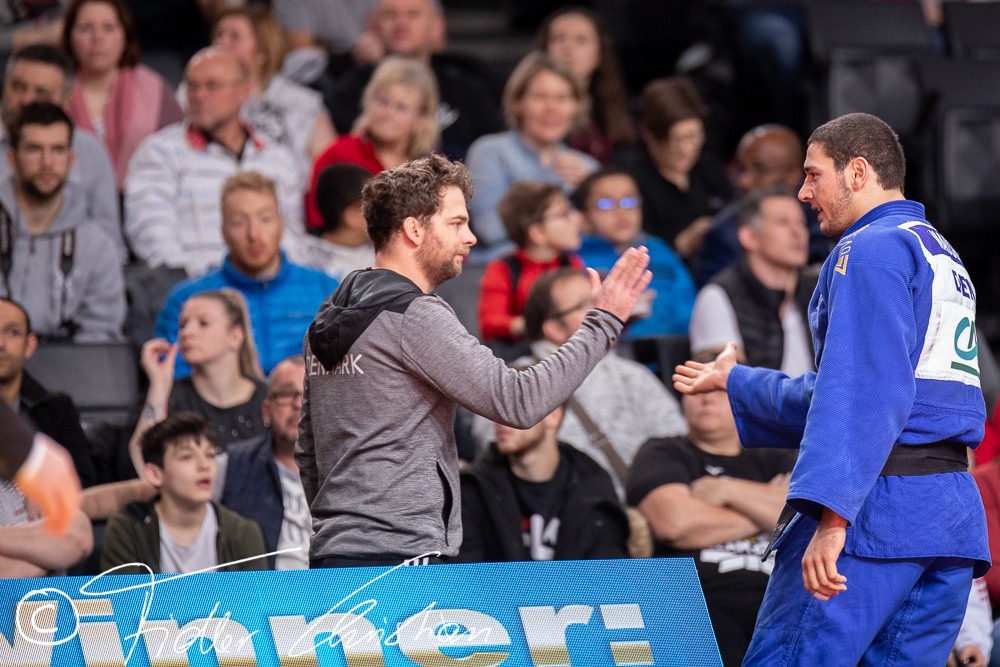 Judo Danmark is building a new future with young coaches. Since a few years the team is led by Austrian coach Peter Scharinger. He obviously lives in Denmark. Before him Miguel Ogando Lopes (POR) worked with the talents from Denmark. Both have been working with three athletes who grew from successful cadets to juniors and now want to get traction at senior level. This week Mathias Madsen won the European U23 title, the best ever performance of his country.
Danish judo had good judoka in the eighties and nineties who had top eight positions at European and World Level such as Merete Grey in the mid eighties and Carsten Jensen in 1983 in Moscow's World Championships. Although the old generation was close to winning a medal at European senior level, it never happened. Soon Mathias Madsen will show his best in Prague. After winning the European U23 title U100kg in Porec, he is back in Denmark, do his corona test and prepare himself for the postponed Championships in Prague.
In this time era Frederik Joergensen became 7th at the European Championships in 2015, a hopeful result but the real talent was still growing. In 2009 there was some Danish hope when Phuc Hong Cai won World Cadet bronze in Budapest U66kg but that whole U66kg generation of that championship was in fact wasted including Cai.
Increasing professionalization has characterized the judo in Denmark over the past 30 years. The Danish athletes had many professional coaches. Czeslaw Kur (POL), then Peter Gardiner (GBR), Thomas Beck (DEN), Miguel Ogando Lopes (POR) and now Peter Scharinger (AUT). They have all helped lift Danish judo to a higher level. The best fighters today, Lærke Olsen (U63 kg), Emilie Sook (U70 kg) and Mathias Madsen (U100 kg) have all done well at the international level.
Emilie Sook and Laerke Marie Olsen are the pearls where Danish judo is building on. The girls have booked good victories at junior age and are trying to get a foot between the door at senior level but it's hard. Same way for 21-year old Mathias Madsen who won silver at the European Cadet Championships in 2016 in Finland but it took a while before the big moment came. The danish team are everywhere, the IJF World Tour, Junior Championships, training camps. They work day and night with their coach, are a good team in terms of chemistry but at senior level success is very tough to harvest. At Junior level they can win European Cups that make sense such as Berlin or Prague. In 2016, 14 years after the last Danish medal at a World Cup Emilie Sook,, the oldest of the three talents, took her first World Cup medal in Tallinn. Laerke Olsen followed in 2018 in Minsk and one year later Mathias Madsen took bronze at a tough European Open in Warsaw in his competitive weight category U100kg. Not making tournaments, not getting your pace when you need to get the connection is not easy. Meanwhile Olsen captured a silver medal at Junior World Championships, an amazing result showing she is still in the line of the expectations.
Corona destroyed a lot of ambitions of many youngsters, many potential Olympians. Madsen though climbed out of that misery. Via Tel Aviv, Paris and Düsseldorf and the corona hiccup he went Budapest but stranded in the first round. Madsen kept training and was selected for the European Championships U23 and senior Europeans. Last year he made his debut at the European Games in Minsk but lost to the later winner Adamian. Madsen is always determined to get a medal or at least book progress. JudoInside always believed in Madsen and is supporter for years.
Porec was his chance to take a medal. He couldn't complain about the field where a medal should be possible. After three victories, he claimed the gold medal, unique for his country. A mind blowing result for his confidence and those of others. It's possible if you keep believing.
In 2020 Mathias Madsen became the first ever European Champion for Denmark when he won the U23 title in Porec. Celebrations are short, soon the European Senior Championships are awaiting. The pace is good, self-esteem, technically skilled, well trained, but the opposition will be different and hard in this huge category. For now Madsen is proud to be in a list with U23 European winners between Legends Ilias Iliadis, Lukas Krpalek, Jorge Fonseca who all became World Champion. 2018 winner Arman Adamian became European Senior Champion one year later. We believe in the stats.
Related judoka and events
Related Judo Photos
Related Judo Videos
Related Judo News