The latest Judo News offered by JudoInside.com
Judo in the time of Covid-19: Akil Gjakova
Judocrazy by Oon Yeoh Mongolian JudoHeroes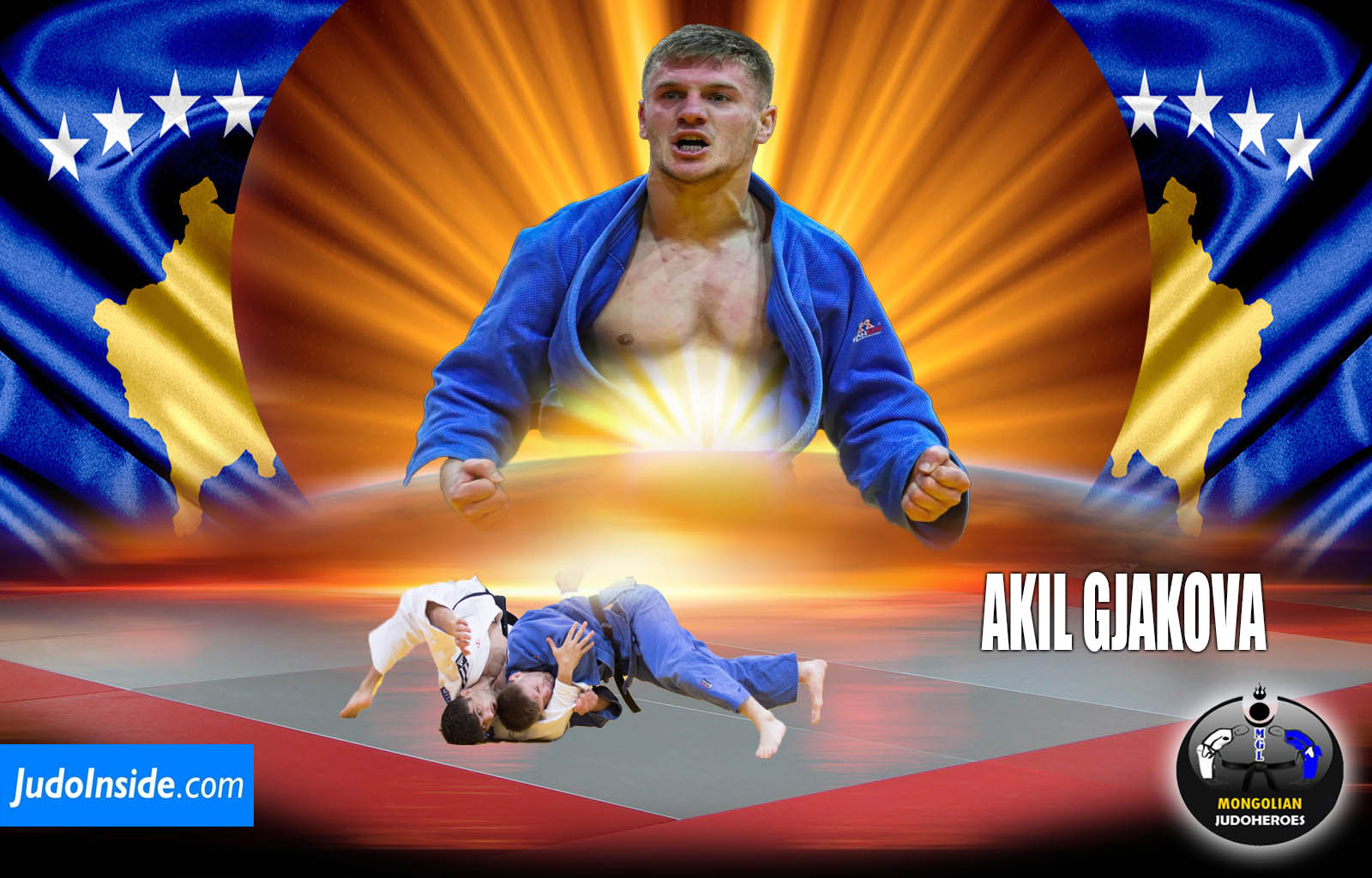 Kosovo has got several top female judokas, namely Majlinda Kelmendi, Distria Krasniqi and Nora Gjakova. But it's got one strong male contender too in the form of Akil Gjakova, who has to date won three IJF World Tour gold medals. He's under quarantine but still able to do some judo training, which is a rarity these days. JudoCrazy's Oon Yeoh informed about the status in Kosovo.
JIC: How's the Covid-19 situation in Kosovo?
AG: As of now, looking the numbers, the situation is still under control. There are just under 100 people who have tested positive with Covid-19, but I think in these next two weeks it's really important for us to take care and respect the rules. Otherwise the numbers could rise exponentially and, as a country, we don't have the capability to deal with that.
JIC: What's the lock-down like right now?
AG: People can go out only at specific times, from 06:00 to 10:00 and from 16:00 to 20:00.
JIC: I understand the judo team is able to still train. How is this possible?
AG: We are actually in a quarantine and training within the quarantine. The dojo is located on the private property of the Kuka Family. Two other guys and I stay on the upper floor of the dojo where there are some rooms. The girls stay in another house near the dojo. We don't go anywhere except to the dojo, so there is no chance of infection.
JIC: Is it just the elite players training? How often do you guys train under quarantine?
AG: Yes, the elite players and their training partners. Altogether, there are 11 of us. We train two to three times per day.
JIC: How does it feel to live in the same dojo that you train in? What do you do for food?
AG: This dojo is like my home. I have trained here since I was six years old. My real home is just 10 minutes away. Of course, the big difference between now and normal times is that we are now under quarantine but I just tell myself I'm at a training camp. The girls do the cooking for all of us but we try to help them.
JIC: So, you started judo at the age of six?
AG: Yes, I started judo together with my sister. My father used to train in karate when he was young so he wanted us to learn a martial art. Our coach, Driton Kuka, was a pretty famous man in town so our father sent us to his club.
JIC: When did you decide you wanted to compete internationally? Were you inspired by your teammate, Majlinda Kelmendi's success at the world level?
AG: I can't remember exactly when I decided to get serious about international competition but I know that from early on, with each passing day I loved judo more and more. Kelmendi, for sure, was one of my heroes. Seeing her achieve international success and winning all those gold medals made me believe I could also achieve good results in international competitions. I told to myself that we were from the same club, we do the same training and we have the same coach. Success was within my grasp. I just needed to give it my all.
JIC: In Kosovo, do all the top players come from Ippon Judo Club?
AG: Yes, all the top players are from my club and they are all coached by Driton Kuka.
JIC: Do you have enough suitable training partners who can give you the challenge you need?
AG: There are around 10 boys with whom I can spar with but no, I don't have enough ideal training partners as these boys are still juniors or cadets.
JIC: So, how do you get the randori you need?
AG: We go to practically every major international training camp for such purposes. In those camps you can really get a lot of quality randoris.
JIC: Your sister, Nora, is also a top player. What's your relationship like with her and the other top players?
AG: We are quite close. We talk more about judo than anything else. I also have a good relationship with Kelmendi and Krasniqi. We try to help each other in every way possible. We are like family.
JIC: Is judo very popular in Kosovo?
AG: It is – it became really popular after Kelmendi won the Olympic gold medal. Everybody knows us and they follow our progress in international competitions. In fact, many people have even started following the careers of other top judokas from other countries because IJF competitions are broadcast live on TV in Kosovo.
JIC: Your first IJF gold was won at the Paris Grand Slam. How did it feel winning in Paris?
AG: I had fought in Paris twice before and saw other players winning it. It seemed like such an amazing thing to win at the Paris Grand Slam but on my third try, I managed to do it. The feeling you get whenever you win a major tournament like this is that everything you've endured to get there was well worth it. It gives you such a boost in confidence.
JIC: In last year's Qingdao World Masters, you badly injured your left arm during the fight with Japan's Soichi Hashimoto. How did it happen and how is your arm now?
AG: Yes, this was my first serious injury in judo. I'm not exactly sure what happened but it was when he tried to throw me with seoi-nage. I tried to stop it and felt an intense pain – I knew something was wrong. So far, the rehabilitation has been going well. My initial rehabilitation was in Israel under the care of Nimrod Moshe, the physiotherapist of the Israeli national team. He was very helpful. After that I came back to Kosovo and resumed treatment under Veprim Tigani, whom I usually go to for injuries. My arm's not back to 100% yet but it's close to it.
JIC: You have fought both Hashimoto and Masashi Ebinuma but you've yet to face Shohei Ono. Do you look forward to that?
AG: Yes, I very much look forward to fighting him. I have the confidence. I really want to fight him and it will happen soon.
JIC: How do you feel about the Olympics being postponed?
AG: We were expecting a postponement though we didn't expect it would be for a year. But for me, this is okay. It will give me more time to recover from my injury and to improve my game. In a way it is also fairer to other judokas because most of them are currently not able to train. So, I think it's the right decision.
JIC: Any words of encouragement for judokas around the world?
AG: My message to all the judokas in lock-down is to not lose hope and to be patient. Try to be positive because things will get better and soon everyone will be able to do what we all love most – JUDO!
Are you JUDOCRAZY? The become a JudoCrazy Patron and read all their stories here
The IOC postponed the Olympic Games until 23 July 2021, the U73kg event will take place at 26 July 2021.
Related judoka and events
Related Judo Photos
Related Judo Videos
Related Judo News

Sergio Nascimento (BRA)
29 years
| Result | City | Date |
| --- | --- | --- |
| 1 | Brasilia | 2019 |
| 1 | Montreal | 2019 |
| 1 | Marrakech | 2017 |
| 1 | Zagreb | 2017 |
| 3 | Budapest | 2017 |
| Result | City | Date |
| --- | --- | --- |
| 1 | Budapest | 2019 |
| 2 | Qingdao | 2019 |
| 3 | Brasilia | 2019 |
| 1 | Tokyo | 2019 |
| 3 | Montreal | 2019 |