Miryam Roper-Yearwood, Captain of her soul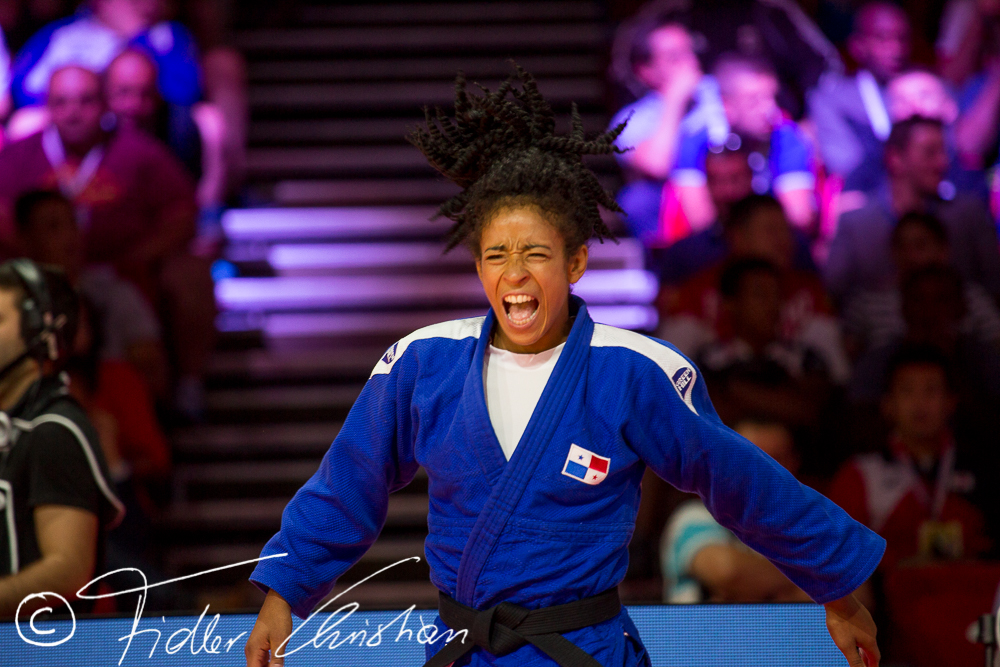 17 Sep 2018 10:50
by Anthony Diao for Judo Canada
Christian Fidler
At 22 September Miryam Roper-Yearwood will fight at the World Championships for Panama. Roper decided only SHE could decide when she'd retire, the former German, in her thirties, is feeling young again, fighting under the Panamanian flag since 2017.
A few weeks after the Rio Olympics where, like in 2012, in London, she was defeated for the tenth time by her nemesis, Brazilian Rafaela Silva (Olympic champion since August 8 that year), German Miryam Roper takes a 6-week-long break, during which she goes on a road trip to France to reflect on the last 7 years. Going to her first Worlds at 29—in 2011, in Paris, where she started off with an impressive pinning on Portuguese Monteiro, finalist of the last three editions, only losing during her bronze-medal fight against Japanese Matsumoto, world title holder who won the Olympic title 11 months later—the multilingual daughter of 2 engineers took her chance in a category long dominated by Yvonne Boenisch, Olympic champion in 2004 and double World finalist. Ranked first in the world in fall 2013, triple European medallist in 2012, 2014 and 2015, the athlete, who preciously keeps the heavy bronze medal she won during the 2013 Worlds in Rio on her bedroom doorknob, is then 34 years old. Is she going to stay for another Olympic cycle? Studying French and Spanish comparative literature, she doesn't plan that far ahead. However, getting a last medal at Worlds seems possible, even though she knows she's now on the older side of the circuit. 25 years ago, British sprinter Linford Christie said "Your age is in your head" after becoming a champion later in life, like our judoka, who spent a long time juggling her schedule between 3 team training sessions and multiple jobs (ad agency, bar, coffee shop, bakery, ice cream shop…).
Call
Back to fall 2016. "Mimi" gets a call from Claudiu Pusa, new head-coach for the Mannshaft. Like other athletes from her generation, she understands that her time left on the national team is limited. She'll turn 40 in 2020, and even though her career started when she was older than the average judoka, the new team would rather bet on younger athletes. Rattled by the decision, the athlete decides that "the end of a career happens on the mats, not on the phone."
Elegance
What's her other option? The answer is in her blood. In 2014, a trip to Panama allowed her to reconnect with her father's family, which she hadn't seen in a long time. 9000 km away from Cologne, in that thin strip of land in Central America, is where her uncle asked the question that would change her life: "Why don't you fight for Panama?" She thinks about it more seriously in December 2016, when she wins the Golden League in Chechnya with her Austrian friends in the Samurai in Vienna, symbolically defeating her young teammate Theresa Stoll. In February 2017, during the Dusseldorf Grand Prix, event for which she was a headliner for a long time, but that she would then watch from the stands, Miryam connects with Estela Riley, President of the Panamanian federation. Pleasant surprise: the German federation doesn't interfere with the transfer. "In three weeks, everything was done." Miryam feels 10 years longer. She knows it'll be a big challenge, but the family aspect will help her through it.
Opportunity
Like Ilias Iliadis in his time, she experiences the huge solidarity chain from the judo community toward lone wolves like herself. The Lambert brothers in Cologne, her spiritual father Michael Bazynski in the Netherlands, her friends Sugoi Uriarte and Laura Gomez in Spain, Javier Guedes in Panama: the world turns into a huge dojo in which she can find the key to success. "Liberty is an opportunity, but it's also a responsibility," she said. "I can't live in the past. Life is here and now."
Family
Just like a sign, her first competition under her new flag was hosted by Panama. With her family cheering, and despite new rules and a lack of reference points because of a long break, after identifying with her Venezuelan coach the Spanish words she'd need during the bout, she finished in 5th place in her first Pan American Championships after being defeated by Klimkait, from Canada, and Malloy, from the United States; the U57 kg category is one of the most competitive categories on the continent. A few weeks later: success. Now being funded by the IJF, she wins twice: a gold medal at the Russia Grand Slam, and a silver at the Mexico Grand Prix. In her pocket was a piece of paper on which she wrote, in Spanish: "Pressure is not worth your energy. I already have everything I need inside of me."
Inspiration
5th at Worlds in 2017, 3rd at the Pan American Championships in 2018, regular face on the podium in numerous tournaments, and being over 35, she slowly became her uncle's "other daughter", multiplying public relation activities and fully embracing her role as an "inspiration for women in Central America". She still lives in Germany, but she never forgot that her destiny could have been different, and despite the inevitable difficulties of being long-distance, she applauds her decision every day. "I'm not trying to relive my own past—those days are behind me. Every day is a new opportunity. I want to embrace every moment, and create new memories. I'm the one in charge of writing my own story." If we had to summarize double nationality in a sentence, that would be it.
This article is part of a large online blog of Anthony Diao for Judo Canada. Read all interviews here.