Report World Championships Birmingham Day 2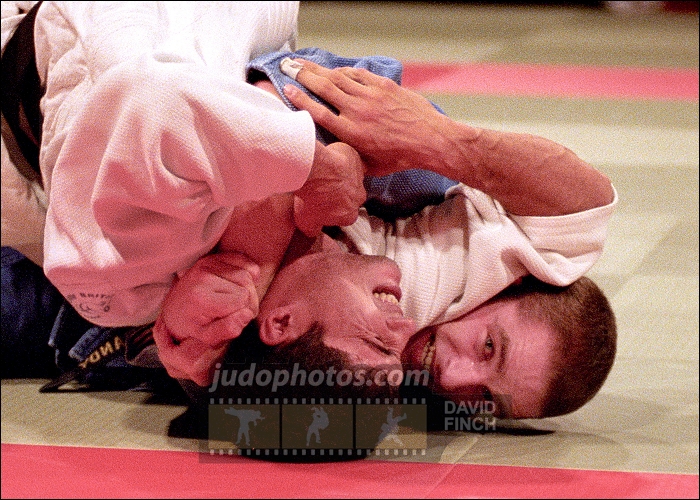 8 Oct 1999 22:05
TWOJ, the world of Judo, by Barnaby Chesterman
David Finch / Judophotos.com
This was the resurrection of British Judo and a day like this may never again be witnessed by a British crowd. Graeme Randall was electric in becoming our first man to win a World title since Neil Adams in 1981, and indeed he was the first male medallist of any sort for 12 long years. British men have never quite set the world alight in Judo, despite the likes of Neil Adams, Brian Jacks, Chris Bowles and Ray Stevens being world class fighters. The sceptical media completely wrote off the men's team's medal prospects, but Udo Quellmalz, Britain's head coach, had spoken of his belief that the men would indeed take at least one medal on home soil. Graeme didn't let him down and raised the roof in a sensational final.
Right from his first fight Graeme, at -81kg, looked on fire and was dynamic, disposing of Matti Lattu (FIN) with morote-seoi-nage for ippon. The same throw accounted for Sergei Ashwanden (SUI) in the next round before Graeme overcame an old adversary he had never before defeated, Patrick Reiter (AUT). This, he admitted later, was his hardest fight and was an important mental barrier to break through. In the quarter finals he met Russian Seyilhanov (KAZ) and took him with an explosive te-guruma in just 25 seconds to book a semi-final meeting with Nuno Delgado (POR), his conqueror in the European semis. Delgado had looked tasty in his early rounds but Graeme's dynamic approach never let him settle and his constant attacks were rewarded when he scored ippon with kata-guruma. The home crowd was jubilant, eagerly awaiting the first final involving a Brit, but the best was yet to come.

Only Farkhod Turaev (UZB) stood between Graeme and World Championship gold and Graeme was not about to make any mistakes. He attacked from the off and swarmed all over Turaev scoring with a succession of unconventional techniques. Turaev was also putting small scores on the board before Graeme lurched forward with a customary kata-guruma and scored waza-ari. After a tactical medical break with 30 seconds remaining, he had no intention of holding on and flew at his opponent once again, knocking him to the ground and turning him over into a hold. Only 18 seconds remained and as the clock ticked down a broad grin spread across the Scotsman's face as realisation of his achievement hit home. Turaev escaped the hold as the contest ended, but it was of little consequence, Graeme rose to his feet, arms spread in the air and soaked up the cheers as pandemonium engulfed the NIA. I myself leapt around the press box as the arena shuddered with tumultuous applause. Graeme was champion of the World, and he loved it!

"It feels absolutely fantastic," he gasped as he left the mat. "I have never felt anything like it before, the crowd was fantastic. With a crowd like that I had to do it for them." It was a great achievement for a man who had won his first major medal, bronze, at the European championships earlier in the year. So was it a surprise to win here? "I expected to be up there. I've prepared well and this is the end product. I knew I was in with a chance, you saw out there I'm in peak condition." He certainly had me convinced, so what were his aspirations for Sydney next year? "I'm going there to win gold!" A confident man, and deservedly so for he really was a class apart from the opposition and had thrilled the crowd right from the beginning.

If Graeme's victory was the icing on the cake, then the cake itself tasted pretty good too. Kate Howey was defending her World title from two years ago but, having had to move up to -70kg, she was not the favourite. Even so Kate was just as dynamic as Graeme had been, needing just 7 seconds to bury Sally Buckton (RSA) with uchi-mata. Her next fight was considerably tougher against Yvonne Wansart (GER). In a tense battle she scored yuko with o-uchi-gari to scrape through. Next up was the Korean Jung Sook Lim but Kate took just 35 seconds to throw her with tai-otoshi and progress to the semi-finals. There Sibelis Veranes (CUB) was just too strong and Kate barely even got to grips with her opponent. She was never in the fight and once Veranes took the lead with a yuko she comfortably held Kate at bay.

Clearly frustrated at having missed the opportunity to fight in the final, Kate was in no mood to hang about against Masae Ueno (JPN). In just 5 seconds she rushed the Japanese, scooped her up with morote-gari and flattened her for ippon, thus picking up her 12th major championship medal. "As quick as possible is my motto," Kate beamed afterwards. "Everyone knows I do pick-ups but I'd never fought her before so I thought I would try it." Kate was a little disappointed, however, at not having beaten the Cuban. The Cultural Education and Sports Sciences student said, "I have got a lot of work to do to beat her in Sydney, maybe I need to put on a little weight." Veranes went on to win the final, though, beating the favourite Ulla Verbrouck.

Having been overlooked for by the selectors for the Europeans at -63kg, Karen Roberts had a point to prove here, and prove it she did with a battling display. Karen, who is an extremely powerful competitor in ne-waza, was forced to fight the full 4 minutes in all her fights as every one was a close encounter. Her first bout actually overran the full 4 minutes as she pinned Chiu-Hsiang Chuang (TPE) for 25 seconds to secure victory. In the next round she faced the European bronze medallist Sara Alvarez (ESP) but was beaten by yuko and thus had an anxious wait to see if she would qualify for the repechage. Alvarez did not let her down and duly made her way to the semi-finals. This gave Karen a chance to win a medal, but only if she could battle her way through several repechage fights. Karen did not always look comfortable in tachi-waza, but as soon as the fighters fell to the ground, she swarmed all over her opponents and several times was close to a hold or strangle. She beat Elena Petrova (RUS) on a decision before also beating Regina Mickute (LTU) in the same manner. In her next fight she faced Kenia Rodriguez (CUB) and incredibly for a third time her tenacity in ne-waza earned her another judges decision.

Karen was now just one step away from winning a bronze medal, but would first have to beat Eszter Csizmadia (HUN) who had already beaten the reigning champion Severine Vandenhende (FRA). Karen used the same tactics against her quicker opponent, using her strength to take Csizmadia to the ground before dominating the ne-waza exchanges. Csizmadia clearly found Karen's strength difficult to handle and was penalised three times for the same offence, allowing the Briton to take the bronze medal. Again the crowd went wild with delirium as this medal was completely unexpected. "It feels brilliant but I don't think it has sunk in yet," she said through a lively smile. "I had to pick myself up after losing my second fight, but that is the best I have fought in a long time."

When asked about the nature of her victories, she replied, "I have always said I'm not the best fighter technically, but I am a good scrapper!" That she certainly is which seems strange for such an articulate and charming young women, although I'm not so sure her opponents have noticed those traits. "I think I fought a skillful tactical fight," she added. "Olympic qualification was the main thing although a medal is the icing on the cake." With the Olympics next year Karen was asked how she would fit it in with her studies. "Studying compliments my Judo. I have always done the two together since I was 12 so I see no reason to change that." Let's hope the British selectors will keep faith with their World championship medallist.

Amongst all this euphoria it was easy to forget that there was another Briton fighting that day. Ryan Birch beat Luis Lopez (VEN) in his first round before he was undone by Keith Morgan's (CAN) neat hiza-guruma. The -90kg was won by a tearful Hidehiko Yoshida (JPN) who was so overcome with emotion he could barely bring himself to leave the mat. Keiko Maeda took the Japanese tally of golds to five by winning the -63kg when a dubious referee's decision awarded her ippon for a seoi-nage in the final against Gella Vandecaveye (BEL). As she began the throw it looked sure to end in a shuddering ippon, but the Belgian clearly twisted out of the throw at the end to land on her shoulder. The line judges, however, did not overrule the referee and so, to the chagrin of a mortified Belgian contingent, the result stood. Britain's haul of one gold and three bronze after two days was enough to see them second in the medals table behind the Japanese, a position we are certainly not accustomed to.