The latest Judo News offered by JudoInside.com
Nick Delpopolo open about his Olympic failure but on his way back
Klaus Müller / Watch: https://km-pics.de/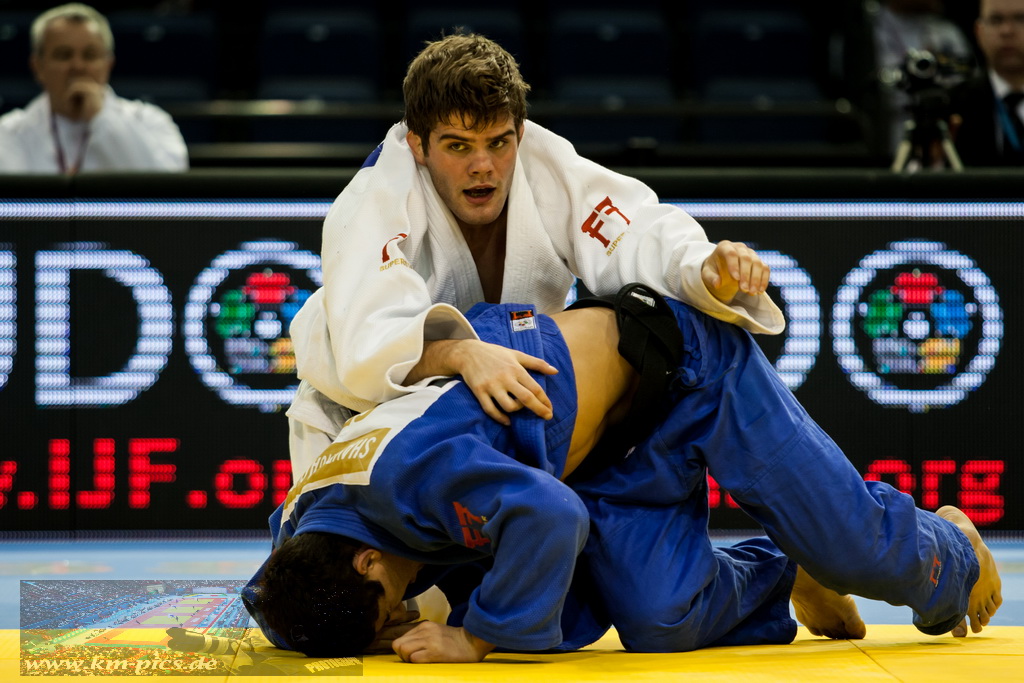 Born in Montenegro, Nicholas Delpopolo, Florida gave him a fresh start after a twist of irony ended his 2012 Olympic experience prematurely. Delpopolo, who, at 25, is No. 1 ranking in USA Judo and 14 at IJF WRL in the 73 kilogram weight class, was disqualified in London Olympic Games after testing positive for marijuana.
Delpopolo says he unknowingly consumed a brownie baked with cannabis at a party celebrating his earning a spot on the U.S. Olympic judo team for the 2012 games. The International Olympic Committee tested him coming off the mat after a loss in his last match of the Games, which placed him at seventh in his first Olympics. When he tested positive, he said, he called home and realized what happened.
He was shocked, embarrassed and "everything anyone would feel in that situation," he said.
Instead of getting an additional week to take in the Olympic experience, he was sent back to upstate New York, where he trained and attended the State University of New York — Schenectady. He grew up three hours away in New Jersey and stayed up north to be close to his parents but decided that coming to Florida would be a wise next step. He took a month off from intense training — the positive drug test also came with a three-month competition ban — and moved to Davie.
"You have to put it behind you," Delpopolo said. "You have to move on, so that's what I did."
Through competing in high-level judo, something he has done since the age of 5, Delpopolo made connections with Evelio Garcia and Orlando Fuentes, the two coaches who work with him in Miami and Hialeah. Garcia owns the Budokan Judo Club, which has operated out of Hialeah since 1990 and served as a training ground for Olympians Lauren Meece (2000), as well as Fuentes (1996).
Training in South Florida has given Delpopolo a different experience than if he had stayed in New York, because the area serves as a hub for fighters from South American, Latin American and Caribbean countries.
"It's really diverse, and they're all tough guys, so it gives you a good taste of international competition without having to leave the United States," Delpopolo said.
Even though Delpopolo's first Olympic experience ended disappointingly, he learned a lot from the actual competition. Mainly, out of the 30 fighters who are in the division, eight to 10 are the elite of the bunch, so he knows how to fine-tune his approach for next time.
"You have to prepare for three matches that are winnable and then two matches where you're going to have to be spectacular to beat a Russian guy or to beat a Japanese guy, or whoever, so it's five matches, and that's really possible," Delpopolo said.
"A lot of guys, they show up to the tournament, they show up to compete at a high level, but there's a lot of pressure. It's really about who reacts well to that pressure. It's not about being prepared, because everyone is prepared, it's really who believes they can win, and taking that attitude to the mat to override the immense amount of pressure."

In the two years that Garcia has been working with Delpopolo, he says, he has seen Delpopolo's training and competition results improve.
Delpopolo is a self-described technical fighter, though he has been working at developing other strengths as he prepares the 2015 World Championships in Kazakhstan and the 2016 Olympics in Brazil with the ultimate goal of medaling in both.
"We're working on his timing for each competition, and he has to get more physical, so he's working on that right now," Garcia said. "Judo-wise, he's very good, but the moment we see the difference in his physical strength, he'll be one of the top guys in the world."
Related judoka and events
Related Judo Photos
Related Judo Videos
Related Judo News

Sacha Denanyoh (TOG)
41 years
| Result | City | Date |
| --- | --- | --- |
| 2 | Düsseldorf | 21 Feb |
| 1 | Budapest | 2019 |
| 2 | Qingdao | 2019 |
| 1 | Osaka | 2019 |
| 1 | Odivelas | 2019 |
| Result | City | Date |
| --- | --- | --- |
| 1 | Düsseldorf | 21 Feb |
| 2 | Osaka | 2019 |
| 1 | Tokyo | 2019 |
| 1 | Tokyo | 2019 |
| 1 | Hohhot | 2019 |