The latest Judo News offered by JudoInside.com
Historical day for Serbia at EYOF, gold for Obradovic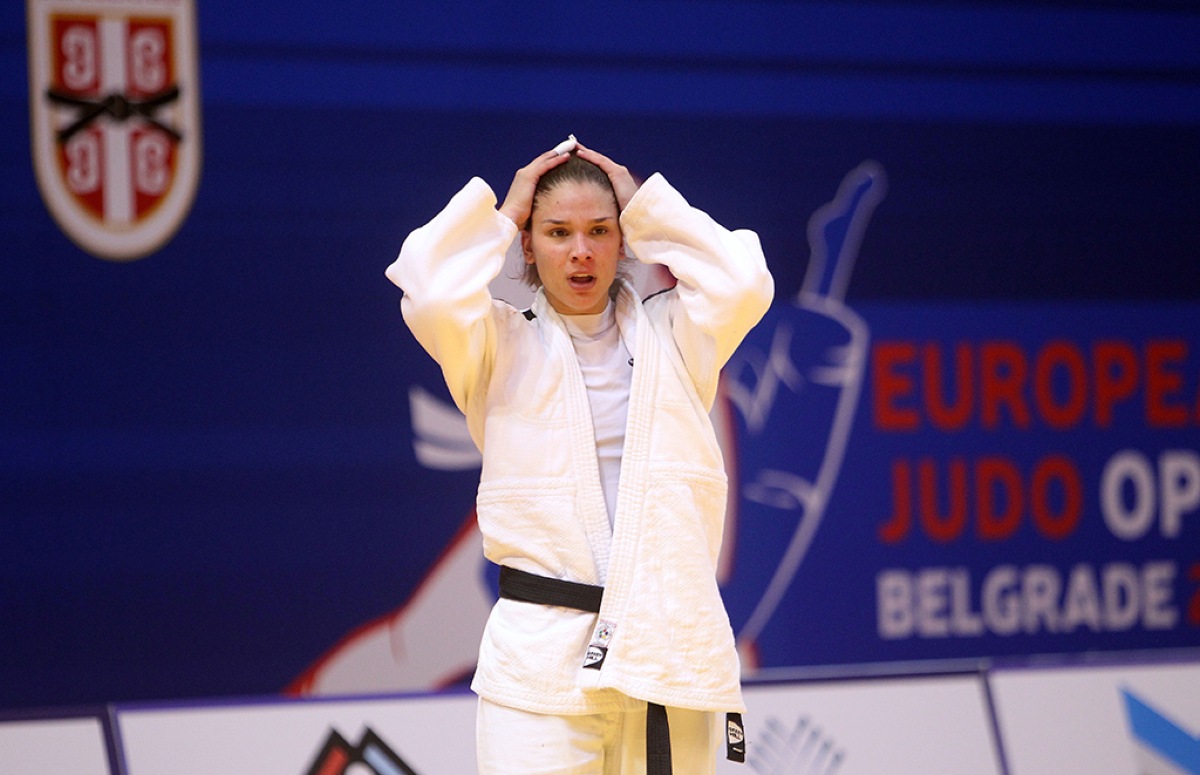 Finally a gold for the Russian team, a historic day for Serbia and another gold for Italy, who is now leading the medal table. An unbelievable day again at the European Youth Olympic Festival, EYOF. The Italians seem to have a promising youth group as never seen before.
In the women's division for the U70kg division, it was Alice Bellandi who needed 11 minutes on the tatami to secure the fourth EYOF title for Italy, an absolute record. In the final match Belandi couldn't believe that she had thrown Jovana Pekovic of Montenegro, for ippon in 28 seconds. In the semifinal Bellandi destroyed Karla Prodan of Croatia within 82 seconds. Prodan came back and took bronze for Croatia. Petra Opresnik of Slovenia defeated Migle Dudenaite, Lithuania's hope, on the ground and took Slovenia's first medal. Belandi: "I won some silver medals but never gold. This is my biggest international success. After the European Championships I got more self-confidence and consciousness of my skill. "The girl from Montenegro was really strong and I am very happy that I threw her in a few seconds. I never tought that was possible. The secret of my success is the strong support from my club and my family who boost me to always strive to be better." She said to the EJU reporters.
In the women's division U63kg, Serbia cheered for the first time for a gold at the EYOF. Never before has a Serbian won the gold. Jovana Obradovic penciled history for Serbia. Earlier in Tbilisi, Nadezda Petrovic had won bronze in U48kg and in 2009 Serbia won three medals, Jelena Dukic took care for the best ever performance with silver. Four women medaled, one man, Ilija Ciganovic, in fact the men have the best results so far at Junior and Senior level.
Now it's up to Obradovic to proceed in her career with the World Cadet Championships ahead in Bosnia next week. Obradovic reacted with joy. "I feel great; it feels great to win a gold medal and I really don't know what to say. I am still not fully aware of the fact that I have won this event. I feel really proud to represent Serbia on this event and to make history", she expressed her feelings after the medal ceremony. It is important to know that there is not only one of her in the family. Her sister, Anja Obradovic is also a judo ace within the same weight category. At the Cadet Europeans this year, they have both won bronze medal, however, due to the rules which says only one player per country can be entered in each weight class, it was Jovana who had the opportunity to represent Serbia at this event. The selection was due to the fact that Jovana was higher ranked on the IJF Cadet ranking list than her sister. Jovana revealed her thoughts to us: "If my sister would have been here I am sure she would also win a medal because she is really good. I won this medal for her."
Obradovic defeated her four opponents for the gold. In the final against Ukraine judoka Iryna Khryashchevska. Lara Kubra of Croatia won the first Croatian bronze medal of the day, followed by by Karla Prodan U70kg. Sanne Vermeer of the Netherlands added the fifth medal for the Netherlands this edition. In number of medals, Netherlands ranks as the fourth nation at the EYOF. Italy and Georgia scored 7 medals so far, Azerbaijan, 5.
Russia also have five medals, but since today it includes only one gold medal. It was Russian champion Murad Kurbanismailov who secured that first title in the U81kg division. Only in 2007 Russia secured only 1 gold medal, and 5 bronze medals, so this title was welcoming. Kurbanismailov, who won bronze at the European Cup in Berlin, defeated all his four opponents by ippon quickly. His final opponent was somewhat surprising. Miroslav Kopis is the sixth ever Slovak to medal at EYOF. Considering Slovakia didn't take any medals in 2013 and 2011, but suddenly, two medals.
The winner said: I am very happy that I brought this gold medal to Russia. All my fights were different but each of them physically hard. I felt a big responsibility because this was my last individual fight for this year. At the World Championships I will only fight for the team like at the European Championships. But I hope I can win a team medal again."
Dutch Jan Reijntjens was expected more but he lost in the semis to the winner from Russia. Reijntjes had won three European Cups this year, but failed in Sofia, although he was important for the silver team performance. Now he took bronze in line with his status. Hungarian Toth Apor was stable. He won bronze again, just like in Sofia. Toth and Obradovic were the only athletes to take two medals at EYOF and Europeans so far. It says enough about the level of European Cadet judo.
Related judoka and events
Related Judo Photos
Related Judo Videos
Related Judo News

Ebony Drysdale Daley (JAM)
26 years
| Result | City | Date |
| --- | --- | --- |
| 1 | Düsseldorf | 2020 |
| 2 | Osaka | 2019 |
| 1 | Tokyo | 2019 |
| 1 | Tokyo | 2019 |
| 1 | Hohhot | 2019 |
| Result | City | Date |
| --- | --- | --- |
| 1 | Düsseldorf | 2020 |
| 1 | Osaka | 2019 |
| 1 | Tokyo | 2019 |
| 3 | Tokyo | 2019 |
| 2 | Fukuoka | 2019 |