The latest Judo News offered by JudoInside.com
French men praise the girls and cherish the gold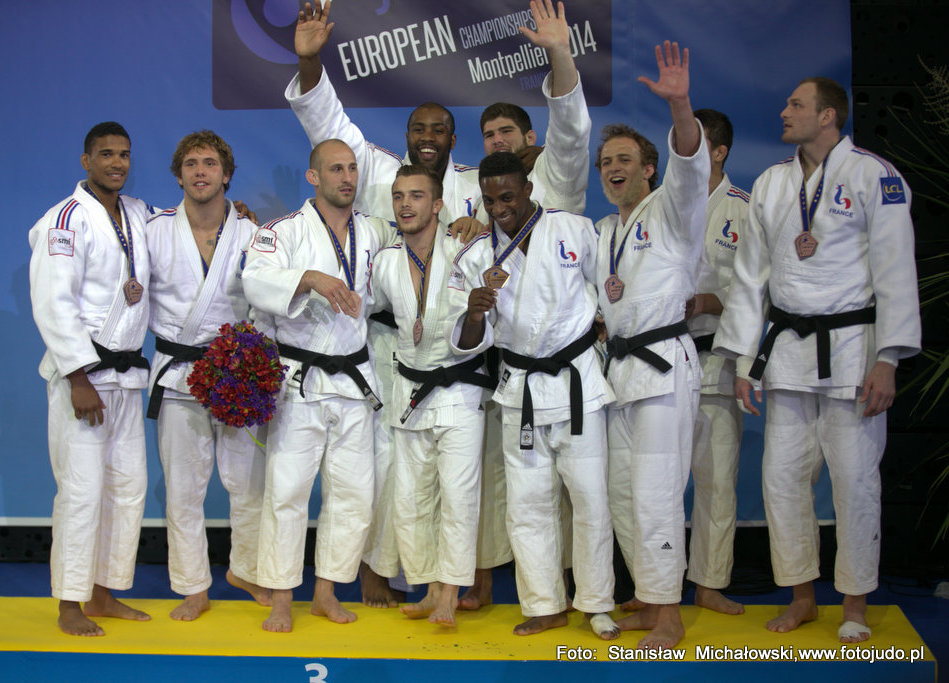 The French men's team stunted to the gold medal of the European Games Team event in Baku. It was a long time ago in 2004 in Paris, but this victory was a tremendous surprise with just four men in the team as Iddir was injured.
Reaction by Loic PIETRI (FRA)
"It was a very tactical match against Tchrikishvili. I had scored and I told myself not to take unnecessary risks. It was a match that I had prepared for a long time. He (TCHRIKISHVILI) is the European champion and I told myself I absolutely have to beat him, it is important and if I don't win, it will give me a guilty conscience."
"We didn't leave a good impression in the individual events and it was a bit tough to get into it with the competitions back to back. We are a team, we are all friends, but we don't necessarily have that team spirit. But now nobody was very satisfied with their result at the championship and we said, let's go for it. This has given us an extra push."
"We started slowly, as usual, but then we got into it and when we met the Georgians we stepped it up and we were ready for it."
Loic KORVAL (FRA)
"It is not difficult at all for me to go first and to set the pace. I know what I want for my team and for my country and for myself. It is a great honour for me to go first and to try to push my team. It boosts me."
"We won it on the mental side. We were not the favourites for sure, we had a mediocre championship. But we are a golden team, really, we have the gold medal now."
"The victory of the girls set the example for us. The girls are always there to put on a show and they won in style. After that we really wanted to prove that we are good men and that we are present."
Cyrille MARET (FRA)
"Today I'm am very happy with the French team, not only with myself, because it was very good teamwork.The first fighters were very strong today."
"For me judo is not team sport. It's an individual sport, but when you are in team, at first you should be friends. It is not just team, it's friendship."
"I fought Okruashvili, but as we were ahead 3 -1, the three first judoka had won already, the competition was over. It is not same as if was 2-2."
"OKRUASHVILI was very, very good yesterday, the strongest of the day. But today maybe he was tired and demotivated."
David LAROSE (FRA)
On fighting only in one bout in the event and getting a gold medal:
"Today was very easy for me, but it's my first time to win a gold medal with team at the European Games. The French team hasn't been so strong before. Today we were strong in all the fights."
"At this moment we have KORVAL, who is the No1. This team has been together for three or four years now and we are getting stronger and stronger. "
Related judoka and events
Related Judo Videos
Related Judo News
All judo results of
Teddy Riner
,
Daria Bilodid
,
Tadahiro Nomura
,
Shohei Ono
,
Ronda Rousey
,
Majlinda Kelmendi
,
Clarisse Agbegnenou
,
Ilias Iliadis
,
Flávio Canto
,
Fabio Basile
,
Joshiro Maruyama
,
Naohisa Takato
,
Hifumi Abe
,
Uta Abe
,
Rafaela Silva
,
Lukas Krpálek
,
Tina Trstenjak
,
Kayla Harrison
,
Tsogtbaatar Tsend-Ochir
,
Nemanja Majdov
,
Jorge Fonseca
,
Nikoloz Sherazadishvili
,
Guram Tushishvili
,
Varlam Liparteliani
,
Sagi Muki
,
Noël Van 't End
,
Saeid Mollaei
,
Christa Deguchi
,
Manuel Lombardo
,
Marie Eve Gahié
,
Lukhumi Chkhvimiani
,
Distria Krasniqi
and
142000+
other judoka in
628000+
results and
420000+
judo matches including the recent
Grand Slam Düsseldorf
,
Grand Slam Paris
,
Grand Slam Osaka
,
World Championships Tokyo
,
World Championships Baku
and
15000+
major judo events. More judo info than you can analyse 24/7! Share your results with your judo network.
Become an Insider!