The latest Judo News offered by JudoInside.com
Arman Adamian sets career best with more to come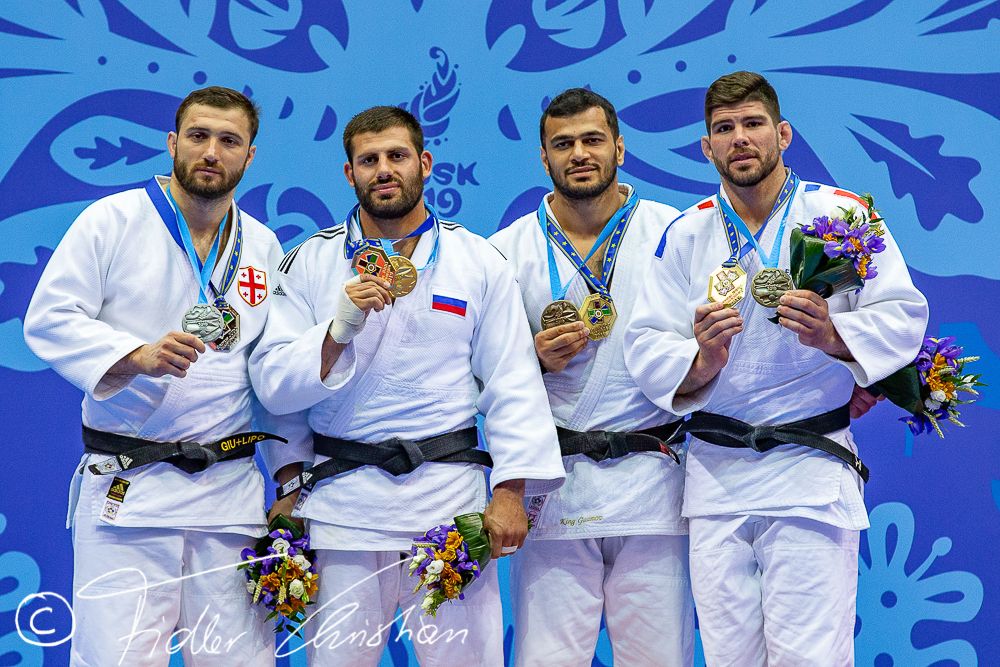 The career of Arman Adamian goes fast but the competition to qualify for the Olympic Games is big Russia. Adamian captured the European Games title in a final against the experienced Varlam Liparteliani who won eight medals at European Championships including three titles, but also the man with four lost finals and Ekaterinburg winner Adamian knew who he was fighting but smelled ahis chances.
It was one of the two Russia Georgia finals today and Adamian secured the victory for Russia in the medal table with three gold medals. In this competitive weight category it was a long time ago since Russia won the European title, 2009 to be precise, but the one who achieved it became Olympic Champion a few years later. That's a good outlook and Adamian is not a man of fear.
Fear does not exist in this division with lots of good fighters and the current European U23 Champion had his first match against Danish Junior talent Mathias Madsen who kept four minutes in the race to survive, but Adamian progressed and met with Jorge Fonseca of Portugal. Fonseca is a big thrower, but this got thrown after 85 seconds. Reigning European Champion Toma NIkiforov was the next victim. In 24 seconds Toma was wiped away. Croatian talent Zlatko Kumric was a surprise, we know his talent but in this field he outperformed. Still no chance against the junior world silver medalist of 2017. It took Adamian not even a minute to strike and qualify for the final that he will describe himself after he was overwhelmed by his golden victory
Adamian: "This means a lot for me as I was preparing for this championship for a long time. I was nervous. This is a really important victory for me as it pushes me towards the Olympic Games 2020 in Tokyo.
We know you for a few years, so for you this is not a surprise
Adamian: "I won the U23 European championships before. Here it is a different story, the competitors are at another level. I had to adapt my tactics to each opponent during the day. So I was able to win. I felt great, and I came here in ideal shape.
We saw you are well supported here
Adamian: "The nicest moment today was for me that my father and my sister were here to watch and to support me. They helped me to win and part of this victory belongs to them."
You had an impressive opponent in Varlam Liparteliani
Adamian: "I knew who I was fighting in the final. I knew he is an Olympic medallist and a strong opponent. I prepared for him, I watched his matches. During the match I was able to catch him on a mistake and throw him for waza-ari and then I held on to this. I still can't believe what happened."
The victorying the quarter final over last year's Champion Toma Nikiforov was impressive
Adamian: "I knew he was the reigning European champion. I also watched his fights when I was preparing at home, and again, he made a mistake and I threw him. The match didn't last too long. I was very focused on him, because I knew he is strong."
Related judoka and events
Related Judo Photos
Related Judo News

Sharif Khalilov (UZB)
31 years
| Result | City | Date |
| --- | --- | --- |
| 1 | Budapest | 23 Oct |
| 2 | Düsseldorf | 21 Feb |
| 1 | Budapest | 2019 |
| 2 | Qingdao | 2019 |
| 1 | Osaka | 2019 |
| Result | City | Date |
| --- | --- | --- |
| 1 | Düsseldorf | 21 Feb |
| 2 | Osaka | 2019 |
| 1 | Tokyo | 2019 |
| 1 | Tokyo | 2019 |
| 1 | Hohhot | 2019 |