French team praises captain Teddy Riner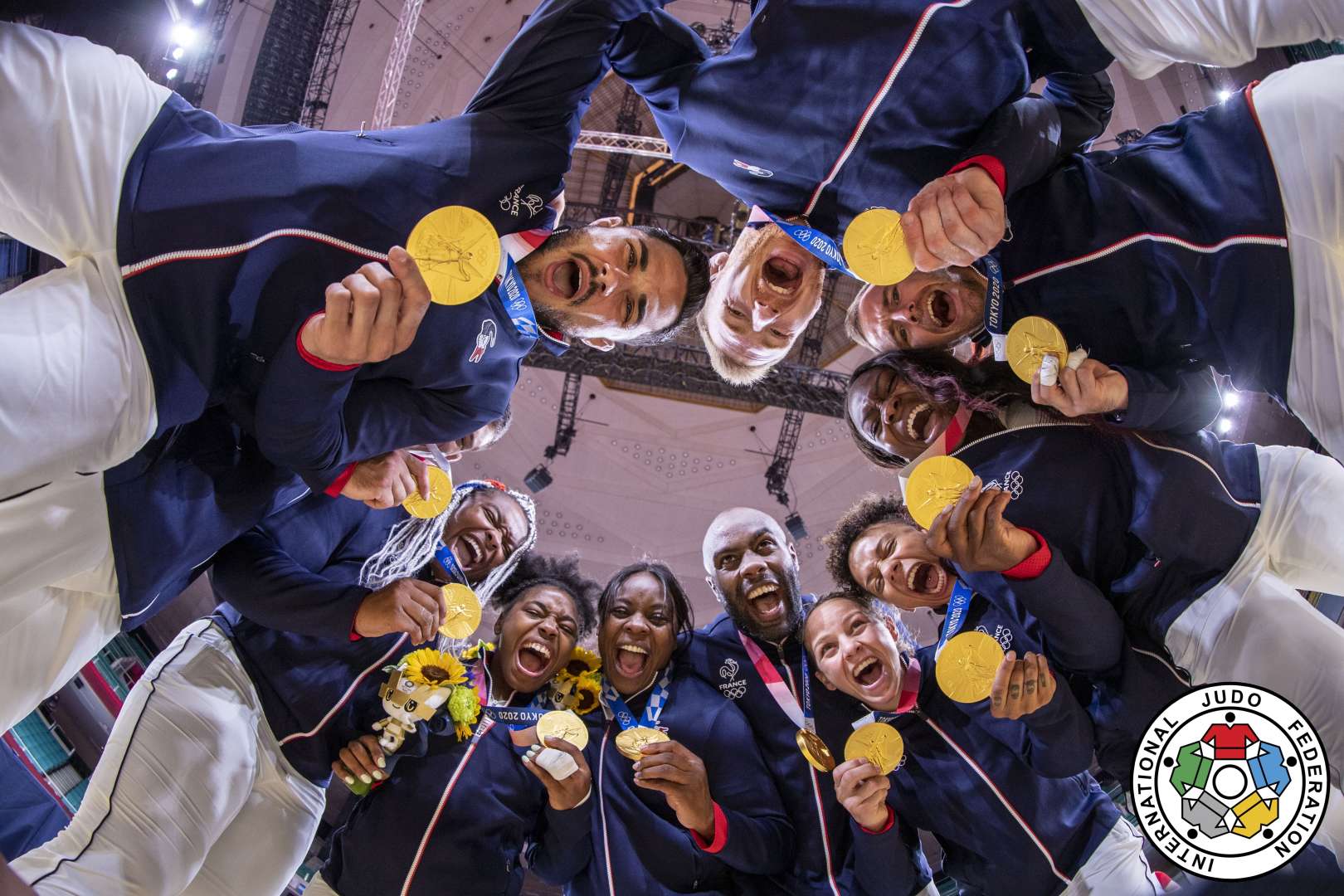 1 Aug 2021 19:05
IJF Gabriela Sabau / International Judo Federation
The team of France was over the moon winning the mixed team championships at the last day of the Judo Tournament. The queen of judo Clarisse Agbegnenou is the only one who won two gold medals and contributed with her victories against Sanne van Dijke in the semi final and against Olympic Champion Chizuru Arai, both judoka U70kg.
The double Olympic Champion reacted: "It is unbelievable. I cannot find the words. Team France, we were magic today. Thanks to the team, I got another gold medal. I'll need to check again to make sure it sinks in. I am flying. I can't quite believe what is happening. It is history."
Teddy Riner had won Olympic bronze, now won gold afterall: "This medal is very, very, very, very important. To win here in the country of the judo during the Olympic Games in the Budokan is just amazing for me, for this team, for the Federation of Judo, for the people of France. It's just great. Big day. Everybody is proud. I am very proud of this day. I don't have words because it's an amazing day. This is a dream. We win in the final against the Japanese team. Wow."
Sarah Leonie Cysique secured the victory with her win over Tsukasa Yoshida. She loved to be in the team with Big Teddy: "He really wanted to win this medal. He boosted us, he pushed us. He is a true leader. He managed to motivate us to go this way with him. This victory is going to be very important. We won against Team Japan in Japan. They were at home. In three years, we will be at home in Paris. I am convinced they will want to take revenge. We will be ready. We showed that we were able to beat them in Japan. I can't wait for Paris 2024."
Amandine Buchard also won a second medal, same like Cysique, now they both won gold: "We were there for one another. That is what made us so strong. We supported each other. There were no French supporters, but we made up for that with our own strength in our team."
Guillaume Chaine on his teammates: "We have very different trajectories. We are very different athletes. We were a bit scared at the beginning, and then we gave everything, and were on a roll. We will remember this our whole lives. We will never forget. We have this link that will never disappear. Thanks to my age, I am able to enjoy every instant, every moment that we share. We knew that we had an opportunity. We could do great things. It's extremely positive. We have shared exceptional moments together."
Shohei Ono empty at team event
Shohei Ono got defeated in the first round against Igor Wandtke and didn't have to fight anymore in the final due to the 4-1 for France: "In the individual bouts, I used up all my energy and was tired. The team event takes place after the individual event. There are injuries, and it is very tiring. It is very tough. There are some difficulties - that is what I felt today. I was able to observe my teammates' judo today and once again I realised how strong we are. I think this is a great team. This is something that I will cherish in my judo career going forward."
Aaron Wolf gave Teddy Riner an incredible match but wasn't happy at all: "I am not satisfied. With these team members, we were able to compete until the end. In that way, I feel a sense of fulfilment, but I am not fully satisfied. I'd like to take on this challenge and make revenge at the next Olympic Games in Paris. I think I was the person who should have changed the trend or the current, and I only had a day to rest before my fight. Still it is a great accomplishment, but I think each and every one of us tried to get the gold medal. Some of us succeeded, some of us did not, but we all wanted that gold medal.