Matthias Casse is going for the world title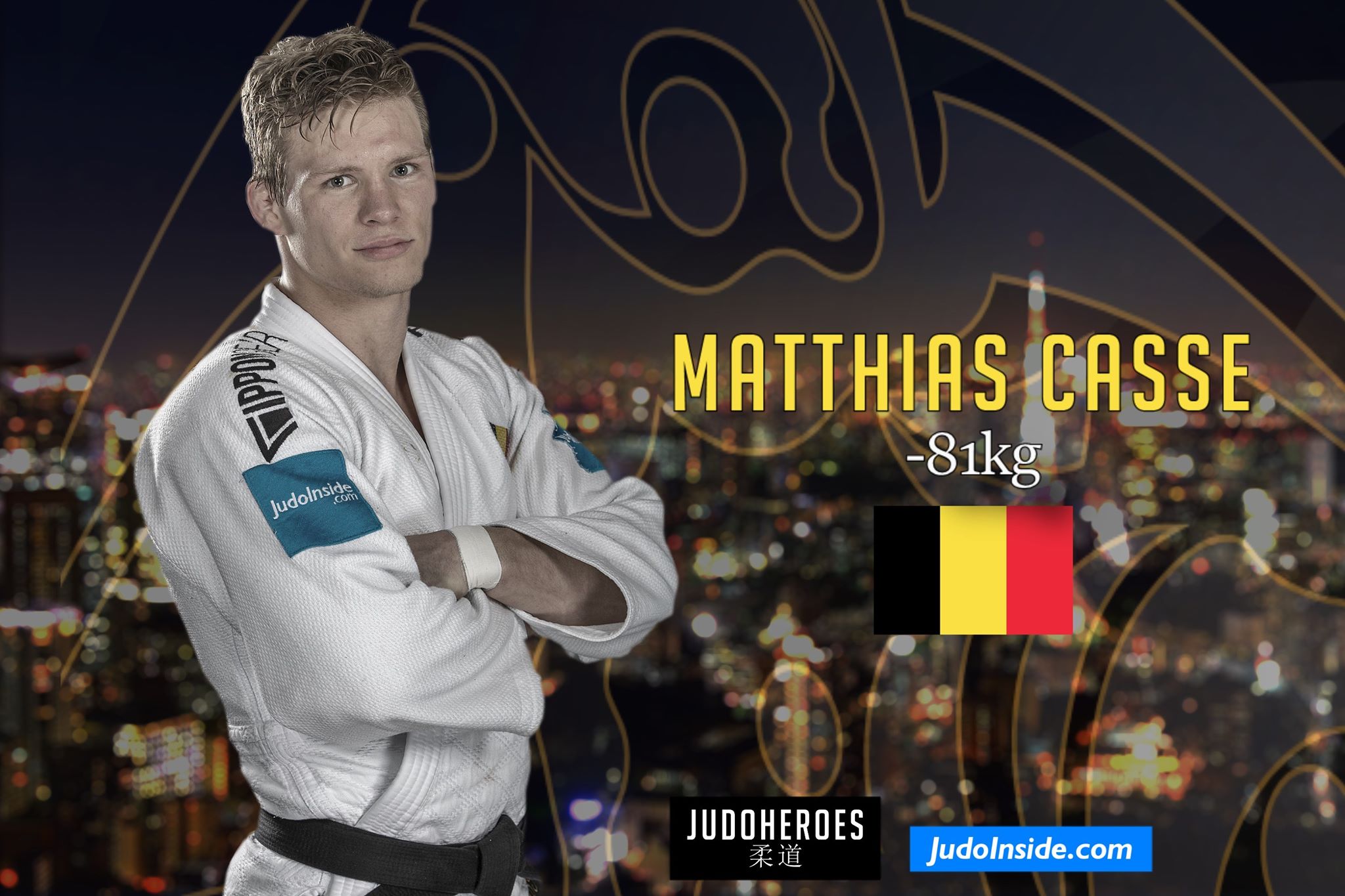 9 Jun 2021 07:30
IJF by Pedro Lasuen
JudoHeroes & IJF Media / Copyright: www.ijf.org
World Number one Matthias Casse will fight for the world title on Wednesday in Budapest. He seems surprised because, he claims, he is not used to interviews. He is young, 24 years old, but he has that veteran look that accepts things as they come. The life of professional athletes is much more demanding than it seems because it goes far beyond a Hellenistic body and the glory of triumphs. The IJF team spoke to our JudoInsider.
A professional is a young man, or woman, who has to mature at a forced pace to try to control the uncontrollable. That is why it is so difficult to stay among the best for the long haul, but Matthias Casse (BEL) is one of them.
He has been in the top three in the most open category of the last decade, for three years (-81kg). Since 2020 he is the number one. All athletes who do not lead their specialties aspire to defeat the one who sits on the throne. Casse's problem is that, in his category, there are plenty of candidates and that means watching around the clock and looking everywhere.
"It's a tremendous category," he says, "there are no differences between the top 8, very few among the next ten."
It is a very special weight; in recent years no one has retained their world title. When we have fun playing with predictions, all the specialists consulted have little or no doubts about the other categories. At -81kg it is another world and what they do, because nobody knows, because everything is possible, is to give us a list of names that, over time, has become a crowd.
The rise of Casse
Athletes are also victims of circumstance and Matthias Casse is no exception. The publicity surrounding Saeid Mollaei (MGL), and even Sagi Muki (ISR), has overshadowed the rise of a man who is methodical and nurturing his own dreams of greatness.
"It didn't really bother me that media weren't talking about me, I just didn't quite understand it, especially when I reached first place in the world rankings. Today I no longer think about it. I dedicate myself to doing what I like and I only take care of fulfilling my objectives."
Matthias is not going to use the World Championships as a mere springboard for his Olympic ambition. "It is obvious that Budapest serves as a touchstone for Tokyo, for me and for everyone, but here a world title is at stake and that is no small thing."
You can be world number one for an eternity, but a gold medal is something else. It means being part of the history of judo, writing your name in books and being part of future posterity.
Regarding the competition, Matthias does not give names, not because of shyness or strategy but because it would be a waste of time. "Anything can happen in judo and in all tournaments there are surprises, but even more so in my category. It's a weight in which a first round becomes a final because the level is very high and balanced."
This is what numerous judo legends recently explained to us. They all agreed on this and on another relevant detail. There are judoka, they said, who will never win a major tournament, but who are capable of eliminating the favourites without blinking.
Matthias has taken the first step, which is to climb to the top and he does not want to get off his pedestal. In 2019 he won the silver medal at the Tokyo World Championships. He was defeated by the previous world number one, Sagi Muki. The next step is to change the color of the medal.
A tactical plan for every opponent
Matthias has come to Budapest prepared. "I have a plan for each adversary. I have studied them all. I have watched videos for hours to analyse them one by one." Then he smiles knowingly and adds, "They have done the same to me."
We have asked some of the finest analysts on the circuit to dissect Matthias's judo. There is unanimity, which confirms our initial impression.
This is what they say, "The Latins have a sparkling, flamboyant style. Matthias is more from the north of Europe, anchored in the earth. His judo is built on seriousness, a precise study, less improvisation but, in the end, it is spectacular because it works. He is discreet, does not make noise and is constant, which is an illustration of his seriousness."
In other words, taking Matthias Casse lightly would be an unforgivable mistake.
We are talking about the highest level where you have to be professional, from eating and resting to training and video sessions. It is a job carried out by young people whose years of experience have an exponential value because, in the competitive world of sports, time is short and is worth gold.
They all know each other and fight each other regularly. However, despite the videos and the knowledge absorbed, each confrontation is a different story. The -81kg category is mystery, full of uncertainty and excitement. Two days to go and we are already impatient. We know that they are too, no matter how mature they are.