The latest Judo News offered by JudoInside.com
Judo lost Georgian legend David Khakhaleishvili (49)
David Finch / Judophotos.com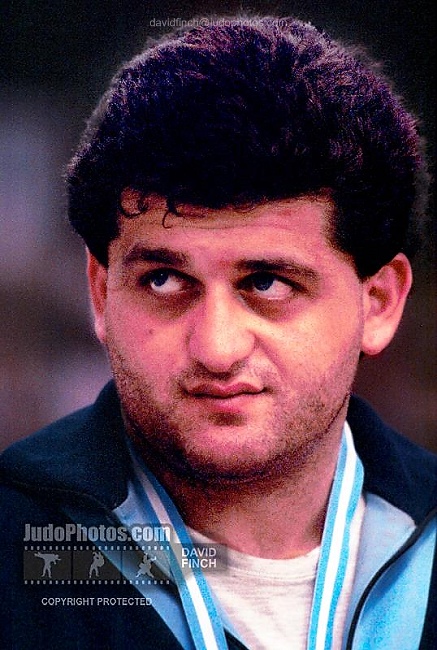 1992 Olympic champion David Khakhaleishvili passed away afer having health problems for quite some time and needed a heart transplantation. Khakhaleishvili had heart problems. He also recently underwent surgery in Minsk, but unfortunately developed sepsis and doctors were unable to save him.
Khakhaleishvili won Four World Championships medals in 1991 (silver), 1993 (silver and bronze) and 1995 (bronze). He was triple European Champion in 1993 (both heavyweight and open category) and 1996. In the Olympic final of 1992 he defeated Naoya Ogawa (JPN).
With the collapse of the Soviet Union the year before, the former Soviet Republics entered a team under the CIS banner and Georgias David Khakhaleishvili, took the Gold Medal for this team at +95kg aged just 21. At those same games, a young Frenchman called David Douillet, was coming to prominence and took the Bronze medal at the same weight.
In the intervening years, Douillet went on to win four World Championship Gold medals, 1993 in Hamilton Canada, 1995 in Chiba Japan, where he took his own category and the Open weight division and in 1997 in his home capital Paris.
Fast forward four years to the Atlanta Olympics, where the heavyweight division, was shaping up to be a real clash of the titans, between darling of French fans and media David Douilet and reigning Olympic Champion at that weight, Georgian David Khakhaleishvili. The Georgian missed the bus to get in time for the the weighin.
On the day of the competition in 1996, Saturday arrived at the athletes village, next to where the competition was taking place. Weigh in time approached and there was no sign of the Georgian. People started weighing in and still the Georgian coach and player were not in attendance. The cut-off for the mandatory weigh-ins came and went and David Khakhaleishvili was disqualified on the spot, for failing to weigh in for the days proceedings.
David and his coach had traveled to the Georgian World Congress Centre across the city for weigh in's, instead of the World Congress Centre, where the competition was taking place, an innocent mistake but one he would rue for the rest of his life.
By the time they realised their blunder, it was too late, they had busy a city to cross, the streets were clogged with traffic, overcrowded with people attending the Olympic Games.
In 2019 the health situation of Khakhaleishvili got worse and family and relatives published an account on which they beg every Georgian to help them in order to save David's life. Khakhaleishvili was one of the greats in Georgian judo but lost the biggest battle in his life for his health.
David Khakhaleishvili was the first Georgian judoka to win the Olympics under the Georgian flag.
Related judoka and events
Related Judo Photos
Related Judo Videos
Related Judo News

Kamil Magomedov (RUS)
40 years
| Result | City | Date |
| --- | --- | --- |
| 1 | Antalya | 1 Apr |
| 1 | Düsseldorf | 2020 |
| 1 | Osaka | 2019 |
| 1 | Tokyo | 2019 |
| 3 | Tokyo | 2019 |
| Result | City | Date |
| --- | --- | --- |
| 1 | Antalya | 1 Apr |
| 3 | Tbilisi | 26 Mar |
| 1 | Paris | 2020 |
| 1 | Budapest | 2019 |
| 1 | Tokyo | 2019 |