Olympic Judo Chronicles: 1992 Men's +95kg finals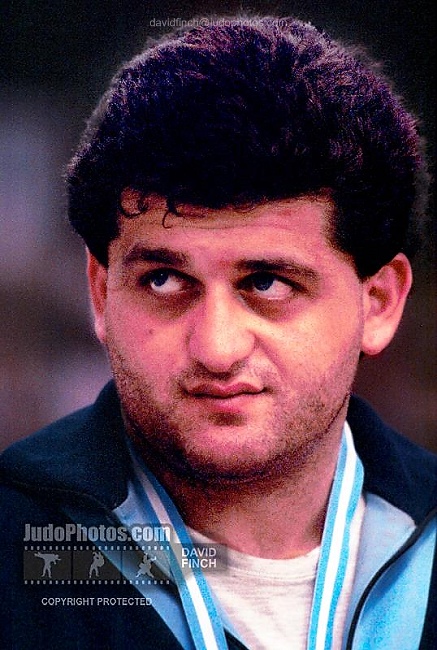 16 Nov 2020 15:30
by Oon Yeoh of JudoCrazy
David Finch / Judophotos.com
David Khakhaleishvili became Olympic Champion in Barcelona using the grip on the belt. Oon Yeoh of JudoCrazy is again creating cutting-edge judo content in the series of the Olympic Judo Chronicles. JudoInside was present in the Palau Blau Grana venue witnessing the distinguished grip of the Georgian fighter.
At the 1991 Barcelona World Championships, the +95kg champion was Sergei Kossorotov of the Soviet Union who had beaten Frank Moreno Garcia of Cuba in the final. The Open Weight champion was Japan's Naoya Ogawa, who had beaten David Khakhaleishvili of the Soviet Union.
At the 1992 Barcelona Olympics, the Open Weight division had been removed and there was only the +95kg left. Moreno Garcia and Ogawa would be there of course but from the Unified Team (consisting of players from the former Soviet Union) there could be only one. As it turned out, it was Khakhaleishvili who was chosen. This might have been a relief to Ogawa as he had lost to Kossorotov at the 1991 World's but he had beaten Khakhaleishvili decisively. But a lot can happen in a year.
Ogawa's first two fights were relatively easy, against players from Guam and Kenya. He also breezed past Belgium's Harry Van Barneveld with his favourite uchimata for ippon.
Even France's David Douillet could not stop Ogawa from getting to the final. Ogawa spun him over with a "wrong leg" tai-otoshi and promptly held him down for waza-ari-awasete-ippon.
On the other side of the draw, Khakhaleishvili had on paper, much harder opponents. After an easy first match against Kahlifa Diouf of Senegal, he faced Moreno Garcia of Cuba, followed by Rafal Kubacki of Poland and Imre Csosz of Hungary. Garcia, of course, was a world silver medalist; Kubacki, a World bronze medallist (later to become a double World Champion); and Csosz, a World bronze medallist as well. He beat them all to earn a chance to meet Ogawa in the final.
Bronze
The first bronze medal match between Moreno Garcia and Douillet was a nail-biting one with the Cuban scoring first with a counter and the Frenchmen scoring a higher point with soto-makikomi in the dying seconds of the match to win the bronze.
The second bronze medal fight, between Van Barneveld and Csosz was an equally exciting one with the Belgian scoring first with soto-makikomi. Then Csosz countered him to even things up before scoring with yet another counter to win the match.
Gold
In 1991, Ogawa had easily beaten Khakhaleishvili with tai-otoshi for ippon but the Georgian had clearly done his homework and knew exactly how to fight the Japanese champion. He scored first, using the famous Georgian grip on the belt to hurl Ogawa over for a waza-ari. Next, he took Ogawa back with a counter to score the second waza-ari, and with that he won Georgia its very first Olympic gold medal.
Read more cutting-edge judo content by Oon Yeoh at JudoPatreon