Olympic Judo Chronicles: 1992 Women's U72kg finals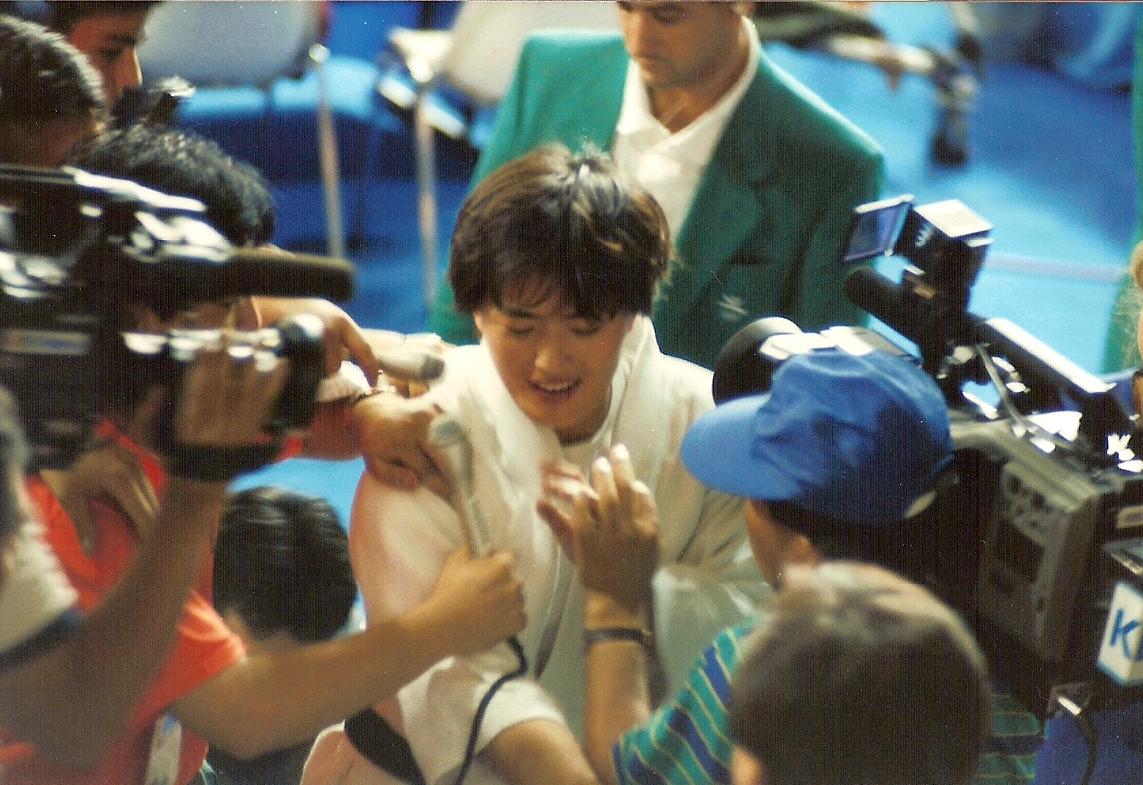 18 Nov 2020 09:00
by Oon Yeoh of JudoCrazy
JudoInside.com / judo news, results and photos
We are going back to the Olympic Games in Barcelona. The women's U72kg category had two top favourites. The reigning World Champion Kim Mi-Jung of South Korea and the World Silver Medallist Yoko Tanabe of Japan. Oon Yeoh of JudoCrazy writes the Olympic Judo Chronicles with JudoInside. We were present in the Palau Blau Grana sports venue in 1992. Vamos!
Two top Europeans that could challenge them were Irene De Kok of the Netherlands who had won two World titles in the 1980s, and Belgium's rising star Ulla Werbrouck, who would four years later go on to become Olympic champion.
Kim made short work of her Indonesian opponent Pujawati Utama in the first round with uchimata and despatch her second-round opponent, Alison Webb of Canada, in very quick fashion as well with sasae-tsurikomi-ashi.
Against Katarzyna Juszczak of Poland, Kim showed that she could do unorthodox judo, throwing the Polish player with a leg grab kosoto-gake. For her semi-final match against Britain's Josie Horton she reverted to classical judo, throwing her opponent with harai-goshi and then uchimata for waza-ari-awasete-ippon.
On the other side of the draw, Tanabe was steadily rising through the pool. She threw her first opponent Cristina Curto of Spain with her favourite ouchi-gari for ippon. Then, she showed her newaza prowess, first rolling Katarina Hakanson of Sweden with sankaku before seamlessly transitioning to kuzure-kesa-gatame for ippon.
Her semi-final bout was against De Kok, who had defeated Werbrouck in stunning fashion with a very high-lift morote-gari. Tanabe scored first with her favourite ouchi-gari for yuko. De Kok struck back with a slick osoto-kosoto combination that was initially scored yuko by the referee but then downgraded by the corner judges to koka. Tanabe proceeded to run out the clock to earn her place in the final against Kim.
Bronze
In the first bronze medal fight, De Kok threw Regina Schuttenhelm of Germany with osoto-gari and then held her down for the win. In the other bronze medal fight, it was youth against experience with newcomer Horton (GBR) going up against European Champion Laetitia Meignan of France. Experience won out with Meignan armlocking Horton to gain a submission for ippon.
Gold
The final was yet another rematch of the 1991 World Championships. In that event, Kim had won by the slimmest of margins — a koka from uchimata in the last 10 seconds of the match. This time around, Tanabe managed to fend off Kim's uchimata but was unable to score on her. In the end, it went to referee's decision and the hantei went to Kim.
Read more cutting-edge judo content by Oon Yeoh at JudoPatreon