The latest Judo News offered by JudoInside.com
How Fabio Basile won his Olympic judo gold
Co-production of JudoCrazy and JudoInside Gabi Juan / Hajime Judo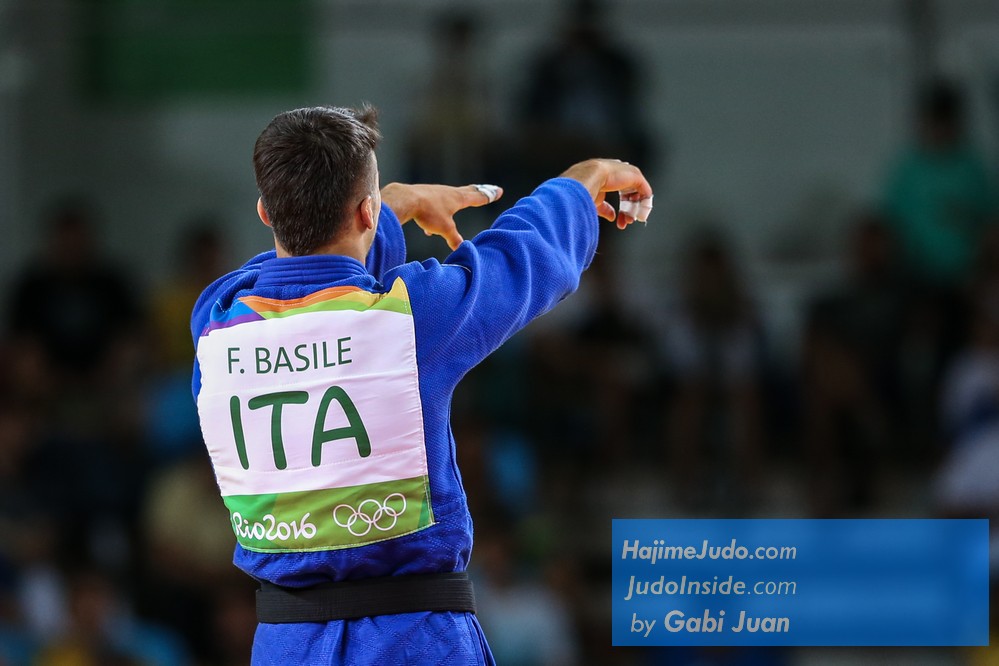 Italy's Fabio was not an unknown quantity when he stepped on the judo mat at the 2016 Rio Olympics. He had, after all, won the bronze medal at the European Championships that year. In one year he progressed from number 182 to becoming Olympic Champion for the next for five years. Oon Yeoh of JudoCrazy reviewed this special medal for Italy.
It is true that he was relatively unknown when compared to some of the bigger stars competing there, such An Baul (KOR), Mikhail Puliaev (RUS), Masashi Ebinuma (JPN), Georgii Zantaraia (UKR) and Rishod Shobirov (UZB). No one could predict the outcome of this category.
His first match of the day was against the capable German Sebastian Seidl. Basile despatched him with a very low, drop sode-tsurikomi-goshi which left the German flat on his back, for a spectacular ippon.
Next up, he was up against the experienced Shikhalizada, who was expected to come up tops in this encounter. Basile surprised Shikhalizada with a tewaza counter that scored waza-ari. The Azerbaijani fighter was left momentarily stunned and this was enough time for Basile to whip a strangle across his neck and secure a submission.
His third match of the day was against the cagey Mongolian Tumurkhuleg Davaadorj who was caught by very low, side-takedown (yoko-otoshi) in the opening seconds of the match.
Davaadorj spent the rest of the match trying to get back that score. Basile took advantage of that and foot-swept Davaadorj with a classical de-ashi-barai just as the Mongolian was pushing forward.
Have fought two very well-known fighters in his last two fights, Basile faced a fellow relative unknown fighter, Adrian Gomboc of Slovenia, in the semi-final. (Basile was ranked 29th while Gomboc, 32). Both fighters were 21 years of age and equally hungry for success.
All day long, commentator Neil Adams had said that Basile was not just a good thrower, he was also a very tactical fighter and this aspect of his game was on full display in this semi-final match, which was won by penalties. Gambling at this result would be hazardous. Despite all odds, Basile was through to the final of the Olympic Games.
He couldn't have faced a tougher fighter in the gold medal match: The then-reigning World Champion An of South Korea. Basile, who clearly wasn't fazed by An, made short work of him by throwing him with a very low, drop seoi-otoshi that had the Korean flat on his back. Ippon! And the gold medal was Basile's.
Fabio Quick facts:
Paolo Bianchessi was the coach of Fabio, who kissed him on his head after his final.
Fabio was just 21 years when he won Olympic gold
Fabio's main rival for the Olympic qualification U66kg in 2016 was Elio Verde
In one year Fabio progressed from 188 in the IJF World Ranking U66kg to the absolute miracle.
Italy now counts four Olympic Champions in Ezio Gamba, Giuseppe Maddaloni, Giulia Quintavalle and Fabio Basile.
Related judoka and events
Related Judo Photos
Related Judo Videos
Related Judo News

Nuno Carvalho I (POR)
43 years
| Result | City | Date |
| --- | --- | --- |
| 1 | Prague | 19 Nov |
| 1 | Budapest | 25 Oct |
| 1 | Perth | 2019 |
| 1 | Wuhan | 2019 |
| 3 | Tokyo | 2019 |
| Result | City | Date |
| --- | --- | --- |
| 2 | Prague | 19 Nov |
| 7 | Budapest | 25 Oct |
| 3 | Qingdao | 2019 |
| 3 | Odivelas | 2019 |
| 5 | Abu Dhabi | 2019 |