The latest Judo News offered by JudoInside.com
2021 Summer Olympics: Judo Medal Hopefuls in judo
IJF Ben Urban / International Judo Federation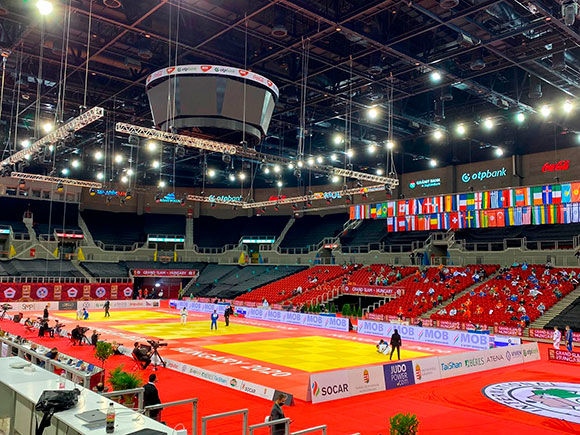 The 2020 summer Olympics were hit just as hard as any other sport by the novel coronavirus outbreak that has shocked the world, killing over a million people and devastating the global economy.
Judo suffered quite a lot and had to shutdown for about six months. European soccer got back to business fairly quickly. American sports such as Major League Baseball, NBA Basketball, and NHL Hockey were shut-down and postponed for months. The 2020 Summer Olympics got hit the hardest. It's been delayed for a full year. The Olympic Judo events will kick-off on July 23rd, 2021
Budapest Grand Slam was just a warmup
This is going to be interesting to see how it impacts the top judoka around the world. After all, we have to think that at least some who were ready to head to Japan in 2020 won't be able to rearrange their lives for an entire year longer to attend in 2021. That said, in May, the All Japan Judo Federation passed a decision that their team would not have to requalify for the 2021 Olympics, and they would stay with their current lineup.
One challenge is that amateur training in combat sports is prohibited in many countries at the moment. So, how do the Judokas stay in form for a new qualification process – one that in reality began back in 2018. Well, the World Judo Tour started last week in October again in Budapest.
The Russians were strong in Hungary. At U60 and U66kg, they took gold and silver in both weight classes. Yago Abuladze and Robert Mshvidobadze were in the final of the 60kg category. Abdula Abdulzhalilov and Yakub Shamilov snagged 1st and 2nd at U66kg. But they didn't stop there. The Russian men snatched 1st place at U90kg; 1st and 2nd at U100kg and 1st and 2nd at +100 KG.
If the Olympics were Today
The Budapest Grand Slam gave a slight inside preview of some of the potential medallists A few big names didn't compete as they have technically already qualified with the number of points that they have accrued. However, points will be tallied until June 28th, so this could change. The best Continental result will count from the Championships in 2020 and 2021 with the Europeans soon to be held in Prague. The current World Ranking doesn't yet represent the Olympic medallists, so we really need to get a few more events.
We should expect medals in the Women's division out of Japan, France, and Canada. All three countries are stacked with athletes in varying weight classes, with women ranked 1st, 2nd, and 3rd. France, Canada, and Russia make up three of the eight teams already qualified for team competition with six Judoka apiece. Brazil, Germany, Netherlands, Mongolia, and the Republic of Korea are the other five.
As far as the Men's division is concerned. The Japanese have the U60 class locked in tight with the world ranking No.1 and No. 2 in Ryuju Nagayama and Naohisa Takato. At U66, Italy's Manuel Lombardo is World No. 1, but again Japan is stacked with the current world No. 2 and No. 3 athletes. At -73, Soichi Hashimoto is No. 1 in the world, but we have Rustam Orujov (AZE) ranked No.2 who was strong again last week. Shohei Ono is without a doubt the number one favourite for the Olympic title. The U81kg division is a little more open, country-wise. Matthias Casse is ranked No. 1; then, we have Israelian World Champion Sagi Muki and a few more countries rounding out the world top in this class.
The same goes for U90. Spaniard Nikoloz Sherazadishvili is the current No. 1 in the world, everything is open in this class where Mikhail Igolikov presented himself as a medal candidate last week in Budapest. World No. 2, Noel Van T End. According to abebebts.com there are no Olympic Judo odds out yet, but if I had to wager on who I thought was a lock for a Gold in the 2021 Summer Olympics, it would be Spain at U90 but in Japan it could be well Mukai who took silver in the Budokan last year.
U100kg Korea's Guham Cho is ranked No. 1, but Jorge Fonseca is just a few throws away from that top-ranked spot. In fact, the Portuguese judoka is one to watch, as he's recently climbed three places up the world rankings. The +100kg class is led by Lukas Krpalek. The Czech has a decent lead over Hisayoshi Harasawa of Japan and Inal Tasoev of Russia who was one of the Russian gold medallists in Budapest. That said, it's not an insurmountable lead, and we could see Harasawa or Tasoev move up with Krpalek who was positive on Covid-19 last week.
We will just have to watch the World Tour and next year's scheduled World Championships in Budapest. Perhaps last week was a nice warm-up for some of the athletes but the big bang still to come, but for sure not this year. It will all happen in 2021.
Related judoka and events
Related Judo Photos
Related Judo Videos
Related Judo News

Jelle Kuijpers (NED)
22 years
| Result | City | Date |
| --- | --- | --- |
| 7 | Paris | 2020 |
| 1 | Tel Aviv | 2020 |
| 5 | Abu Dhabi | 2019 |
| 3 | Tokyo | 2019 |
| 7 | Ekaterinburg | 2019 |
| Result | City | Date |
| --- | --- | --- |
| 3 | Paris | 2020 |
| 3 | Brasilia | 2019 |
| 1 | Zagreb | 2019 |
| 1 | Budapest | 2019 |
| 7 | Hohhot | 2019 |