The latest Judo News offered by JudoInside.com
Top 7 All-Time best Judoka in MMA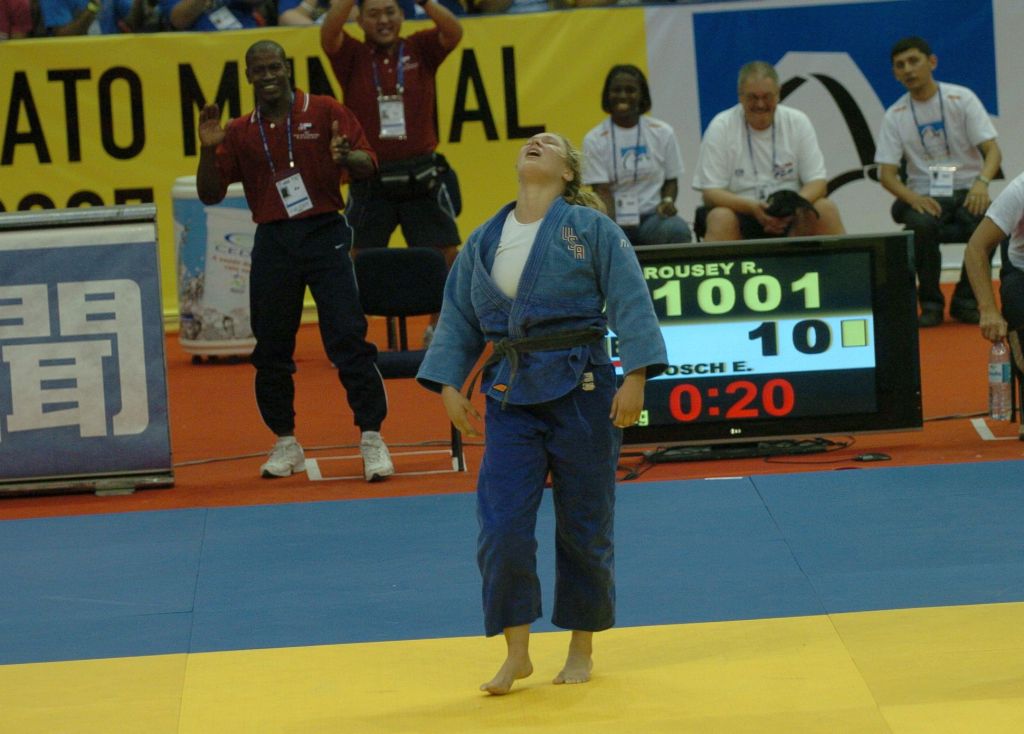 Judo is a great contributor to MMA athletes in general. With our armlocks, jujis and throws judoka have the skills to shine within the octagon. We have chosen eight out of the many fantastic Judoka that will forever be remembered in the MMA world.
Ronda Rousey
Ladies first? By far one of the greatest Judoka in MMA of all time, Ronda Rousey had perfected the armbar, and had won via submission nine times. Despite having one of the weakest strikes out of all other female MMA fighters, she was able to become a WEC and UFC Bantamweight champion. She was a favorite in the sportsbooks almost every fight she was in up until she lost to Holly Holm.
Throughout her last five fights, her striking has improved. But she will always be known for ending fights once she gets a hold of her opponents' arm. She has had a number of big wins during her career, with wins over Cat Zingano, Liz Carmouche and Miesha Tate. More women are trying to get a foot on the ground in MMA nowadays as Rousey was their example to reach forever fame.
Just like all the other fighters on this list, Rousey has a few losses as well. Coming from Holly Holm and Amanda Nunes in her most recent matches. As of right now Rousey competes in the WWE and it is currently unknown what her UFC future holds.
Hidehiko Yoshida
Hidehiko Yoshida was one of the most successful Japanese Heavyweight Judoka. He had earned multiple
gold medals throughout his career from places such as the Asian Games, World Championships and even the Olympics. Yoshida was known for being an outstanding submission expert. As it seemed like he won the match every time he was able to take his opponent to the ground.
However, he was also known for having poor striking skills, which was highlighted in his match against Mirko Cro Cop. Yoshida was TKOd after multiple low kicks, with Yoshida not being able to land or protect against strikes. His current MMA score is 9-8-1, with big wins over Tank Abbott Maurice Smith, Don Frye and Mark Hunt. Yoshida had retired back in 2010 after he lost to Kazuhiro Nakamura.
Kazuhiro Nakamura
Nakamura is another fantastic fighter, who is also the third dan black belt in Judo. He has competed in many different places, including the Pride FC and Dream, where he was able to win the Deep Middleweight title. Nakamura had always lacked in striking but like Yoshida his submission game was outstanding.
Nakamura had never won a big title in Judo but had a lot of success in the square ring. He has major wins over Igor Vovchanchyn, Murilo Bustamante, Evangelista Santos and Kevin Randleman. He was also able to fight a few matches in Heavyweight but ultimately dropped back down to Middleweight. His total MMA score was 21-13 and he had retired back in 2014.
Yoshihiro Akiyama
Akiyama is another third dan black belt in Judo, as well as the owner of the Asian Games and the Asian Championships gold medal. He currently has a deal with ONE FC, with a total MMA score of 14-6 with two no contests.
Akiyama has been known for his great kicks, something that is very rare for an MMA Judoka. Not to mention his effective armbar. He is Hero's 7 Light Heavyweight tournament winner. He also has big wins over Alan Belcher and Denis Kang. However, he had poor performances when in the UFC, with a record of 2-5.
Hector Lombard
Hector Lombard was very successful in the Judo world way before he made the switch to MMA. He actually had won an international tournament in the 100kg + division. However, he will always be known as one of the best Judoka in MMA.
He is a former XFC Light Heavyweight champion, CFC Championship legend and Bellator Middleweight title holder. To make his career even more outstanding, he was even an inaugural AFC champion. His total MMA score is 34-10-1 to go along with two no contests.
The transition to the UFC was not very smooth for him though, as his record was 3-8 with one no contest. He had losses to Dan Henderson, Thales Leites and CB Dollaway just to name a few. He hasn't retired yet but is currently sitting on a six-match losing streak.
Dong Hyun Kim
Dong Hyun Kim is known as one of the greatest Judoka in MMA out there, but unfortunately, he was never able to win a title. He was known for being an incredibly tough rival as well as being very difficult to knock out. But sadly, he wasn't able to take that next step, always losing the big matches. For example, in the Deep Welterweight Championship he matched up against Hidehiko Hasegawa, that match resulted in a draw.
His total MMA score is 22-4-1 to go along with 1 no contest. However, he still battles it out in the UFC, holding a record of 13-4 with 1 no contest. He has big wins over Nate Diaz, Paulo Thiago and Matt Brown. With his most recent match being against Colby Covington back in 2017, where he was ultimately defeated by unanimous decision.
Karo Parisyan
This Armenian star was an outstanding Welterweight fighter, holding a record of 24-12 and one no contest. He is a former WEC champion and one of the best Judoka in MMA around. Much like many other Judokas, he lacked in strikes, with only two of his 24 wins coming in the form of a KO. However, he makes up for his lack of striking with a great submission game.
His transition to the UFC was also relatively smooth, as he holds a record of 9-4. That record is great for a fighter that has a weak striking game.
He has a few notable victories, against opponents such as Phil Baroni, Nick Diaz and Matt Serra. He was also unable to defeat Sean Sherk, as he lost to him multiple times.
Related judoka and events
Related Judo Photos
Related Judo News

Lidia Brancheva (BUL)
19 years
| Result | City | Date |
| --- | --- | --- |
| 7 | Paris | 2020 |
| 1 | Tel Aviv | 2020 |
| 5 | Abu Dhabi | 2019 |
| 3 | Tokyo | 2019 |
| 7 | Ekaterinburg | 2019 |
| Result | City | Date |
| --- | --- | --- |
| 3 | Paris | 2020 |
| 3 | Brasilia | 2019 |
| 1 | Zagreb | 2019 |
| 1 | Budapest | 2019 |
| 7 | Hohhot | 2019 |