The latest Judo News offered by JudoInside.com
Ronda Rousey: Using Judo as the foundations for a combat career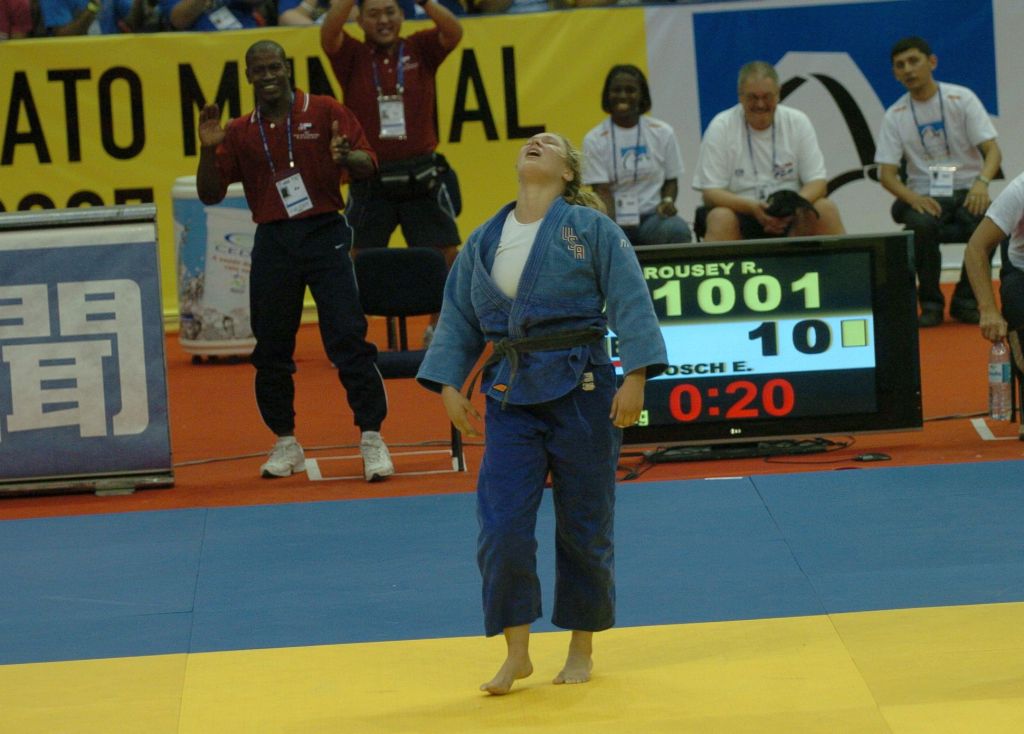 For much of the last decade, Ronda Rousey has been the biggest name in women's mixed martial arts. Moreover, Rowdy arguably established herself as the most decorated judoka to compete in MMA, claiming the women's bantamweight title in both Strikeforce and the Ultimate Fighting Championship. So, let's take a look at how judo proved to be the springboard to Rousey's combat career.
Becoming a UFC Champions with a Judo Skill Set
Rousey started her journey into judo at the age of 11, and just six years later became the youngest judoka to qualify for the 2004 Olympic Games. Although the Californian fighter was unable to claim gold, Rowdy did pick up a bronze medal in Beijing back in 2008. She had already won the World silver medal at the Judo World Championships in Rio. In achieving this, she became the first American to win an Olympic medal in women's judo since the sport became part of the event in 1992, as per a report by the UFC.
Following that phase of her career, few can argue that Rousey went on to become one of the UFC's most influential figures. Somewhat single-handedly, the former bantamweight champion was the catalyst behind the organization's signing of female fighters.
In pioneering the way for top-level female MMA, Rowdy stayed true to her judo roots, making them a pivotal part of her stand-up game. During her victories against both Bethe Correia and Miesha Tate, the 33-year-old utilized judo throws to assert herself and establish a dominant position. It's a testament to the judoka's credentials that half of her wins in the UFC came by way of submission, as per Sherdog.
Moving Into the WWE
Despite suffering back-to-back defeats at the end of her three-year spell in the UFC, Rousey is still regarded as an influential figure. Had it not been for her abilities and desire to showcase her talents, the platform may not have been there for the likes of Amanda Nunes and Valentina Shevchenko to go on and achieve greatness in the Las Vegas-based promotion.
This was followed by Rowdy joining the WWE on a full-time basis in 2018. Much like in her MMA career, judo was central to her approach to professional wrestling. More often than not, Rousey would opt for a judo throw as a means of transitioning into an armbar. Although the Californian isn't the most successful women's judoka in history – with Ryoko Tani claiming that title – few took the practice to the masses quite like Rousey.
For Rowdy's wrestling career, she undoubtedly made a wise decision in making her first WWE appearance at the Royal Rumble in Philadelphia. Throughout the city, entertainment is central to the culture, as highlighted by various sports teams, such as the Eagles and 76ers. Ultimately, it's a testament to the local appeal of diverse entertainment that a wide array of casino operators cater to the desires of Philadelphia-based players. Interestingly, legal casino offers in Pennsylvania, including those at DraftKings Sportsbook, provide sign-up bonuses for traditional casino offerings, as well as sports betting. Regardless, it's clear that the entertainment scene in Philadelphia is as strong as ever.
A Leading Figure for Women's MMA
Throughout her career, Rousey has done far more than merely compete in MMA and professional wrestling; she has been the pioneer for unprecedented change in the world of regulated combat. Perhaps what's most impressive about the 33-year-old is that all of her success stems from an appreciation for judo, and that's something that has continually stuck with her.
Related judoka and events
Related Judo Photos
Related Judo Videos
Related Judo News

Beata Kabat (ROU)
36 years
| Result | City | Date |
| --- | --- | --- |
| 7 | Paris | 2020 |
| 1 | Tel Aviv | 2020 |
| 5 | Abu Dhabi | 2019 |
| 3 | Tokyo | 2019 |
| 7 | Ekaterinburg | 2019 |
| Result | City | Date |
| --- | --- | --- |
| 3 | Paris | 2020 |
| 3 | Brasilia | 2019 |
| 1 | Zagreb | 2019 |
| 1 | Budapest | 2019 |
| 7 | Hohhot | 2019 |