The latest Judo News offered by JudoInside.com
Teddy Riner lost to Joseph Terhec at French Team Championships
IJF Aurelien Brandenburger / International Judo Federation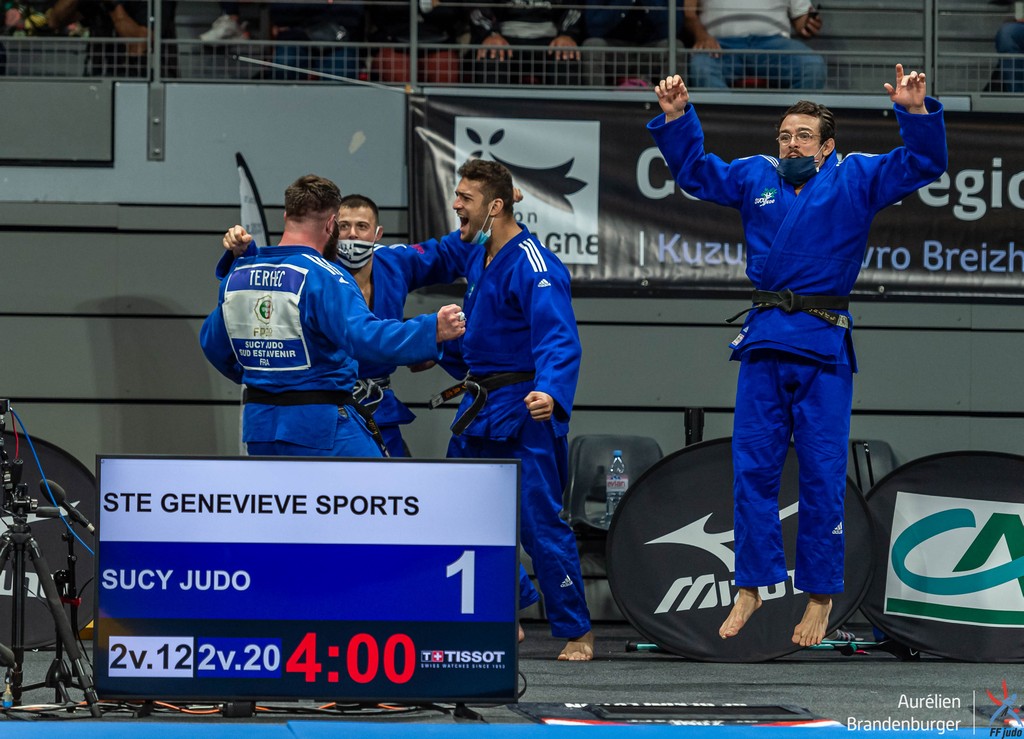 Ten time world champion Teddy Riner is not yet in shape At the French Team Championships Big Teddy lost by three penalties in the quarterfinal contest. Teddy Riner was undefeated by a Frenchman for almost 13 years, but this year is special for everyone, also Riner cannot escape.
Frenchman Joseph Terhec (25) was the opponent who caught Teddy Riner. Terhec won bronze this year at the European Open in Warsaw and he took gold at the European Open in Glasgow in 2018. The World Military Champion of 2018 is not the best international player but always active in team events and fighting in the region. He knew the recipe to ease Teddy Riner so he received his third penalty. Being warned in Paris, you wouldn't expect a penalty loss for the double Olympic Champion. On the other hand, 31 year old Riner knows when to peak and everyone is at his tail. Doesn't take away that Terhec did a great job for his club. He was the one who took benefit four times at French Championships between 2008-2015 when Riner was absent.
Both athletes were penalised for the first time after 48 seconds but Riner got his second warning after 1.36 in the contest for an illegal exit from the tatami. After almost three minutes both athletes got penalised again and Terhec did the impossible but reacted realistic in French daily Le Parisien: "I'm not going to complain. The referees felt that I was a little more generous than Teddy. But I understand his reaction. Personally, I don't think I won thanks to the refereeing. I was a little smarter and offensive and let's face it, Judo is like that now." Good for Terhec that his club Sucy Judo 94 won the French team title.
Still Riner's loss was a big news and gives hope to those fighters who smell their chances to beat the French monument. So far no one of potential Olympians has been able to beat Riner in a direct confrontation. Kokoro Kageura who defeated Riner in February in Paris is not selected for the Olympic Games. The heavyweight position was awarded to Hisayoshi Harasawa.
It must be very hard for any athlete to get back in shape after months of non-competitive activities like playing free online slots. Athletes in Dubrovnik fought this week their first international event and some also suffered match rhythm which is completely logical. A better insight will be the performances at the Grand Slam in Budapest, which is still scheduled in 18 days' time.
Related judoka and events
Related Judo Photos
Related Judo News

Jose Luis Arroyo Osorno (PER)
25 years
| Result | City | Date |
| --- | --- | --- |
| 7 | Paris | 2020 |
| 1 | Tel Aviv | 2020 |
| 5 | Abu Dhabi | 2019 |
| 3 | Tokyo | 2019 |
| 7 | Ekaterinburg | 2019 |
| Result | City | Date |
| --- | --- | --- |
| 3 | Paris | 2020 |
| 3 | Brasilia | 2019 |
| 1 | Zagreb | 2019 |
| 1 | Budapest | 2019 |
| 7 | Hohhot | 2019 |