The latest Judo News offered by JudoInside.com
Judo in the time of Covid-19: Pleuni Cornelisse
JudoCrazy by Oon Yeoh JudoInside.com / judo news, results and photos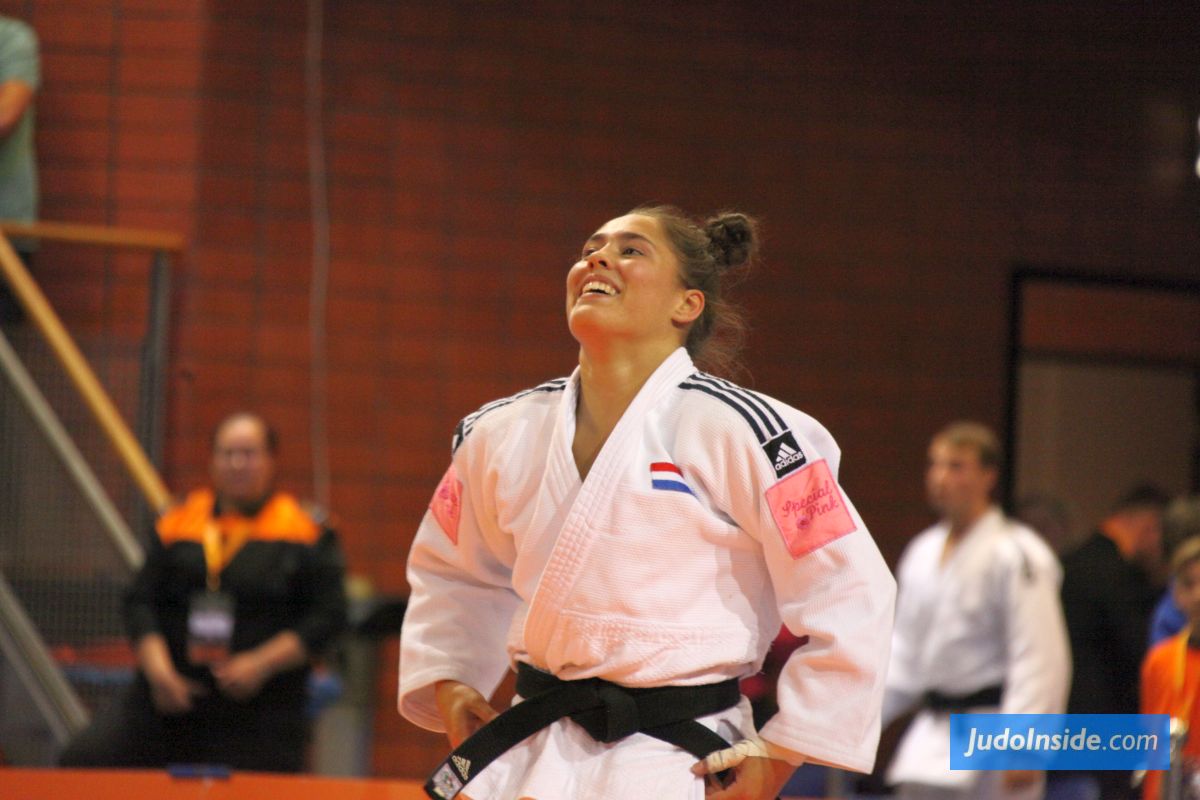 Dutch promise Pleuni Cornelisse still has a bit of freedom in corona time. She can go outside, train outside but not go to any gym or club. Her father is now her sparring partner. The bronze medallist at Junior World Championships would normally live at the training centre 120kms from her home, but in this time without college Pleuni is sentenced to her home like many. JudoCrazy's Oon Yeoh was curious about everything.
JIC: Is Pleuni a common Dutch name and does it have a meaning?
PC: Pleuni is not that common and according to my mom, it means "destroyer".
JIC: What an appropriate name for a judoka. Do you think it fits you well?
PC: Well, I wouldn't say I want to destroy someone but I really like having a good battle.
JIC: How old were you when you started doing judo?
PC: I started when I was eight years old. Before that I swam, and I loved swimming but when I saw my older sister doing judo, I wanted to do it as well. The action and the movements looked so cool to me. Once I tried it, I decided judo was going to be it. My mom initially thought I wanted to switch to judo just to be like my older sister but it wasn't that at all. I just really enjoyed playing judo.
JIC: Which club were you attached to?
PC: I started doing judo at a small club called "Randers de Geus" in Broek op Langedijk but when I turned 13, I joined another club in Haarlem called "Kenamju".
JIC: Why the switch?
PC: It got to a point where there weren't that many suitable training partners for me at my original club because it was a small club. I felt I needed to move to a bigger club and train with the best in order to become one.
JIC: Where are you training now?
PC: Since July last year I 've been based at the National Training Centre in Papendal. I train there every day except for weekends, when I go back to Schagen where my parents are.
JIC: Are you also a student or do you do judo full-time?
PC: I'm studying Food and Technology at a university in Ede, in the middle of the country, which is about a 20-minute drive from the training centre.
JIC: As you are Dutch champion, is your training sponsored by the government?
PC: No, we have to pay for the full-time training and there are lodging costs as well, to stay at the national training centre.
JIC: Do you have corporate sponsors to help cover those costs?
PC: My parents are my biggest sponsors actually, but I do have a few corporate sponsors as well. For example, Dutch Steigers, a scaffolding company, provides me with a car so I can get around and go to university and go home for the weekends. I also have some support from Steengoed, a company that sells natural stones for sculpting. And Nihon Sports Nederland, a sports store, supports me with judo gear.
JIC: Don't you get money from the government?
PC: No, we don't get a salary or anything like that but if you have achieved a certain level you could get some support from the judo federation.
JIC: Before the lock-down what was a typical day like for you?
PC: I have a morning session, which is usually strength and conditioning. After that I have to go to my university in Ede. When I get back from class, I usually have to go straight to judo training. I eat dinner only after training. Then, it's homework time.
JIC: How is it now during the lock-down?
PC: Well, for schooling, I have online classes. For judo, my coach gives us some training instructions for us to do at home so we can stay in shape. Over here we are allowed to go for a jog outside, so I do that as well and I sometimes do some skating, just to add some variety into my routine.
JIC: How do you feel about being locked-down at home?
PC: On the one hand, I love being back home with my family again. But I also liked having my own space in Papendal.
JIC: How are you coping with no judo?
PC: Actually, I am able to do a bit of judo at home because we have some mats in our home garden. So, I practice with my dad.
JIC: Your dad is a judoka too?
PC: He is but he started judo really late in life. He was about 40 years old when he started. Since both his daughters were doing judo, he wanted to understand the sport more so he took up judo as well, and he got hooked! He was preparing for his third Dan when the Covid-19 crisis happened so that's now put on hold for the time being.
JIC: Did your dad compete?
PC: He has taken part in some team competitions just for fun and he has also participated in kata competitions, where he won some medals. He just loves doing judo. Normally he trains with his regular training partner to prepare for judo exams.
JIC: Now he has you as his training partner?
PC: I guess during this lock-down, yes. He's a little bit like me. He gets a little annoyed if he can't get in some judo training so training with me is a good way for him to expend some energy.
JIC: Have you always had a mini-dojo in your home?
PC: No, it wasn't always the case. When the lock-down was first imposed, I had just returned from a training in Kosovo, and it seemed like the lock-down would last for several weeks, so we decided to get some mats so I could maintain the momentum and stay in judo shape.
JIC: How did you end up in Kosovo for training and what was that like?
PC: My coach, who was there last year, organized a trip for a group of us — there were nine judokas who went there. We were supposed to be there for six days but had to cut it short by a day because of the Covid-19 situation meant that many flights were going to be cancelled. They have a really strong team there and the training was quite hard but I like that, so I didn't mind that at all.
JIC: Did you get to train with Nora Gjakova, who is also -57kg like you?
PC: Yes, I did. She is really strong. It was a good experience for me.
JIC: What made you decide to become a serious international competitor?
PC: It wasn't a specific conscious decision. It just happened naturally. As I trained and competed, I just wanted to keep pushing myself higher and higher. So, at some point, the natural next step was international competitions.
JIC: Do you find it difficult balancing social life and judo?
PC: You have to make certain sacrifices but I don't consider myself missing out on anything. I still get to meet up with friends occasionally but for me sports is the priority.
JIC: Do your friends understand that though?
PC: When I was younger my friends did not quite understand it, so sometimes when I had to leave early to go for training, they would try to convince me to stay and hang out with them instead. They thought it wouldn't matter if I skipped training sometimes. Now, I have a group of supportive friends who understand my lifestyle and accept it. In fact, my best friend, Amber Hensens, who is not even a judoka is always there at tournaments to cheer me on. When I'm abroad for competitions, we'll FaceTime and sometimes I try to explain to her the significance of my draw. I don't think she really gets it but at least she tries to understand it. Ha… ha…
JIC: Are you usually nervous before a match?
PC: I'm always excited about fighting but I'm usually quite relaxed and calm before a match.
JIC: You won a bronze medal at the 2019 World Junior Championships. Did that feel like a milestone for you?
PC: Yes, because it's my best result to date but it was extra special because it happened just a day before my birthday. So, in a sense it was a special birthday presents that I gave to myself!
JIC: You have won a few U21 European Cups. Now that you've just become a senior are you aiming for any Grand Prix or Grand Slam events?
PC: Before the lock-down I had been selected for the Grand Prix in Morocco but that's since been cancelled. Hopefully I'll get selected for another Grand Prix when competitions resume. It's something I really looking forward to... competing at the senior level.
JIC: Any words for other judokas stuck in a lock-down?
PC: We're in this together. Stay positive and try to get something good out of a bad situation.
Are you JUDOCRAZY? The become a JudoCrazy Patron and read all their stories here
Related judoka and events
Related Judo Photos
Related Judo Videos
Related Judo News

Michal Bartusik (POL)
27 years
| Result | City | Date |
| --- | --- | --- |
| 1 | Brasilia | 2019 |
| 1 | Montreal | 2019 |
| 1 | Marrakech | 2017 |
| 1 | Zagreb | 2017 |
| 3 | Budapest | 2017 |
| Result | City | Date |
| --- | --- | --- |
| 1 | Budapest | 2019 |
| 2 | Qingdao | 2019 |
| 3 | Brasilia | 2019 |
| 1 | Tokyo | 2019 |
| 3 | Montreal | 2019 |