Eteri Liparteliani first female Georgian World Champion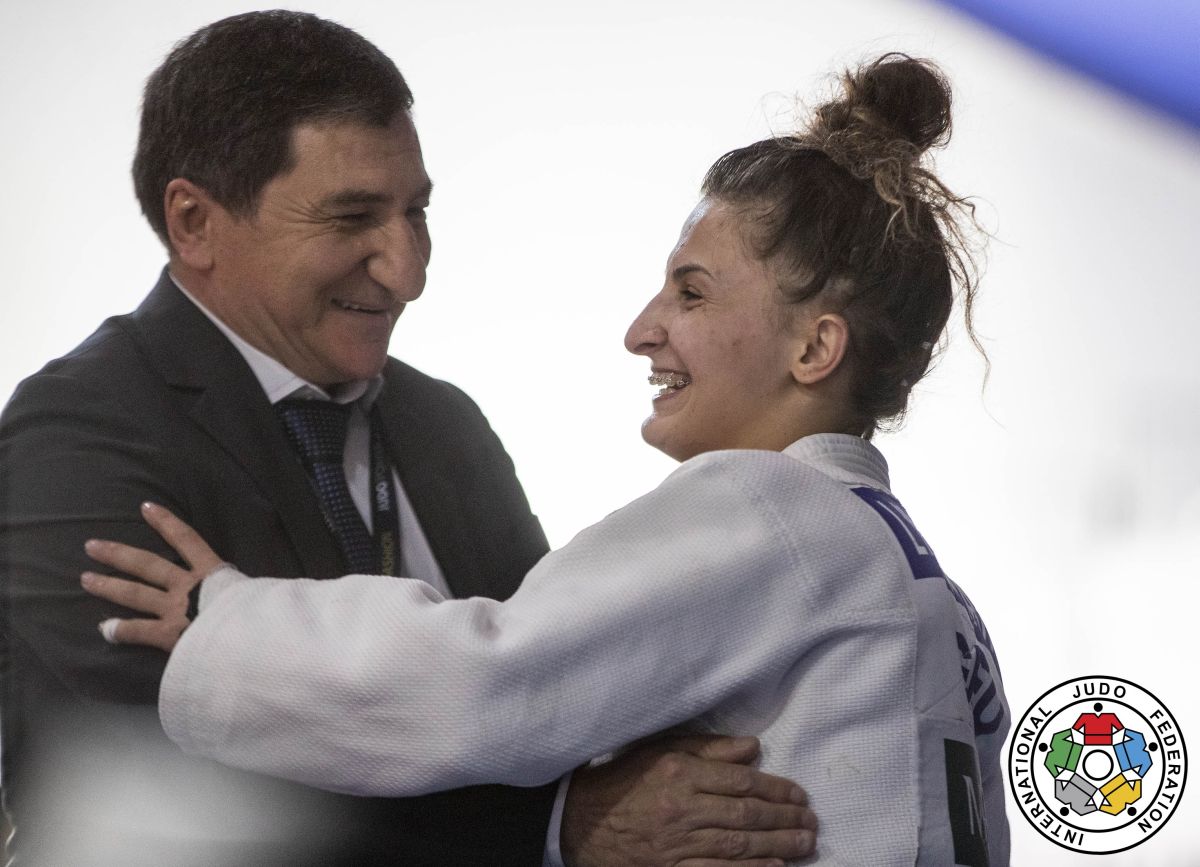 17 Oct 2019 17:05
IJF Media Department
IJF Gabriela Sabau / International Judo Federation
No. 1 seed and reigning Junior European Champion, Eteri Liparteliani (GEO), confirmed her rank throughout the second day of the Junior World Championships in Marrakech and qualified for the final without any trouble. Wearing a well-known name in the world of judo, without being directly related to the world number one in U100kg, Varlam Liparteliani, the young woman advanced in the tournament with seriousness and application.
In the end she was opposed to the Japanese Hakamata Kanako, who like many of her compatriots, was performing in Marrakech for one of the first times on the international scene.
The final started like a cat and mouse game, as both competitors tried to change direction to create opportunities. But quickly, Liparteliani found the solution on a large movement (Ura-nage very close to obi-tori-gaeshi) that propelled Hakamata on her back for a beautiful ippon. Beyond the excellent results of Liparteliani, it is interesting to notice that Georgia has been working hard to produce strong female athlete as well, when a few years ago mainly the men were known. Georgia as a mixed team will be under scrutiny by the other nations, as they will again be competitive in team events.
The first bronze medal contest was played out between Vera Zemanova (CZE), several times ranked at European Junior Opens and Pleuni Cornelisse (NED), seventh at the last European Junior Championships, held in Finland from 12 to 14 September. Zemanova was quickly penalized with a first shido for blocking her opponent and then was under pressure from Cornelisse who was close to scoring with a low o-uchi-gari. But as the pace of the contest was decreasing, it was Cornelisse's turn to be penalized and then Zemanova received a second penalty just before the start of the golden score. The lack of experience at that level pushed Zemanova to be penalized a third time with a cross grip offering the medal to the Dutch, who could hardly believe that she was on the podium.
The second bronze medal contest was a 100% Korean matter between the athletes of the country of the morning calm, Kim Jisu and Huh Mimi. The difference in style was visible with Kim being taller than her teammate and trying to dominate her with her longer arms. But surprisingly, it is when Huh tried to go over the head of her opponent despite her smaller size, that Kim went under with a kata-guruma for waza-ari, that was actually the final score.