The latest Judo News offered by JudoInside.com
Reactions of the top judoka on postponement of the Games
IJF Media Team / International Judo Federation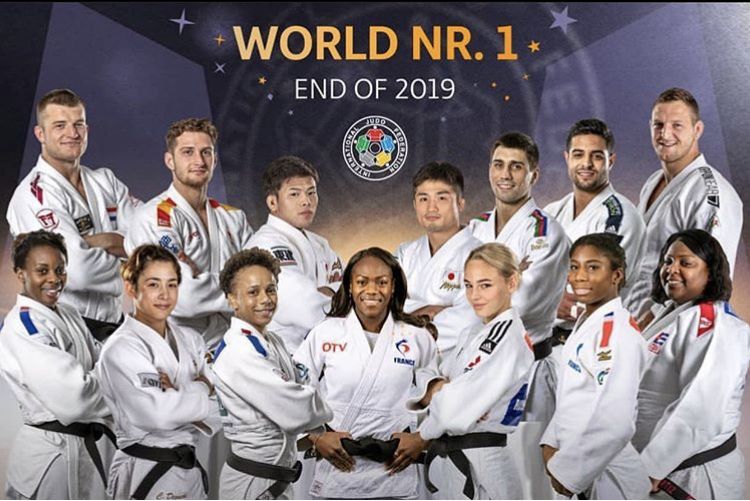 The IOC will move summer Games to 2021 over coronavirus pandemic. That was announced on Tuesday, which is a very unfortunate situation for all judoka and all athletes in the world involved. Here are the main reactions from some of the athletes in the IJF World Tour. We asked some of our judo world leaders for a reaction.
It's fair to start with some reactions from Italy. World number one from Italy, Manuel Lombardo reacts: "In these days locked up at home like the rest of Italy and many countries of Europe and the World, the thought that the Olympics could still be held helped me a lot to face the difficulties in training at home. Until today's announcement The Games seemed to me tomorrow, now after the message of the postponement of the Olympics, they seem to me far away again.
Today is not a good day for me and for sport in general, however health comes first, so I can say that a part of me is happy to have averted the possibility of endangering mine and the health of all the people who would take part, my family first, who would come to cheer me on.
Now the main objective is to defeat this bad evil that is affecting the whole world! I Can't wait for everything to return to normal, because I have never been so motivated to play our wonderful Italian hymn in Tokyo, for me and for Italy, which is in the forefront of this war these days.
Quadruple Masters winner Kim Polling said from her residence in Italy: "Postponement is the only right decision in this momet. I hope that the virus gets controlled in the next months and once that is under control er there an opportunity to reschedule the 2021 World Championships to this year." Polling immediately posted this request in the #askVizer twitter session planned this afternoon and it is under investigation.
Double World Champion Daria Bilodid: "I was most afraid of the postponement of the Olympic Games. I have always been dreaming of "Tokyo 2020" ,since childhood. I trained a lot and prepared for this year. And I'm very upset. But in spite of this, I understand that health is more important than all competitions and now the most important thing to all is to comply with safety rules and be healthy.
World number one U52kg Amandine Buchard responded: "Just thinking about it breaks my heart. The Olympics is my biggest dream, my reason for living."
Naohisa Takato said: " Whatever happens, I am ready to fight."
Dominic Ressel reacted: "Of course I am sad that it's postponed but at least it's not cancelled at all. So I will keep up and still try to make my dream come trye... just next year and not this year."
Dutch heavyweight and World medallist Roy Meyer reacted: "The only right decision. It would be hypocritical and an utter heartless decision to continue while the world is battling to survive an epidemic. Plus the preparation is everything except optimal for all of athletes. We only want to see the best athletes in their best shapes."
Paris Winner Matthias Casse says: "It is an understandable decision. My goal is clear and I'll be ready whenever I have to be."
Another Paris Winner Nikoloz Sherazadishvili reacted: " I don't know yet how to react, I am very dissapointed of course, since the first day I knew it was supposed to be postponed, but I thought perhaps to November, but it is an unlucky situation and we have to see."
Dutch medal candidate Juul Franssen: "its is what is it, we adjust and prepare for a new date."
Ukrainian former World Champion Georgii Zantaraia reacted: "I'm sad because of the Olympic Games message, but priority is the life we have. I hope all athletes will think about that and also everyone will have a better preparation. I hope it will finish soon and I wish everyone patience and health."
Paris winner Peter Paltchik says: "I was fully prepared for the Olympic Games to be in the summer with very good momentum in the start of the Olympic year with two gold medals and high shape, but with all the things that happened with the Corona Virus I think its the best for all the athletes around the world to delay the Olympic Games and let all the athletes to return to trainings and make it all equal again."
Former World finallist Maria Bernabeu: "The truth that with the circumstances we are living in the world the postponement of the Olympics was something expected. I believe that crisis is same to opportunity, and apart from having the opportunity to be better as people because of the solidarity we are seeing helping each other. For me it is an opportunity to prepare much better during this year and be at 100% of my performance."
? Tokyo 2020
X London 1944
X Tokyo/Helsinki 1940
X Berlin 1916
Related judoka and events
Related Judo Photos
Related Judo News

Tammar Abbud (SWE)
22 years
| Result | City | Date |
| --- | --- | --- |
| 2 | Düsseldorf | 21 Feb |
| 1 | Budapest | 2019 |
| 2 | Qingdao | 2019 |
| 1 | Osaka | 2019 |
| 1 | Odivelas | 2019 |
| Result | City | Date |
| --- | --- | --- |
| 1 | Düsseldorf | 21 Feb |
| 2 | Osaka | 2019 |
| 1 | Tokyo | 2019 |
| 1 | Tokyo | 2019 |
| 1 | Hohhot | 2019 |