The latest Judo News offered by JudoInside.com
Lithuanian judoka protest against federation president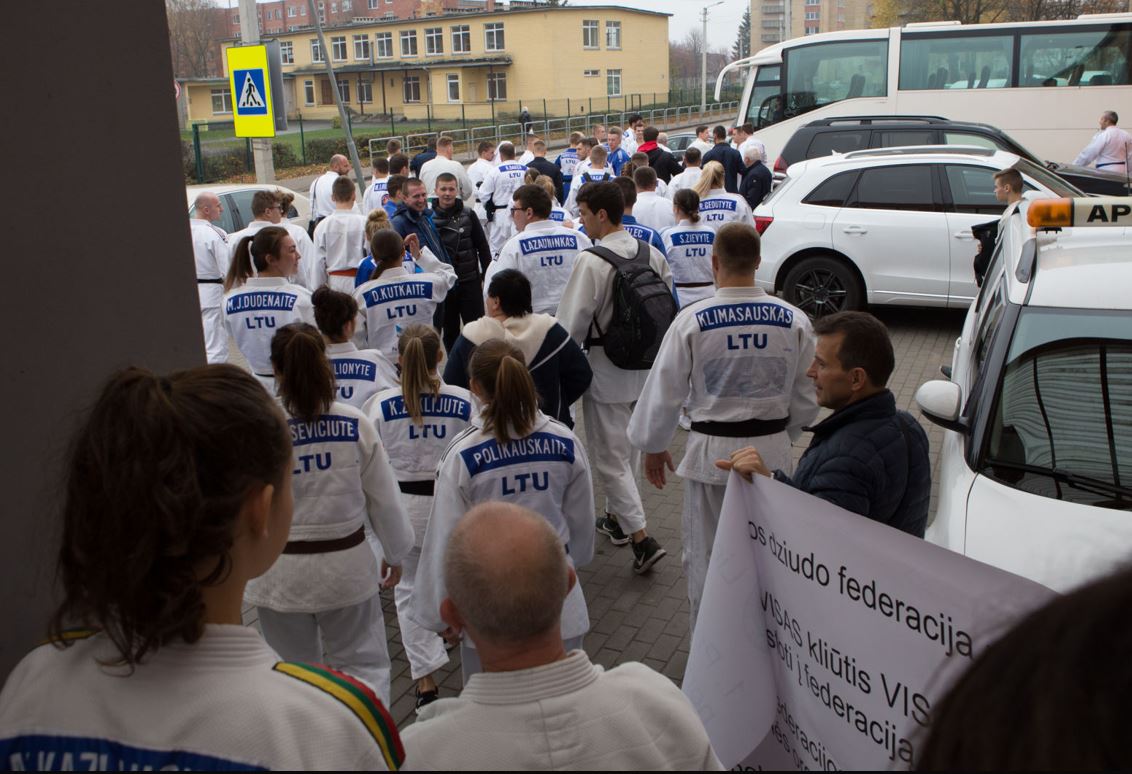 On October 25th and 26th Lithuania National Senior Championships were held and organized by Lithuania Judo Federation. But there were only 43 judokas competing among all the weight categories. Bigger part of judo community in Lithuania decided to protest this event and gathered together as spectators in the arena's balcony.
No one was allowed to enter the judo hall because for the first time in national championships' history federation decided to make accreditation cards and put security before entrance to the hall and demanded resignation of federation's president Vigmantas Sinkevicius with protesting signs and slogans. National federation was informed about this protest together with National Olympic Committee, National Education and Sports Minister and Vice-Minister and other responsible organizations one week before championships.
Protesting national championships in this kind of way was decided because LJF (Lithuanian Judo Federation) president is ignoring judo community, coaches and judokas. Upright elections in national federation are also not guaranteed because there are 39 club members and about half of them never had at least one judoka, they just simply don't exist and are managed by the same president or his friends who have nothing to do with judo. So when the time to vote for president comes these club members gives their vote to the same president. Because of this LJF has the same president for 18 years already without a change. Also, new young clubs which are just starting their movement don't have possibilities to pay the application fee (1000Euro) for national federation and those clubs who paid the application fee and put on the official request to become a member of LJF don't get any answer or their request is denied because their political views are not in the right for president Vigmantas Sinkevicius.
Lithuanian judo community is tired of these kind of actions and ruling, where everything is decided by one person. No one cares about judokas and their coaches, they have no preparation plans and a huge part of judokas and their coaches get no funding.
One of the best judokas in Lithuania, twice European bronze medalist and this year's European Open in Tallinn finalist, Karolis Bauza said: 'Judo community is tired. President Vigmantas Sinkevicius is in this post for more than 17 years and our results are going down fast. No one is making any conclusions. Our national team's coaches are friends of president. People who are not on president's side and aren't quiet about it are not allowed to register for international competitions even if they are national champions and are really perspective judokas. If this president is staying in this post I will retire and end my judo career even though I am still on Olympic list and have a chance to qualify for Tokyo 2020. I don't want to fight for this federation".
Judokas also sent a letter to National Education and Sports Ministry, National Olympic Committee and Lithuanian Judo Federation in which they stated that they refuse to work with current National Team's coach (who doesn't even speak Lithuanian or English) as he get a full funding to go on training camps with the team but he doesn't care for judokas and don't bother to attend trainings in international training camps so sportsmen are left to train alone.
A little while ago a letter to International Judo Federation and European Judo Union was sent with signatures of Lithuanian judo players and coaches (among them there are names like 2016 Rio Olympian Santa Pakenyte, 2009 European bronze medalist Karolis Bauza, 2009 World medalist Marius Paskevicius) asking to compete under the flag of IJF as judokas refuses to compete under Lithuania Judo Federation flag and name.
Related judoka and events
Related Judo Photos
Related Judo News

Matteo Habermann (GER)
20 years
| Result | City | Date |
| --- | --- | --- |
| 1 | Budapest | 23 Oct |
| 2 | Düsseldorf | 21 Feb |
| 1 | Budapest | 2019 |
| 2 | Qingdao | 2019 |
| 1 | Osaka | 2019 |
| Result | City | Date |
| --- | --- | --- |
| 1 | Düsseldorf | 21 Feb |
| 2 | Osaka | 2019 |
| 1 | Tokyo | 2019 |
| 1 | Tokyo | 2019 |
| 1 | Hohhot | 2019 |