The latest Judo News offered by JudoInside.com
Two gold medals for Poland in Katowice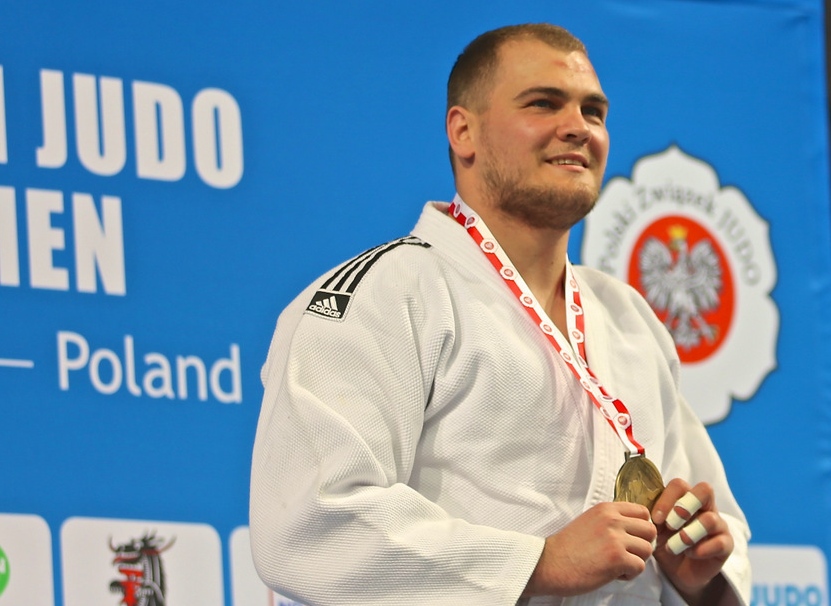 Two Polish champions on Sunday, the second day of the European Open in Katowice, brought the host nation to the top of the medal tally. Piotr Kuczera and Maciej Sarnacki were victorious in their categories after Poland received two bronze medals the previous day. Overall, it was a useful practice for the European Championships.
Piotr Kuczera (U90kg) added another victory to his collection. Two weeks ago he took gold in Rome; this time he claimed the top podium position by defeating Peter Zilka of Slovakia. Kuczera was the best among 39 fighters and had to win five contests, including a semi final against his compatriot Tomasz Szczepaniak. Kuczera, Szczepaniak, and Patryk Ciechomsky are all candidates to fill in the Polish U90kg allocation at the upcoming European Championships in Warsaw in April. However, Ciechomsky lost to Zilka whilst Kuczera defeated both Szczepaniak and Zilka, so his performance this weekend, for the time being, will likely keep him the highest ranked Polish judoka U90kg. Ciril Grossklaus (SUI) and David Klammert (CZE) won the bronze in the same category. For Klammert, it was his first Continental Open medal, while Grossklaus received his ninth and a first medal for Switzerland's new coach, Alexey Budolin.
The U81kg Polish judoka also put up a difficult fight, but they were not successful reaching the podium and the victory went to Belgian talent Matthias Casse. Casse booked his first international victory after he bested Etienne Briand of Canada in the final. Briand got himself into trouble with a sloppy ko-uchi hook and Casse off-balanced Briand for an easy osaekomi. Also, there was a tremendous (55 judoka) and Casse won all six of his bouts, most by ippon. His compatriot, Sami Chouchi, also had a good performance by taking the bronze. Chouchi surprised Rafael Macedo (BRA) in the second round, but lost to Briand. In the match for bronze, he defeated Didar Khamza (KAZ). Pedro Castro of Colombia isn't a surprise anymore: he took bronze and is the best male athlete in his country.
Austria's Aaron Fara captured the gold U100kg via five impressive victories. In the final he lifted former World Champion Maxim Rakov to wazari and landed directly into osaekomi position to finish in the first minute. Belarussian U23 European Championship runner-up Mikita Sviryd showed his best judo in four of his five matches. He won all contests with impressive ippons. In to of them, he needed only a minute to smash his opponents. In the semi final he led against Rakov, but gave away a final position when he received his third penalty in the last minute. He came back strongly for bronze in an exciting match against Christoph Kronberger and secured his first Continental medal. Lithuanian Karolis Bauza won his 14th international medal, taking bronze. In the previous Polish Open edition he won silver, but unfortunately never won the gold.
The heavyweight gold was reserved for Maciej Sarnacki of Poland. He pleased the home crowd with four ippons, including his final match against Ruan Isquierdo of Brazil with a combination of two ko-soto-gaki techniques. Sarnacki won two World Cups in his life: on Sunday in Katowice and two years ago in Warsaw. Tall, 37 year-old Lithuanian Marius Paskevicius still loves the game very much and won his 17th World Cup medal. Uladzislau Tsiarpitski won the second medal for his country, Belarus.
Related judoka and events
Related Judo Photos
Related Judo News

Francesca Viola (ITA)
20 years
| Result | City | Date |
| --- | --- | --- |
| 7 | Paris | 2020 |
| 1 | Tel Aviv | 2020 |
| 5 | Abu Dhabi | 2019 |
| 3 | Tokyo | 2019 |
| 7 | Ekaterinburg | 2019 |
| Result | City | Date |
| --- | --- | --- |
| 3 | Paris | 2020 |
| 3 | Brasilia | 2019 |
| 1 | Zagreb | 2019 |
| 1 | Budapest | 2019 |
| 7 | Hohhot | 2019 |