The latest Judo News offered by JudoInside.com
Taken to the Mat: the Impact of Judo on the UFC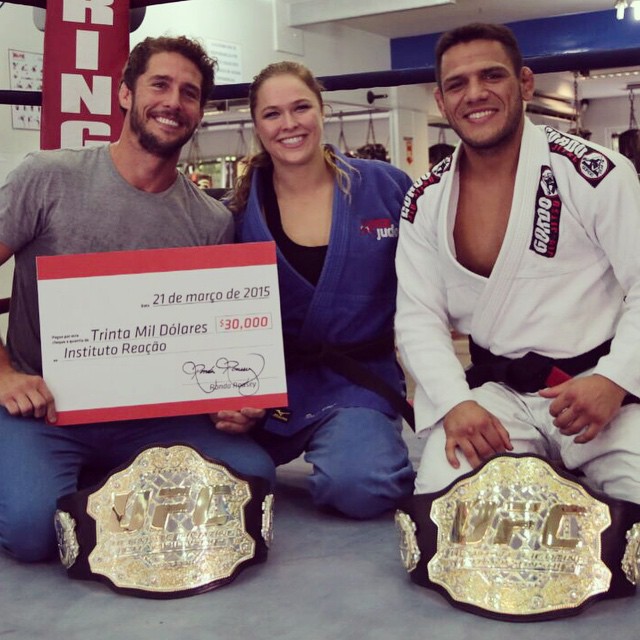 Since its inception in 1993, the UFC has always been, on the surface at least, about pitting different martial arts against each other.
The promotion itself was even inspired by the Gracies in Action documentary series, which included memorable moments of Rorion Gracie defeating other skilled martial artists using Gracie jiu-jitsu.
UFC 1: The Beginning, was an 8-man tournament that sought to answer the perennial question of who was the ultimate fighter. It was fought by prominent shootfighting, kickboxing, karate, boxing and savate fighters, including Ken Shamrock and Gerard Gordeau, but it was Royce Gracie who was the ultimate winner.
The efficacy of Brazilian Jiu-Jitu (BJJ), combined with the ever-increasing rules that the nascent UFC had to abide by in order to be allowed to put on fights, meant that this locking and grappling based art become the dominant style. However, as the competition changed, so did the dominant fighting style, moving from ground and pound to the Chuck Liddell era of sprawl and brawl.
The focus on specific styles has faded in recent years, as fighters have instead worked on becoming well-rounded, but the success of judoka Ronda Rousey shows that specialising in one martial art can actually benefit MMA competitors.
The Rousey Effect
Before entering Strikeforce, Ronda Jean Rousey was the first-ever American woman to earn an Olympic medal in judo, taking the bronze at the 2008 Summer Olympics. After winning - and defending - the Strikeforce Women's Bantamweight title, Rousey was signed to the UFC and became the promotion's first ever female champion, defeating Liz Carmouche to become the UFC Women's Bantamweight Champion of the world.
During her time in the UFC, Rousey applied the skills she gained as an Olympic Bronze medalist in judo to win six straight fights, using a combination of judo takedowns and armbars, eventually going on to become the first female fighter to be inducted into the UFC Hall of Fame.
Since then, other successful UFC fighters like Jimy Hettes and Karo Parisyan have focused on bringing judo techniques into their ground game.
Why the Sudden Interest in Judo?
As you can see from above, judo wasn't featured in the first UFC competition and hadn't had much of a showing in that promotion until Rousey. To American audiences, the "Gentle Way" was considered to be not visceral or violent enough for mixed martial arts combat, even though promotions like DEEP and Bellator regularly featured high level judoka in their fights.
The UFC's renewed interest in Judo had mostly arisen because of the new shape it was forced to adopt due to increasingly stringent rules. MMA itself has evolved from a "no-rules" sport to one that actually has plenty of rules, and this is partly because of public and political backlash against its inherent violence.
In order to continue being allowed to put on fights, the UFC has gone through a rebranding process, toning down the violence and moving from a bar brawl format to a bar brawl that has some of the trappings of a sport.
Many UFC matches are now won through submissions and deft KOs, rather than the older standard of kicking or punching a downed opponent in the face and head - the old ground and pound. This reduced violence, at least conceptually, means that throws, groundwork and, most importantly, locks are now part of the favored toolkit of the MMA fighter.
While groundwork and locks have been a part of MMA since its inception, largely thanks to shootfighters and, of course, the Gracies, judo's emphasis on clinching techniques, exceptional takedown defense and the ability to stun opponents with throws long enough to apply match-winning submissions has reinvigorated interest in the art.
While there remains a significant gulf between the sport of judo and its application in UFC, there's no doubt that fighters like Ronda Rousey have been able to add flavour to the Octagon and raise the profile of the art with fellow fighters and audience members.
Photo description: Submissions have become the UFC fighter's weapon of choice to win matches, taking over from the ground and pound
Related judoka and events
Related Judo Photos
Related Judo News
Valentina Schauer (AUT)
32 years
| Result | City | Date |
| --- | --- | --- |
| 1 | Düsseldorf | 2020 |
| 2 | Osaka | 2019 |
| 1 | Tokyo | 2019 |
| 1 | Tokyo | 2019 |
| 1 | Hohhot | 2019 |
| Result | City | Date |
| --- | --- | --- |
| 1 | Düsseldorf | 2020 |
| 1 | Osaka | 2019 |
| 1 | Tokyo | 2019 |
| 3 | Tokyo | 2019 |
| 2 | Fukuoka | 2019 |