Teddy Riner and Lukas Krpalek prepare for another battle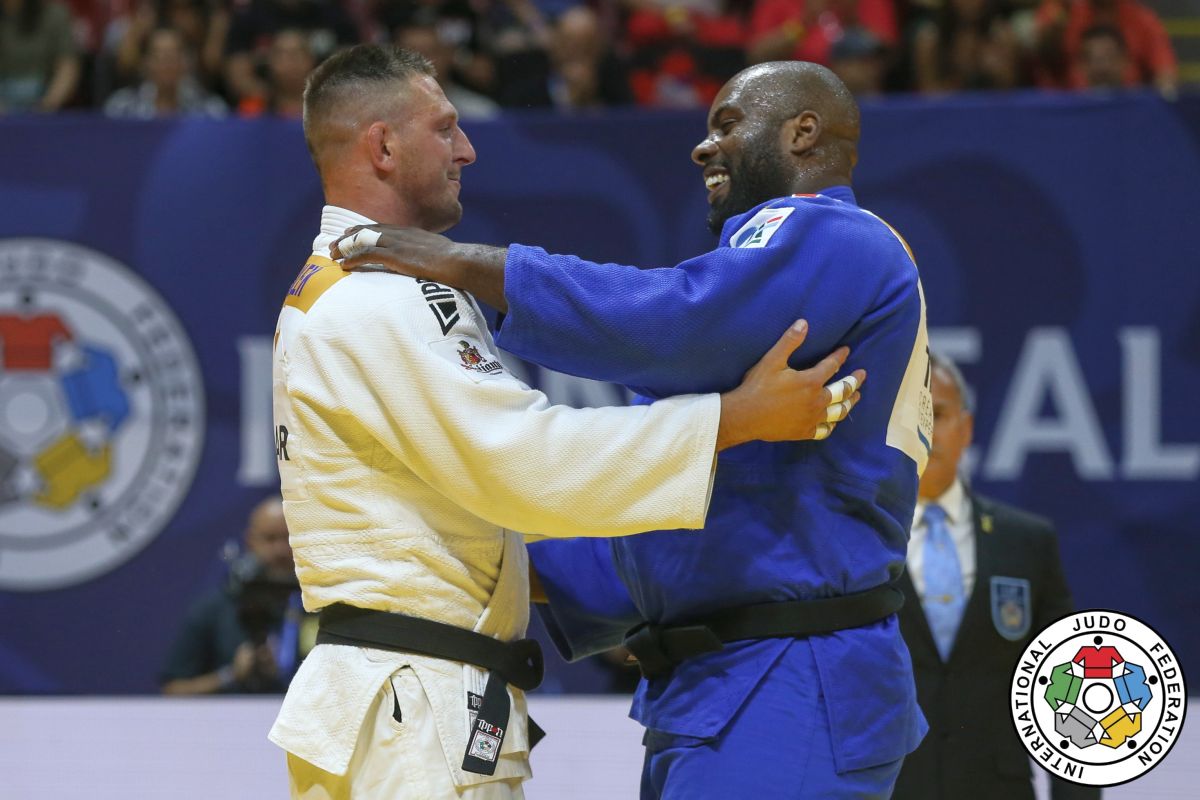 8 Oct 2019 14:15
Mark Pickering - IJF
IJF Emanuele Di Feliciantonio / International Judo Federation
The epic first time heavyweight showdown between Olympics champions Teddy Riner (FRA) and Lukas Krpalek (CZE) was a nerve-shredding affair and, as expected, proved to be one of the toughest challenges for the all-conquering Frenchman in his near decade long reign at the top of the sport.
Riner, 30, was making his comeback after a two-year self-imposed exile and showed all the hallmarks of a champion as he beat his greatest rivals at the Montreal Grand Prix in July including Krpalek, 28, in the semi-final.
The French king, who harbours realistic ambitions of prolonging his career until the Paris 2020 Olympics, needed six minutes of golden score to defeat a game Krpalek with a harai-goshi for a waza-ari score.
After beating the Czech ace in the first meeting, Riner praised his adversary.
"I fought with the big opponent (Krpalek) in the semi-final and final (Harasawa) and I think for me this is the best win actually.
"It's not my first time against Lukas we have fought in training camps and I like this fight. This is a beautiful judo player. I knew with my coach that this semi-final was the most difficult contest for me but I won and I was happy."
While world number 47 Riner has reverted back to the sidelines, Krpalek, has captured the world heavyweight crown for the first time and in doing so set another first as he celebrated the distinction of becoming the first judoka to win world gold in the U100kg and +100kg categories.
"When I moved to this weight category it was a big motivation of mine to achieve something like this, to reach a goal I've already achieved in the lighter weight category now in the heavier category," said the two-weight world champion.
"I've managed to win everything but I have one more goal in front of me and that's to win the Olympic heavyweight title."
Riner will now have a new gameplan for Krpalek based on their clash in Canada but Krpalek will still be buoyant from the way he tested the fellow gold backpatch owner the first time around and now will oppose him as a reigning Olympic and world champion and a new approach of his own.
The unheard of nine-year unbeaten run from the face of international judo stands at 148-0 but will be under threat in Brazil as he makes his first Grand Slam appearance in six years.