Georgian juniors lead at surprising opening day in Vantaa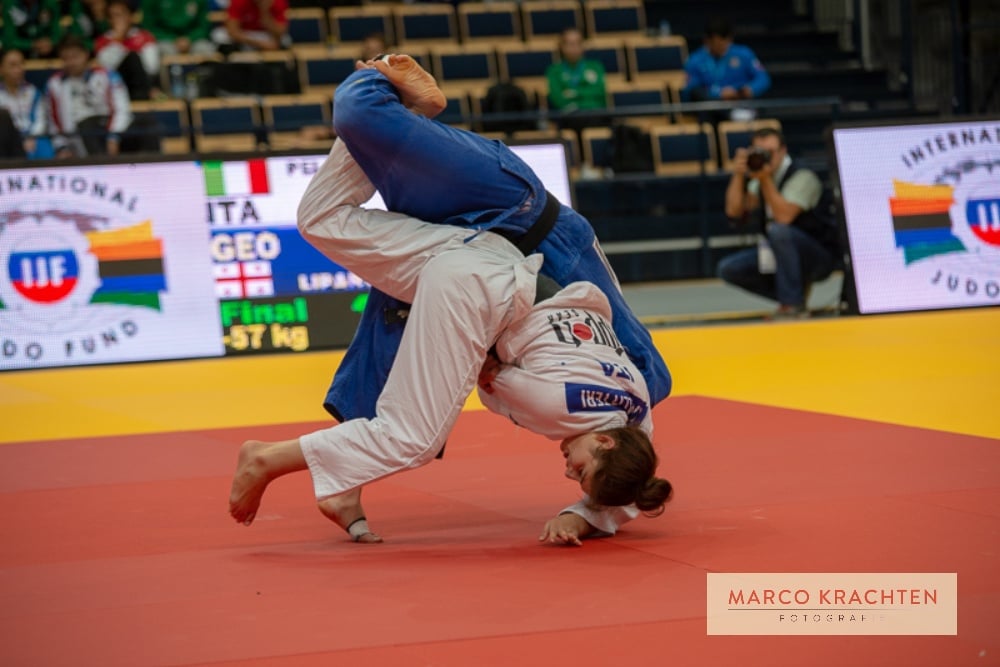 12 Sep 2019 18:00
Marco Krachten
The Junior team of Georgia leads the medal table after the first day of the Junior European Championships in Vantaa. The Georgians captured the gold medal for men U66kg by Giorgi Tutashvili and women's U57kg by Eteri Liparteliani. Turkey, Russia and France delivered gold at day 1 as well.
Turkey continues its successful year in all age categories. At one of the most important junior events of this year, Salih Yildiz took the gold medal for his country among men U60kg. Yildiz defeated Rovshan Aliyev of Azerbaijan in the final. Alessandro Alamu of Italy was defeated in the semi final. Azerbaijan had two young men on the podium with Ahmad Yusifov who took the bronze after his victory against Alamu. Abu-Muslim Parchiev of Russia defeated his compatriot Semen Kurtashov.
In today's second weight category for men Giorgi Tutashvili defeated Adil Osmanov of Moldova in the final U66kg. Ibrahim Aliyev (AZE) took the bronze after he lost to Tutashvili but he won his last battle against country man Davud Abasli. Benjamin Gomes of France bested Ivo Verhorstert (NED) in the second bronze medal contest.
Russia has always been strong in the women's U48kg division and Irena Khubulova succeeded last year's winner Ekaterina Dolgikh. Alesya Kuznetsova and Irina Dolgova were former Russian winners in this class. Irena Khubulova defeated strong French girl Shirine Boukli who took her first European medal. Boukli had beaten Lois Petit (BEL) in the quarter final, Khubulova Tugce Beder at this quite surprising day where anything could happen. Spanish Mireia Lapuerta defeated Portuguese outsider Raquel Brito in breathtaking quarter finals. Lapuerta Comas took silver, Alina Sergeeva (RUS) who lost the semi-final against Boukli grabbed bronze.
France though did take gold, Faiza Mokdar, the youngster who takes it all, this time captured the Junior European title U52kg. The number one seed defended her title successfully and is the only French ever two win two Junior titles in the same category. Astride Gneto and Annabelle Euranie were the two other French to take the title. Faiza Mokdar defeated Nadezda Petrovic of Serbia. The Serbians have a strong women's team but couldn't get a hand on the gold today. 19-year old Dutch Naomi van Krevel captured the bronze after she defeated Chiara Palanca which felt like a payback for her loss in Leibnitz. It's the first medal for Van Krevel and the second at junior level in the family as her sister won the European title in 2017. British Yasmin Yavadian took bronze after her victory over Gultaj Mammadaliyeva (AZE).
Georgia added a second gold medal as Eteri Liparteliani captured gold U57kg. She simply loves Vantaa as the Finnish capital was good for her in 2016 when she won the Cadet European title. Last year she took silver but this time the victory was sweet against Silvia Pellitteri of Italy. In this strong category number one seed Marica Perisic (SRB) lost to Pellitteri in the quarter final. Liparteliani overcame Germany's Seija Ballhaus in the semi final and the Ballhaus captured bronze against Dutch Shannon van de Meeberg who was able to knock out Marica Perisic in the repechage. Flaka Loxha added a new success for Kosovo at Junior level with her bronze medal.