The latest Judo News offered by JudoInside.com
Team World Championships reactions
IJF Media Team / International Judo Federation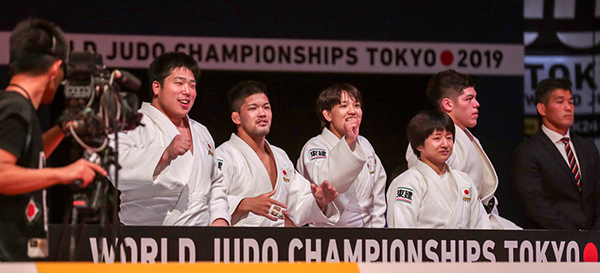 The final for team between Japan and France delivered a few excellent battles. Key match was between former double World Champion Chizuru Arai and current World Champion Marie-Eve Gahie of France. It was Arai who defeated the French world champ.
Arai said: "My goal was to do my own judo. When I held down Gahie I knew it would be enough to win and it was a wonderful feeling."
Axel Clerget gave the match more flavor in a heroic with with Sanshiro Murao of Japan. Four minutes in the golden score he made a sankaku and with a little help of the Video referee commission an ippon was awarded after Murao tapped once on Clerget's leg. Clerget gave hope with the 3-2.
Team silver medallist and individual bronze medallist Clerget of France said: "I've had 10 fights here in Tokyo and was going up against Murao who was fresh. Only a few years ago I was competing in European Cup events and I was watching these events on the IJF stream. He gave France
"I'm happy to fight here and to have expressed my love for judo at the Nippon Budokan. I've won two medals, the same colour as last year, but maybe next year at the Olympics it will be two gold medals (laughs)."
In the last contest it was either 3-3 or 4-2 for Japan. Shori Hamada lost her world final against Madeleine Malonga on day 6. This was her chance to show she mentally still strong. She showcased her good groundwork and delivered gold to her team.
Hamada said: "All of my teammates fought well. To be able to win it for my country was special for me and I'm really happy to win today. I made a lot of adjustments to fight against Malonga and it was important to get that win back today."
Related judoka and events
Related Judo Photos
Related Judo News