The latest Judo News offered by JudoInside.com
Uta Abe keeps red back patch in the family
by Mark Pickering - IJF IJF Gabriela Sabau / International Judo Federation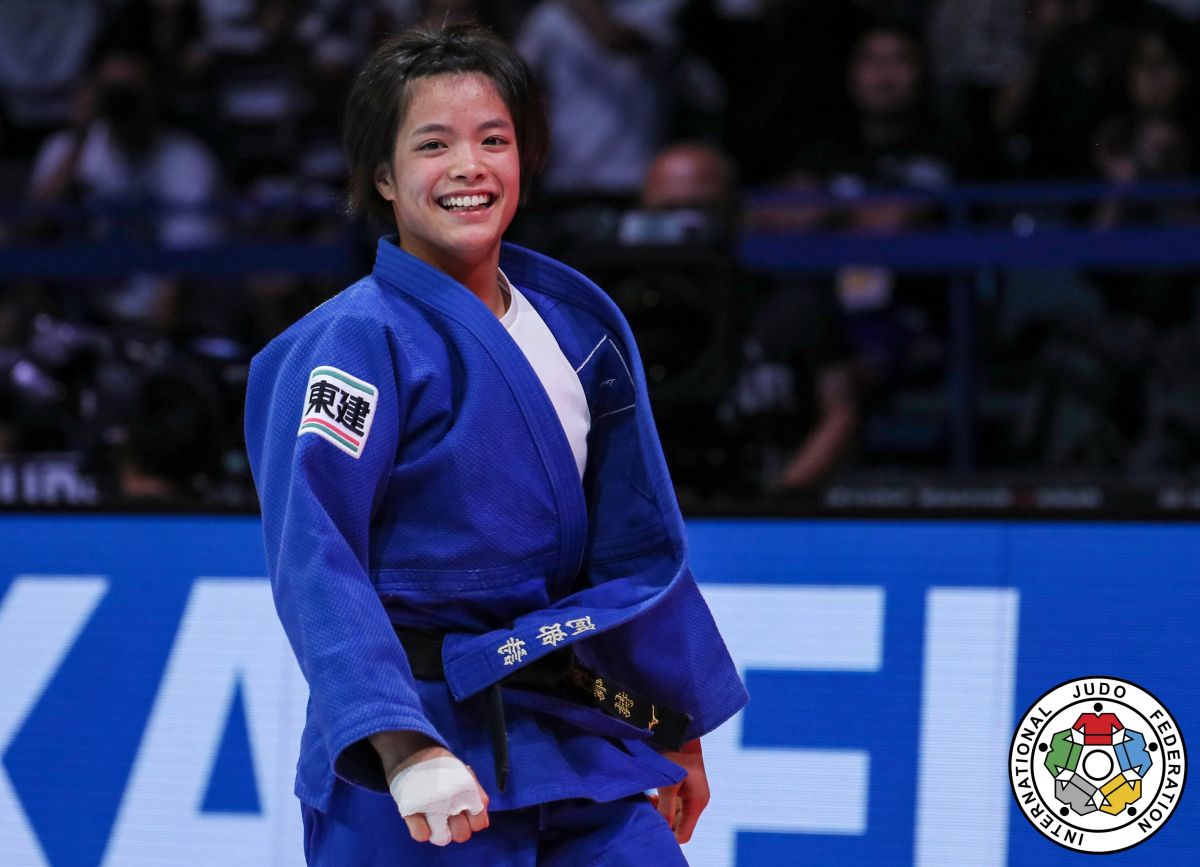 At Uta Abe prolonged her world title and Japan took two gold medals at the second day of the World Championships in the Budokan. Abe was simply unstoppable for the opposition from Kosovo and Russia.
Japanese wonderkid Abe Uta ruled the world for the second time as the poster girl for the World Championships emphatically defeated Olympic bronze medallist Natalia kuziutina (RUS) to win gold at home. Livewire ABE was irresistible in the final as she launched Kuziutina with a sode-tsurikomi-goshi after only 30 seconds for ippon and for the biggest ovation from the near capacity crowd of the competition so far. The teenager, who had just seen her brother lose his world crown after his semi-final defeat, extended her winning run to 42 contests in a row and remained unbeaten since 2016 in international competition.
Semi final vs Kelmendi
In the first semi-final Abe won the long-awaited dream clash with Olympic champion Majlinda Kelmendi (KOS) in golden score. Both judoka received penalties early on as they made a nervy start which could be attributed to the scale of the contest and the occasion. The two revered champions went toe-to-toe for four minutes and there was nothing to separate them and so golden score was required which upped the level of drama even more. The red backpatch of Abe prevailed over the gold backpatch of Kelmendi as the youngster had a sense of an opening on the ground while the double world champion had anticipated the referee calling a stop to the action. However, Abe was still manufacturing an opportunity and never stopped working as she managed to turn over her rival and then freed her leg to apply the osaekomi in the form of a yoko-shiho-gatame for 20 seconds and ippon. Chapter one belongs to Abe but there will be many twists and turns before Tokyo 2020 and hopefully many more meetings between the two champions over the next 12 months.
Buchard vs Kuziutina
In the second semi-final world number one Amandine Buchard (FRA) fell to Kuziutina who used all of her experience and nous to see off the Frenchwoman. Kuziutina countered Buchard as she picked up the top-ranked -52kg judoka and lifted her up and over for a waza-ari score which was correctly allocated after being reduced from a ippon score upon a video review. Smooth and professional, Olympic and former world bronze medallist Kuziutina showed her quality to take a deserved place in the final having won three bronze medals on this stage previously.
In the first bronze medal contest Kelmendi beat two-time Grand Prix winner Joana Ramos (POR) to return to the World Championships podium for the first time since 2014. Ramos, 37, matched her 2011 result of fifth-place on the Worlds stage after being disqualified for receiving three shidos but steers her towards Tokyo 2020 qualification while Kelmendi will have some relief at being back amongst the World medallists and will look to make adjustments before her next encounter against Abe Uta.
In the second bronze medal contest Buchard lost out to former world champion Shishime Ai (JPN) who won her third World Championships medal in a row and first bronze. The 2017 winner and 2018 silver medallist claimed bronze today after dropping under her French foe for a waza-ari and pinning down her rival with a kata-gatame for 10 seconds and a spot on the podium.
Related judoka and events
Related Judo Photos
Related Judo Videos
Related Judo News