Judo teen Daria Bilodid claims second world title on Olympic ground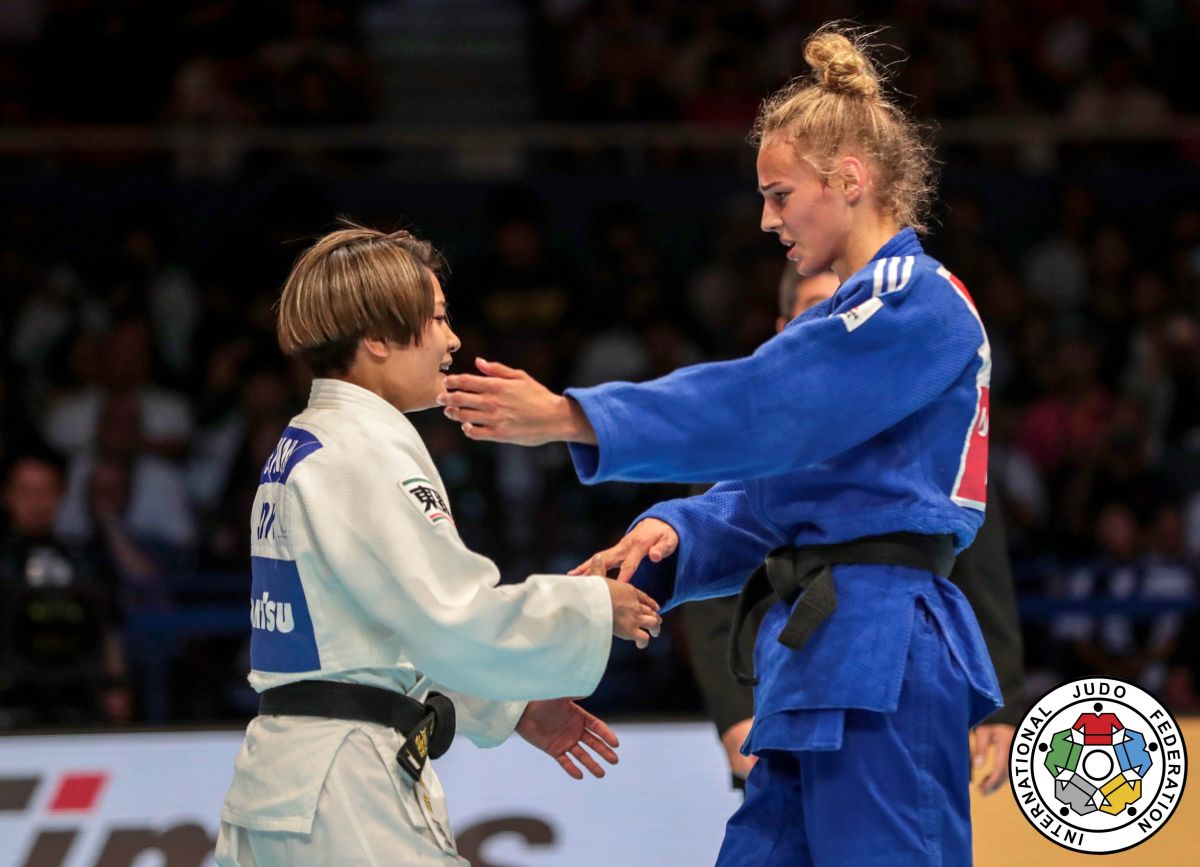 25 Aug 2019 15:35
by Mark Pickering - IJF and JudoInside
IJF Marina Mayorova / International Judo Federation
Ukraine super champion Daria Bilodid is the youngest world judo champion of all time who successfully defended her world title as she won a thrilling rematch of the 2018 final against former world champion Funa Tonaki on home soil. Bilodid couldn't be believe the achievement in the Nippon Budokan. "I can't believe it, I know once, but two? For now I have too many emotions. Fighting Funa Tonaki is very hard, now it was in Tokyo. I felt a big pressure and many fans from Japan."
Bilodid maintained her unheard of feat of never losing to a Japanese judoka as she marked her first time competing in Japan with her second senior world crown. Bilodid, 18, extended her head-to-head record over arch-rival Tonaki, 24, to 4-0 with an opportunistic o-soto makikomi on the edge of the area the only score in the final. Tonaki produced her best performance against Bilodid today and came close to forcing a third shido as she pursued her adversary in the final minute but the owner of the red backpatch was able to hold on for gold.
In the first semi-final Bilodid brushed aside Mongolia's former world champion Munkhbat Urantsetseg with her trademark sankaku-gatame. The teenager was ruthless on the ground as she locked up the highly-regarded ne-waza specialist Munkhbat and applied what looked to be one of the tightest hold downs in World Championships history.
In the second semi-final former world champion Tonaki beat World Judo Masters winner Distria Krasniqi of Kosovo with a spectacular sode-tsurikomi-goshi to seal a rematch of the 2018 Worlds final. The home judoka led by a waza-ari and was never in danger against Krasniqi and appeared to be brimming with confidence.
In the first bronze medal contest Munkhbat submitted Zagreb Grand Prix silver medallist Melanie Clement (FRA) with her juji-gatame to become the first medallist at this year's World Championships. The Mongolian redeemed herself after being beaten at her own game in the semi-final as she secured her third Worlds medal and first of the bronze variety.
In the second bronze medal contest Krasniqi surged past Baku Grand Slam winner Laura Martinez Abelenda (ESP) with a thunderous uchi-mata after 33 seconds for ippon. The six-time Grand Prix winner gave her country a great start to the eight-day competition, with Olympic champion Majlinda Kelmendi set to follow on Monday, by winning her first senior World Championships medal and will be tipped to be in contention a year from now in the same building at the Tokyo 2020 Olympics. Krasniqi is the second woman for Kosovo to take a World Championships medals for Kosovo. Kelmendi won the world title in 2013 and 2014.