The latest Judo News offered by JudoInside.com
Teddy Riner defeats Harasawa in tight final in Montreal
IJF Emanuele Di Feliciantonio / International Judo Federation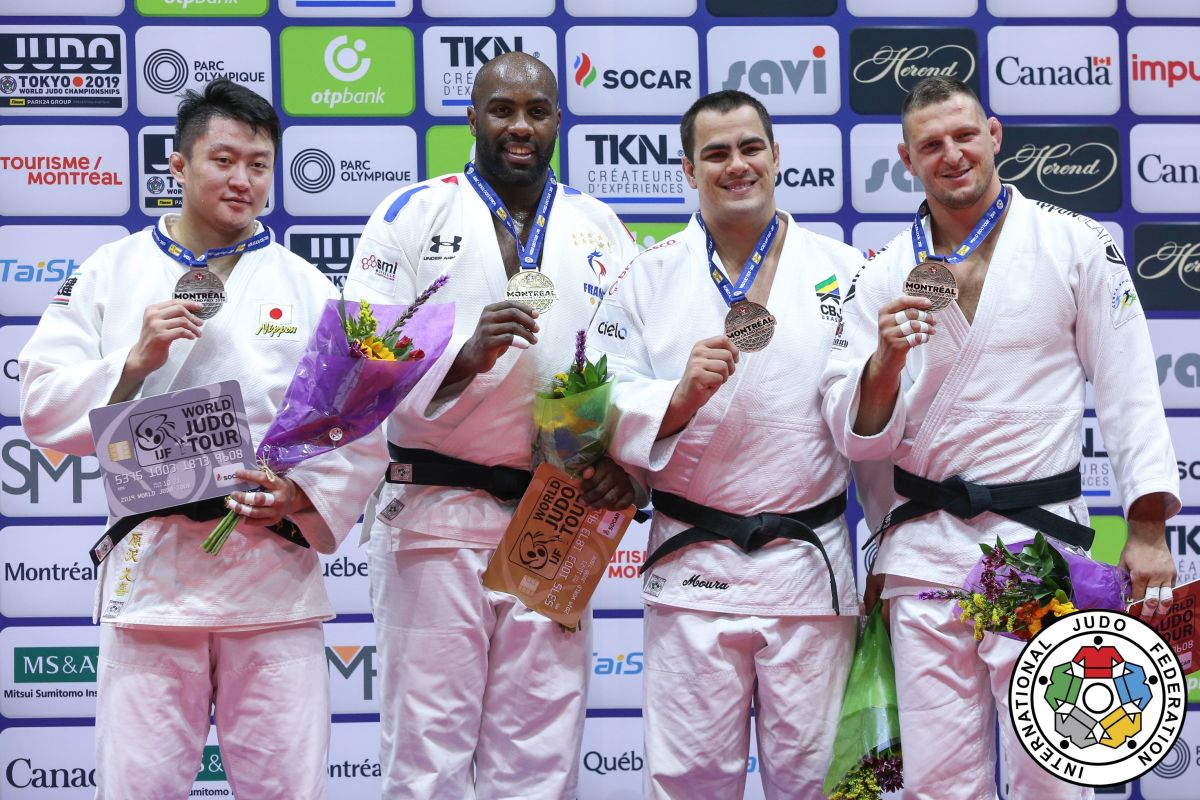 That was a close call for Teddy Riner who captured the gold medal at the Grand Prix in Montreal in a repeat of the 2016 Olympic final. This one though was attractive. Hisayoshi Harasawa determined the pace of the contest from the start. It was actually Riner who had to adjust to the pace, which is not a surprise after a long period without that competition feeling.
It was Riner who got the first penalty. After two minutes in the contest you would expect Riner to get a second penalty but both athletes received one of referee Sook Hee Hyun, an Olympic and World Championships medallist herself. The penalty for Riner though was recalled and both athletes were equal, both one.
With 80 seconds to go Harasawa stepped of the mat and Riner was in advance, we know that story. Fifty second for the end, it was Riner to was penalised for impassivity. Then the real contest started and Riner tried a sutemi. The crowd was on their feet and the tension was tremendous. The crowd totally understood the value of this contest. In the next attack Riner tried a harai goshi, Harasawa stepped over and he tried uchimata and was almost taken over. Another sasei attack with 6 seconds to go.
In the golden score it was Harasawa who needed an attack to convince. After one minute Riner launched an O-Soto Gari but Harasawa landed on his side. What would be the decision? Riner immediately felt, knew and cheered for the score. The Video referee commission took the decision to award the score and it was Riner who sportively thanked Harasawa for the fantastic fight and thanked the crowd for their support. Many French supporters in Quebec of course and a very knowledgeable crowd.
The comeback event in Canada was a big success in total and Riner is still in line with the golden expectations.
Related judoka and events
Related Judo Photos
Related Judo Videos
Related Judo News

Jose Luis Arroyo Osorno (PER)
24 years
| Result | City | Date |
| --- | --- | --- |
| 1 | Paris | 8 Feb |
| 1 | Qingdao | 2019 |
| 2 | Osaka | 2019 |
| 3 | Brasilia | 2019 |
| 1 | Tokyo | 2019 |
| Result | City | Date |
| --- | --- | --- |
| 5 | Paris | 8 Feb |
| 3 | Qingdao | 2019 |
| 1 | Osaka | 2019 |
| 2 | Chiba | 2019 |
| 5 | Budapest | 2019 |