Hungarians and Dutch shine at Cadet European Cup Gyor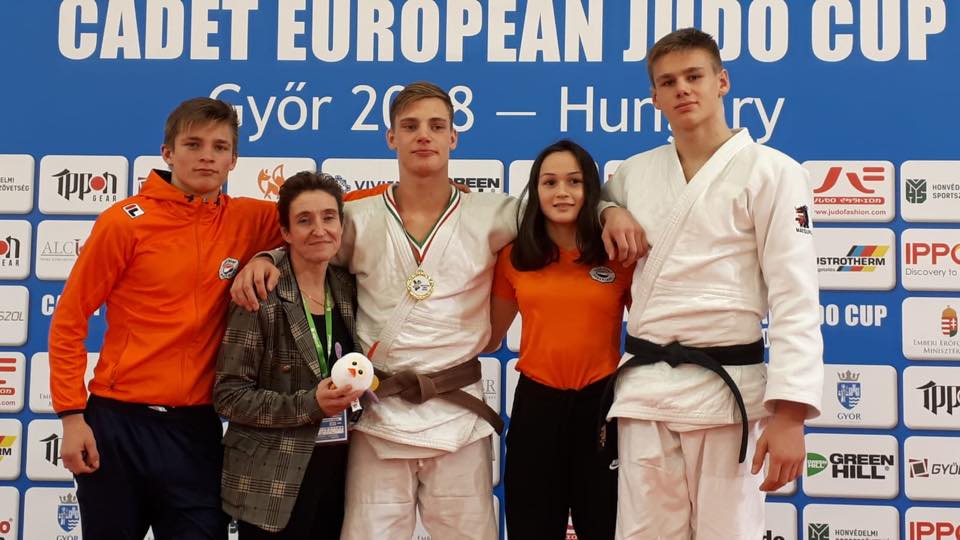 21 Nov 2018 13:55
Facebook
Awesome judo results for Hungary and the Netherlands at the annual Cadet European Cup in Gyor. The Hungarian city organized the European U23 Championships a few weeks ago and last weekend some of the best Cadets fought at the last European Cup of a long season.
With 14 medals the Hungarian talents showed they can deal with the European competition in the U18 age class. The French lightweights though opened with two gold medals U50kg and U44kg on Saturday. Romain Valadier Picard took gold U50kg, Lilah Lagarde gold U44kg as there was no U40kg division. On Sunday France added a third gold medal by Kenny Liveze U90kg.
The Hungarians were strong in the men's division with three gold medals by Gyorgy Szatmari U66kg, Gergely Nerpel U81kg and gold for heavyweight Richard Sipocz. Sipocz also won gold in Gyor at last year's EYOF. Gergely Nerpel won an unbelievable number of 8 medals this season, more than any judoka in the world. He won his third gold medal of the season.
With three gold medals for Hungary, two for France, also the Dutch men were outstanding with double gold for Victor van Gerven who recently won his class U60kg in Koper as well. His clubmate Koen Heg was the best among 51 young men U73kg. It was the most crowded category of the 15 with a total 422 judoka from 27 nations. The European Cup get more and more participants. Zagreb even had 793 athletes. Vincenzo Skenderi of Italy completed the 8 medals for the men with gold U55kg against Leon Svalberg (SWE) in the final.
Also in the girls' division Holland was strong with two gold medals. Judo Bushi's female frontrunner Elin Henninger took gold U52kg. She also won the European Cup in Berlin. Dutch youngster Joanne van Lieshout was the best among 33 girls U63kg making it four and the most successful nation among the women. Romanian Iasmin Covaciu defeated Dutch Indy Godschalk in the final U48kg. On Sunday Brigitta Varga took the first gold for the home nation U57kg in the final against Ukrainian Anastasia Chyzhevska. Ukraine was a bit unlucky this event with four silver medals in Gyor. Matilda Nilsson of Sweden was successful U70kg with her first ever gold medal at this level. Justina Kmieliauskaite of Lithuania won the first event of the year in Italy and ended with gold at the last in Gyor.
Russia (36), Italy (25) and Hungary (19) were the strongest nation in the European Cup U18 years.