Historic beautiful day for Georgia at Junior Europeans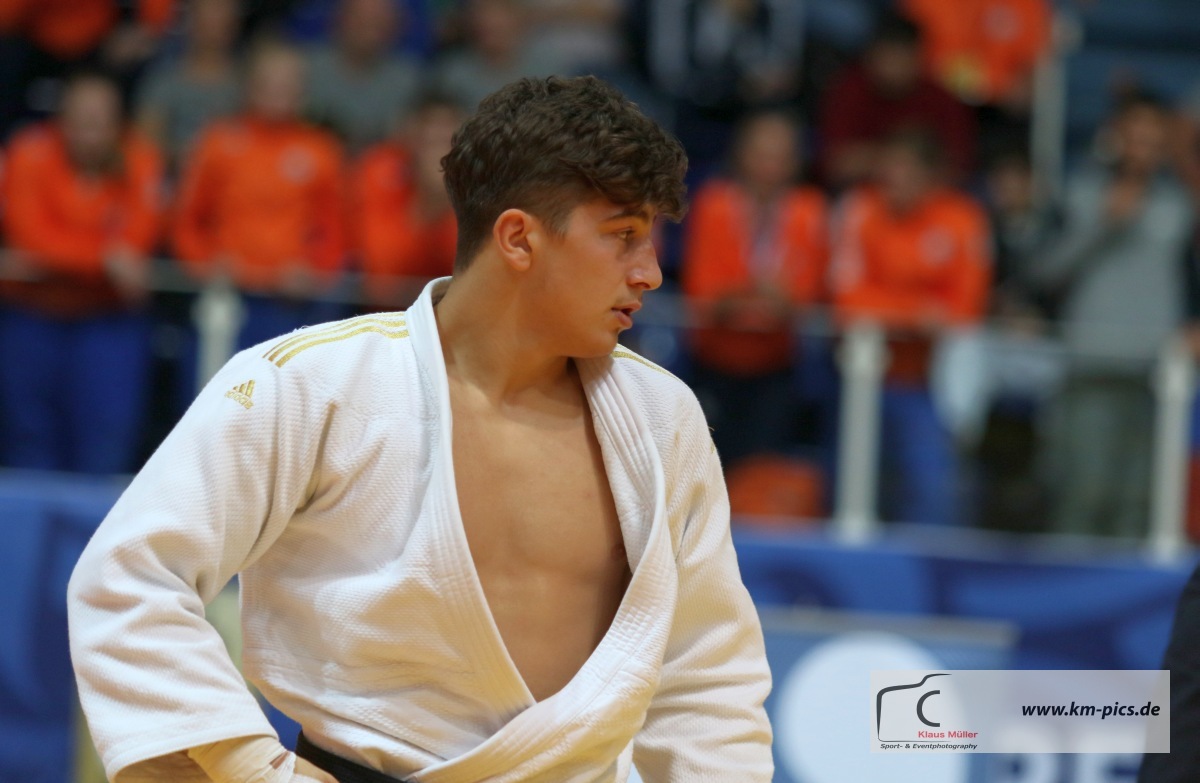 14 Sep 2018 16:50
Samira Rohn
Another five different countries winning the title at the second day of the Junior European Championships in Sofia. However overall Italy, France and the Ukraine secured a second gold medal. Highlight though was an all Georgian final U81kg.
Both Georgian young men know each-other well and took the time to find a gap in the defence. Both Luka Maisuradze and Tato Grigalashvili couldn't score in regular time, but after 21 seconds in the golden score Luka Maisuradze continued an attack twice and threw Grigalashvili by uchi-mata for wazari. Maisuradze overcame Italian favourite Christian Parlati in the semi final who finished with bronze. Murad Fatiyev, who lost to Grigalashvili in the semis came back against Miguel Alves and won bronze U81kg.
In a field of 33 young men Hievorh Manukian captured the gold medal for the Ukraine U73kg. The number one seed was dominant today and finished off the final against Joao Fernando of Portugal after four minutes by wazari. Manukian won the 24th European title for the Ukraine of which Roman Gontyuk was by far the most successful European Junior champion. For Portugal it was a success as well, not awarded with gold but still the second finalist over the last 10 years. Joana Diogo won silver in 2015. Giovanni Esposito took home bronze to Italy and Cezary Tchorzewski (POL) had a rough but successful day after more than 20 minutes on the tatami.
In the women's division France took its second gold medal when Sarah Leonie Cisique bested Eteri Lipartelaini, the surprise from Georgia. Cisique won gold U57kg, a category where Automne Pavia and Helene Receveaux won Junior gold previously. A second bronze medal for France, comparable to Thursday's U52kg category. Maryline Louis Sidney won bronze as well as Marica Perisic who took Serbia's first medal in their strong team.
The second Serbian medal was for Anja Obradovic who won bronze as well as Nadia Simeoli of Italy, another bronze for Italy where perhaps a bit more was expected on the second day. This category U63kg is competitive and that usually triggers surprises. Lia Ludvik stepped into the footlight of Urska Zolnir who won the title twice, not a bad outlook for 18-year old Ludvik who won the senior European Cup in Sarajevo this year. In the final she bested Angelika Szymanski of Poland.
All words forgotten about bronze medals for Italy as Alice Bellandi won the gold medal for her country in a tough field with women U70kg. Bellandi kept Dutch finalist Margit de Voogd busy from the start and scored her second wazari one minute for the end. Germany's Marlene Galandi kept the tradition alive of the strong German women in this category and took bronze. Mariam Tchanturia confirmed the strong event for the Georgian women in Sofia with a second medal. Never the Georgian women won a European Junior medal, now they have two in one day.