The latest Judo News offered by JudoInside.com
Mária Pékli; Three Years Back, a Life Forward
by Anthony Diao for JudoCanada IJF Media Team / International Judo Federation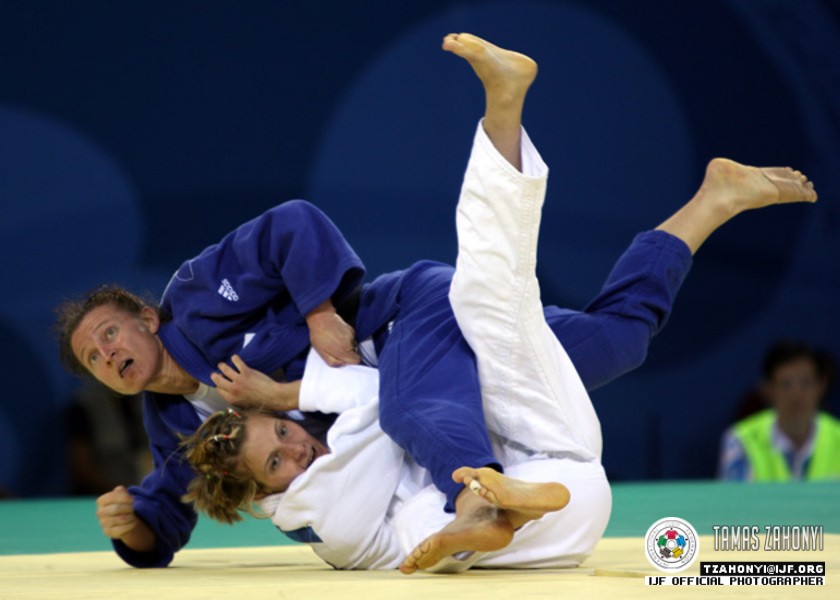 At 24 years old, former Hungarian athlete Maria Pekli didn't hesitate to sacrifice three years of her youth to follow her own path. Two decades later, she still stands by her decision.
Coming from the JC Baja, 200 km south of Budapest, Laszlo Andrassy's student is 24 years old and has been to two Olympic Games and three world championships when she wins her sixth and last senior national title in Hungary, her fourth in a row. Five months earlier, she was the European runner-up in the U56kg category. She didn't know it yet, but she'd have to wait 1104 days, at the Colorado Spring US Open in October 1999, before stepping on the mats again for an international tournament. Why? She decided to leave Hungary for Australia, homeland of her then boyfriend. Without having an agreement with her former team, she has to wait the entire regulatory 3 years out of the international circuit. It was hard, especially since the period between 24 and 27 years old is when athletes are at their peak performance; in another sport, it was the same sacrifice boxer Mohammed Ali in his time, with the Vietnam War and a fight for civil rights in the background. Mária fought the frustration by keeping on training, and competing in the few tournaments presented in her new country. During that period, she won one Open and three national titles. "I've always wanted to come back. I made sure that I'd be ready on the day I'd become an Australian citizen."
Pride
After a slow come back in North America and during the Oceania Championships, she's back on the European mats in March 2000. "The other girls remembered me, but they had forgotten my style. The difference in the perception probably gave me a surprise effect and allowed for a few great wins." There was still 6 months left before the Sydney Olympic Games. Energized by a compliment from Slovene Marjan Fabjan, usually greedy with those, who saw her knocking down his protégés during a training camp—he told her, between two doors, that he "saw her on the podium in Sidney"—the newly -57 kg makes the final twice in Rome, and once in Rotterdam, before the ultimate reward after years of waiting, an Olympic bronze on September 18 in Sidney. "I wish everyone to chance a chance to know the absolute bliss that is winning an Olympic medal at home." Was it her proudest moment? Curiously, no. That moment would come 8 years later, in Beijing. She was in the semi-final and ended in 5th place at her 5th and last Olympic Games. She only has positive things to say about her elimination against Brazilian Quadros, who was 15 years her junior: "I was a 36-year-old mom, I placed 5th at Worlds for Hungary in 1993, and for Australia in 2003, I was juggling training, work, and family life, and I was still competitive against girls who were almost half my age; that meant a lot to me."
Steps
10 years have gone by since that last stand. When she looks back, the now technical director for the Australian Judo Federation has no regrets—she remembers the obstacles she overcame instead of the years she lost. "I wouldn't have the life and the family I have now if I hadn't made that decision in 1996. My medal in Sydney had a huge impact for s sport that is still small in Australia, and today, I can see the next generation starting to perform on the international stage. I know the value of these medals, and I relish the progression even more knowing that we're doing it without much help from our government." What about her native Hungary? "My entire family lives there. Since the death of my mother, a few months ago, I'm the oldest one left. I go anytime I can, and I visit my former club. I even send young athletes there, because I remember that this is where it all started for me."
this article is part of a large online blog of Anthony Diao for Judo Canada. Read all interviews here.
Related judoka and events
Related Judo Photos
Related Judo Videos
Related Judo News

Ilija Ciganovic (SRB)
28 years
| Result | City | Date |
| --- | --- | --- |
| 7 | Paris | 2020 |
| 1 | Tel Aviv | 2020 |
| 5 | Abu Dhabi | 2019 |
| 3 | Tokyo | 2019 |
| 7 | Ekaterinburg | 2019 |
| Result | City | Date |
| --- | --- | --- |
| 3 | Paris | 2020 |
| 3 | Brasilia | 2019 |
| 1 | Zagreb | 2019 |
| 1 | Budapest | 2019 |
| 7 | Hohhot | 2019 |