The latest Judo News offered by JudoInside.com
Japan claims Asian Games team event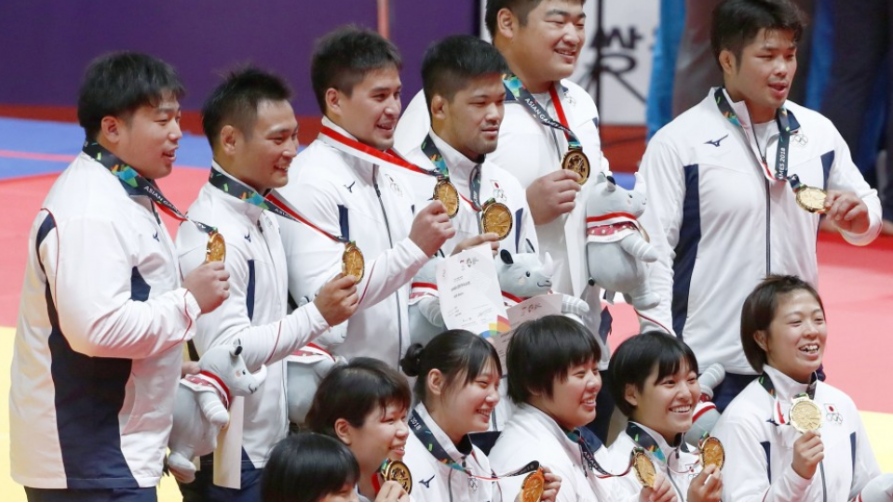 Japan was again head and shoulders above the competition on the judo mats Saturday, claiming another victory by pulverizing Kazakhstan 4-0 in the gold-medal contest of the Asian Games inaugural mixed team event.
A day after matching their record medal haul with their eighth gold in the 14 individual weight classes, Japanese judoka showed their strength in numbers in the mixed team event, which will be held for the first time at the 2020 Tokyo Olympics.
Japan became the first national team to win nine gold medals in judo at a singles Asian Games. The previous record was also held by Japan, in 1990 and 1994.
Rival South Korea, which had four gold medals in the individual competitions, gave Japan its biggest test with a 3-3 tie in the quarterfinals but the latter prevailed on points due to a higher number of ippon victories.
First match: Tamaoki (JPN) beat Kwon (KOR) by Hansoku-Make
Second Match: An (KOR) beat Ebinuma (JPN) by Ippon (Tai-Otoshi)
Third Match: Niizoe (JPN) beat Jeong (KOR) by Ippon (Uchimata)
Fourth Match: Gwak (KOR) beat Kobayashi (JPN) by Waza-Ari (Kosoto)
Fifth Match: Kim (KOR) beat Yamamoto (JPN) by Hansoku-Make
Sixth Match: Kageura (JPN) beat Kim (KOR) by Hansoku-Make
Japan went on to clobber China 4-0 in the semifinals, all four judoka scoring ippon victories. Both South Korea and China collected bronze medals.
The mixed team consists of six judoka, contesting the men's 73-kilogram, 90-kg and over 90-kg and the women's 57-kg, 70-kg, and over 70-kg categories.
In the final, Japan had victories by Masashi Ebinuma (73kg), an Olympic bronze medalist in Rio at 66-kg, Yusuke Kobayashi (90kg), Haruka Funakubo (57kg) and Shiho Tanaka (70kg). Funakubo and Tanaka both scored ippon victories.
"I'm simply very happy," said Funakubo. "I was leading the charge, so I really wanted to get a win to build the momentum for our team. I'm glad we won."
Ebinuma and Kobayashi both won by judges' decision.
"Personally I didn't have a good tournament but I am glad the team could win," said Ebinuma. "I tried my best to score points to put my teammates who fought later in a good position."
Men's 73-kg Asian Games champion Shohei Ono and Akira Sone, the women's over 78 kg gold medalist at these games, did not compete in the mixed team event.
Japan won the first edition of the mixed team event at the world championships in 2017. South Korea claimed a bronze.
At the 2014 Asian Games in Incheon, there were two team events held, a men's team event and women's team event. South Korea won the men's event, while Japan took the honors in the women's event.
Related judoka and events
Related Judo News

Graatje Weber (NED)
26 years
| Result | City | Date |
| --- | --- | --- |
| 1 | Prague | 19 Nov |
| 1 | Budapest | 25 Oct |
| 1 | Perth | 2019 |
| 1 | Wuhan | 2019 |
| 3 | Tokyo | 2019 |
| Result | City | Date |
| --- | --- | --- |
| 2 | Prague | 19 Nov |
| 7 | Budapest | 25 Oct |
| 3 | Qingdao | 2019 |
| 3 | Odivelas | 2019 |
| 5 | Abu Dhabi | 2019 |