The latest Judo News offered by JudoInside.com
Wang Ki-Chun, double World Champ who peaked early
by Oon Yeoh, JudoCrazy IJF Media Team / International Judo Federation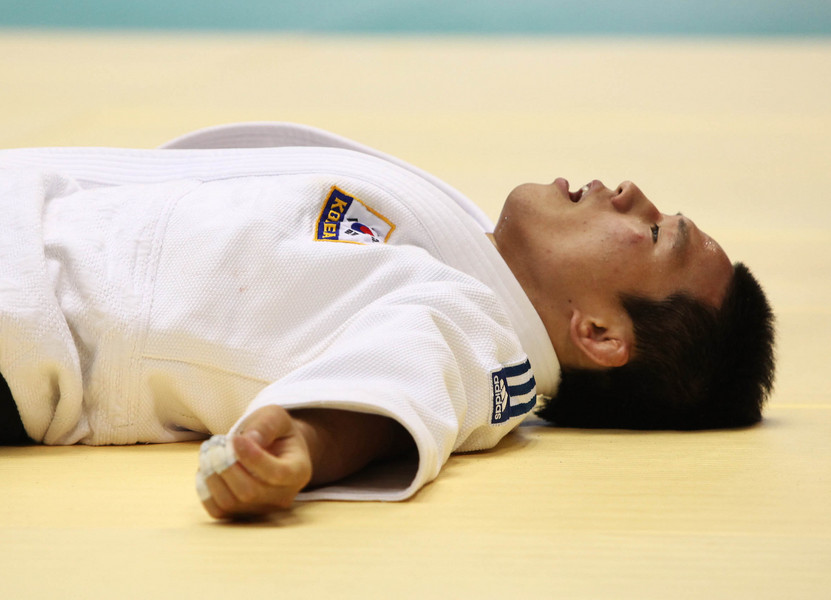 Wang Ki-Chun was quite an upstart. Like most South Korean players, he had seoi-nage and reverse seoi-nage in his repertoire but he was more versatile than most, and capable of doing a wide range of other techniques including uchimata, yoko-tomoe-nage, sode-tsurikomi-goshi and various smaller ashiwaza.
Early in his career, he was rivals with two other top U73kg players from South Korea: World and Olympic Champion Lee Won-Hee and future World and Olympic Champion Kim Jae-Bum. Wang eventually sent Lee into retirement in 2007, and by 2008 Kim had moved up a weight class to -81kg.
Wang's first World Championships was in 2007 in Rio de Janeiro. Although a greenhorn, he did remarkably well, defeating Japan's stylish technician Yusuke Kanamaru in the quarter-finals. His final match, against Azerbaijan's Elnur Mammadli, was a tense affair with each player scoring against the other. The match went to Golden Score and Wang won with an opportunistic morote-gari that scored koka, the smallest score but enough to earn him his first World title.
He was a top favorite for the Beijing Olympics but he suffered an injury on route to the final and there he lost to Mammadli who threw him with a leg grab.
As if to prove that his defeat in Beijing was purely because of the injury, Wang made sure he remained undefeated for one whole year afterwards, amassing gold medals at the 2008 Tokyo Grand Slam, 2009 Paris Grand Slam, 2009 Moscow Grand Slam, 2009 Universiade and 2009 World Championships (his second World title).
His string of victories came to a halt when he met his bogeyman, Japan's seoi-nage specialist Hiroyuki Akimoto, who beat him the 2010 Tokyo World Championships and the 2010 Guangzhou Asian Games. At the 2011 Paris World Championships he lost to home favorite Ugo Legrand, who threw him with a clean uchimata in just 14 seconds.
Undaunted by his relatively poor performance in 2010 and 2011, Wang then embarked on a successful second act and remained unbeaten from August 2011 until the London Olympic Games in July 2012. During that period he was widely considered to be the most gifted player in his category.
London was where he was supposed to shine and win the one gold medal that had eluded him all this while. But this was not to be. Far from peaking at the Games, Wang unexpectedly lost his semi-final match against long-time rival Mansur Isaev, and then he lost his bronze medal fight to Legrand of France. The expected gold medalist actually left London empty-handed.
Wang was young enough to go for a third Olympic bid but there would be no successful third act. His worst-ever performance happened at the 2013 Rio World Championships when he lost in the first round to Japan's rising star Shohei Ono by hansoku-make after incurring four penalties in less than two minutes. This was not the Wang people were expecting to see.
After that Wang moved up to -81kg but failed to adjust to his new weight and even lost out to his old rival Kim Jae-Bum at the 2014 Jeju Grand Prix. Wang failed to win any of the top international competitions leading up to the 2016 Rio Olympics and did not even represent South Korea in the 2014 or 2015 World Championships. After his Rio 2016 campaigned fizzled out, Wang decided to call it a day.
Wang had burst onto the international scene with a blaze of glory, winning his first World Championships while still a teen. An unfortunate injury meant he had to be contented with an Olympic silver the following year but he made up for that by winning another World title the year after. His future looked bright and indeed there were two long stretches where Wang would defeat all comers. But after 2009 all the way until his retirement in 2016 -- despite amassing many IJF World Tour gold medals -- Wang was unable to win another world title or an Olympic gold. His impressive international achievements is proof of what a great fighter he was but Wang was clearly a case of an early bloomer who peaked very early on.
Related judoka and events
Related Judo Photos
Related Judo Videos
Related Judo News

Lieke Van Kins (NED)
21 years
| Result | City | Date |
| --- | --- | --- |
| 1 | Qingdao | 2019 |
| 2 | Osaka | 2019 |
| 3 | Brasilia | 2019 |
| 1 | Tokyo | 2019 |
| 1 | Montreal | 2019 |
| Result | City | Date |
| --- | --- | --- |
| 3 | Qingdao | 2019 |
| 1 | Osaka | 2019 |
| 2 | Chiba | 2019 |
| 5 | Budapest | 2019 |
| 3 | Fukuoka | 2019 |