The latest Judo News offered by JudoInside.com
Rookie Gviniashvili stuns Liparteliani in own house
by Mark Pickering - IJF IJF Media Team / International Judo Federation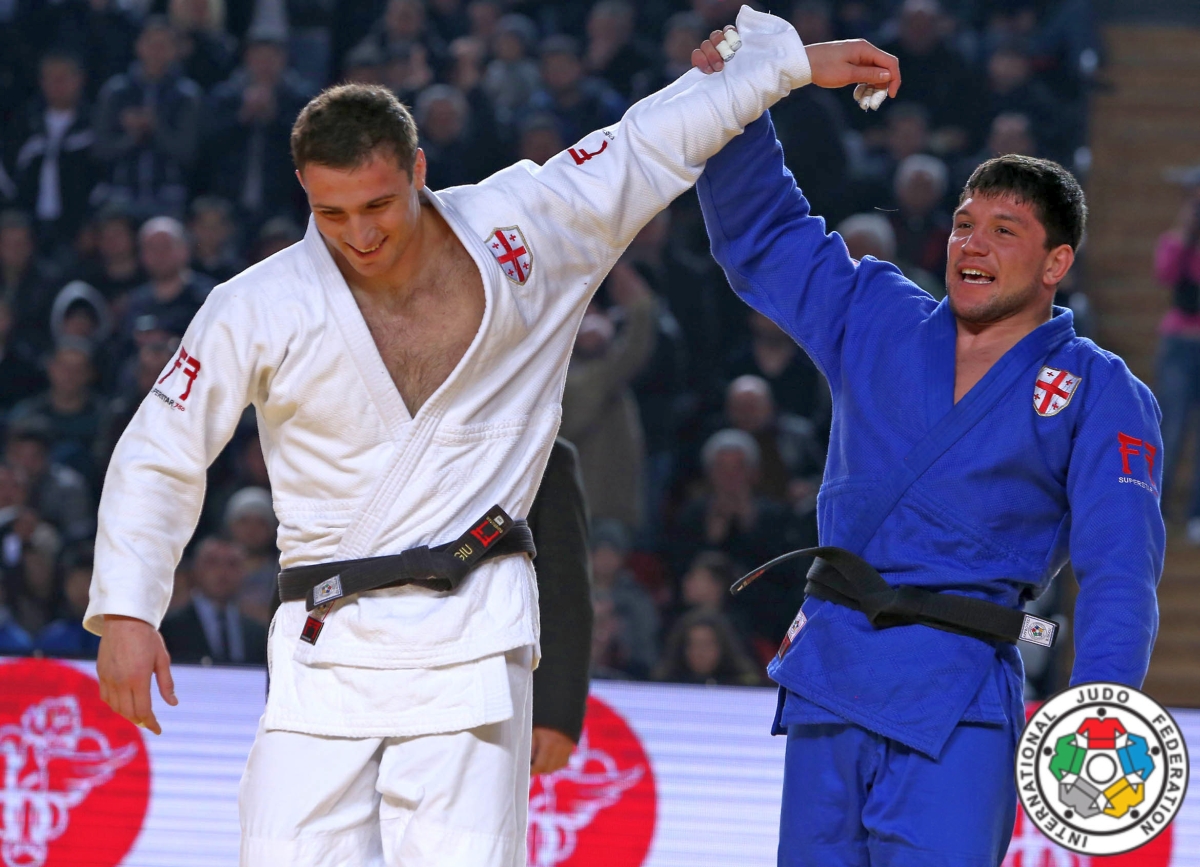 Beka Gviniashvili (GEO) showed his maturity at the senior level as he secured a vital win against world number one and teammate Varlam LIPARTELIANI (GEO) in their home event. The teenager who lost to LIPARTELIANI in the Dusseldorf Grand Prix semi-finals, finally defeated LIPARTELIANI for the first time in an international event with the eyes of the world watching and taking note.
LIPARTELIANI lacked invention in the final as he accumulated two shido penalties for passivity and one shido for going out of the area. GVINIASHVILI sealed his win by trapping his countryman with a yoko-shiho-gatame and there was no way out for the Georgian favourite. GVINIASHVILI won all four fights by ippon as he beat the world number two and world number one in consecutive contests.
In the first semi-final LIPARTELIANI (GEO) defeated former European bronze medallist Marcus NYMAN (SWE) as the animated crowd were out of their seats for the duration of the contest. The home fighter pulled through by a yuko as he countered a weak sumi-gaeshi effort to trap his opponent in osaekomi for 13 seconds. In the second semi-final Junior world bronze medallist GVINIASHVILI defeated world silver medallist TOTH Krisztian (HUN) in one of the most intriguing rivalries in the sport. There was clearly a great deal of respect between the two as they have moved up the age ranks together and established themselves at the senior level at this early stage of their careers. GVINIASHVILI threw spectacularly for ippon and drew one of the biggest reactions of the competition as his Hungarian victim sportingly approached his Georgian rival to acknowledge the quality of the throw before the referee made the result official.
The first bronze medal was awarded to TOTH who had the measure of Warsaw European Open bronze medallist and uchi-mata specialist Sherali JURAEV (UZB). After both judoka were penalised for leaving the area, TOTH turned to ashi-waza to unbalance the Uzbek and then drove his opponent over with his immense upper body strength before JURAEV elected to tap out to a tate-shiho-gatame hold. The Georgian crowd gave a warm round of applause for the Hungarian prodigy as they remembered his show of class in the semi-final meeting against GVINIASHVILI. The second bronze medal was captured by Asian Games bronze medallist LKHAGVASUREN Otgonbaatar (MGL) against losing semi-finalist NYMAN. The 22-year-old Mongolian's only previous appearance on an IJF medal podium came at the Ulaanbaatar Grand Prix last year where he captured a bronze medal. LKHAGVASUREN led with two yuko scores, the second from an uchi-mata, before the Swede tapped out to a powerful tate-shiho-gatame.
Related judoka and events
Related Judo Photos
Related Judo Videos
Related Judo News

Bogdan Drimba (ROU)
21 years
| Result | City | Date |
| --- | --- | --- |
| 1 | Qingdao | 2019 |
| 2 | Osaka | 2019 |
| 3 | Brasilia | 2019 |
| 1 | Tokyo | 2019 |
| 1 | Montreal | 2019 |
| Result | City | Date |
| --- | --- | --- |
| 3 | Qingdao | 2019 |
| 1 | Osaka | 2019 |
| 2 | Chiba | 2019 |
| 5 | Budapest | 2019 |
| 3 | Fukuoka | 2019 |