The latest Judo News offered by JudoInside.com
Cho Gu-Ham steals the gold Varlam Liparteliani wanted so bad
IJF Media Team / International Judo Federation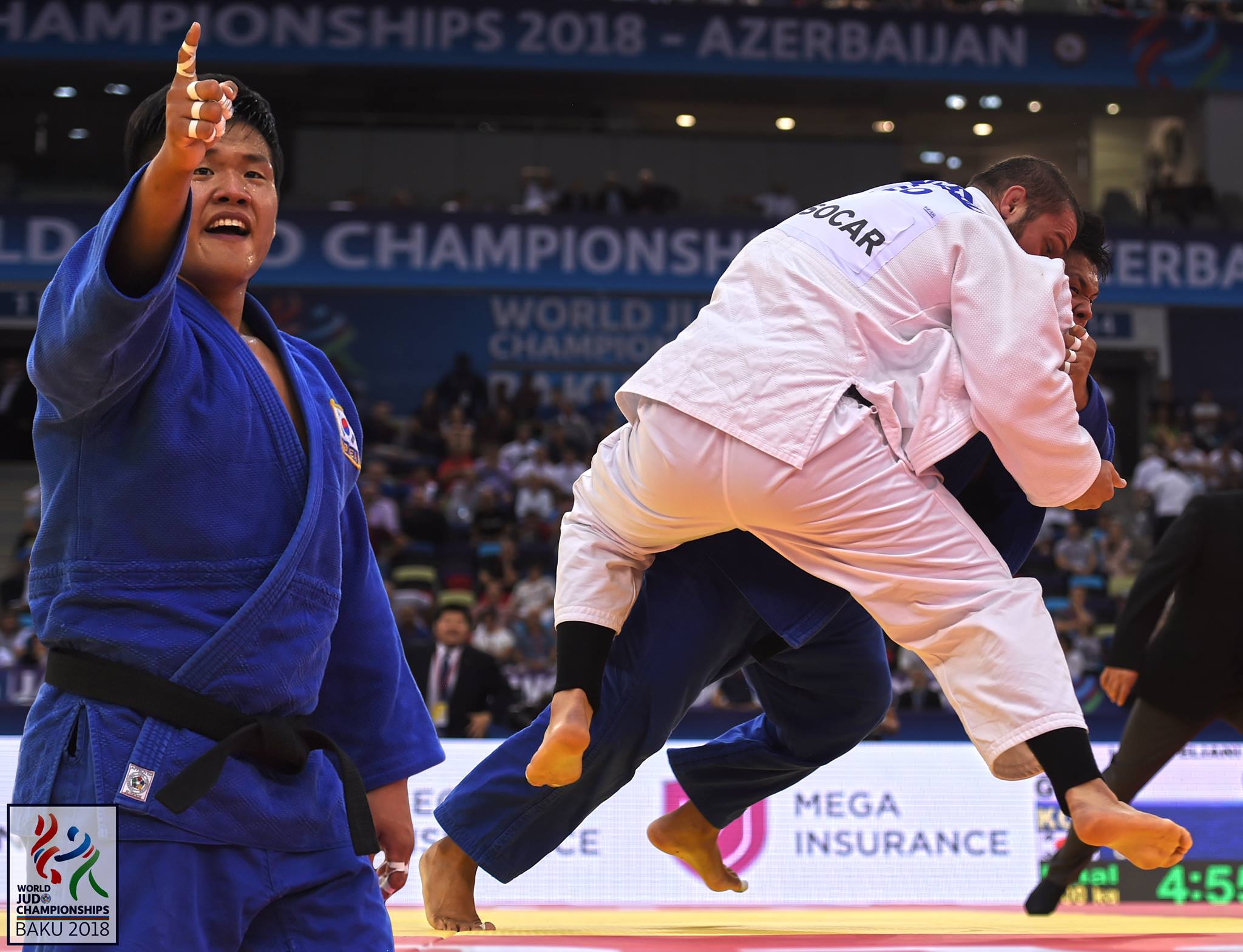 Cho Gu-Ham of Korea won the world title U100kg. Cho was in a great form but in the final he had Georgian Varlam Liparteliani as his opponent. It couldn't be true that Lipo lost it again, but it happened and Cho won the second world title this tournament for Korea with his trademark ippon-seoi nage.
Cho didn't give up any point, he didn't get any score against him throughout the whole tournament and had the right timing to strike. It was the second final today that lasted nine minutes.
Last year's runner-up Varlam Liparteliani HAD to win gold this time in his third World title attempt. He won two bronze and two silver medals and in the final against Gu-Ham Cho he had to strike. Cho-Gu-Ham had a good tournament and defeated Maret, Bauza, Korrel and Ilyasov on his road to the final. Liparteliani was expected in the final and heavily supported by the Georgian crowd. "Lipo" who won Olympic silver as well in 2016 stepped up to U100kg and still made it to the final last year. He defeated Iddir, Gasimov, Darwish and Lkhagvasuren on his way to the final, not the easiest opponents. No score after the first four minutes.
Cho who had won the Grand Slam of Tokyo last year and this year's Grand Prix in Hohhot is no comparison to the list of honour of the Georgian. Still, Cho didn't break and gave no sign at all of giving it away. Never Korea won this category which was always a Japanese category but over the last few years Khaibulaev, Mammadov and Krpalek intervened the Japanese victories. After seven Minutes Cho was close with a ko-uchi and both were physically drained, Cho felt the space after Liparteliani got penalized for the second time. After nine minutes it was Cho who had his only successful strike with ippon-seoi nage and stole the gold medal of the Georgian fans and Varlam Liparteliani. A striking result and painful for Georgia and for the Georgian hero himself. Cho can wear the red back patch for a year.
The bronze went to Niyaz Ilyasov of Russia after almost eight minutes in a huge fight with Egyptian Ramadan Darwish. Russia won its second medal today as Ilyasov was in great form during the day and gave away his chance on more. The experienced Ramadan Darwish won bronze in 2009 and it was quite a surprise we saw him the medal bout. It was hard for him to keep the pace of the younger Russian who was World Junior champion in 2015 and got thrown after eight minutes.
The second bronze was for Otgonbaatar Lkhagvasuren who defeated Aaron Wolf of Japan just finished fifth as a world champion, now a former world champion. In the third minute Wolf was taken over by Lkhagvasuren and made a sasae and Wolf just wasn't sharp, not the whole day in fact. Watched by the Mongolian President Lkhagvasuren took bronze for his country, the second for Mongolia that isn't very spoiled so far this tournament.
In the first semi final it was the physical strong Mongolian Otgonbaatar Lkhagvasuren who kept Liparteliani on 0-0 for a long time. It was Liparteliani who had one penalty and this semi was nail-biting and 23 seconds for the end it was Liparteliani to score with his trademark soto-makikomi. The Georgian has a third chance to take the world title. Those are enough chances the Georgian thought as well.
Liparteliani's opponent Cho Gu-Ham defeated Russian Niyaz Ilyasov. The Koran former heavyweight (2009-2013) has a strong seoi nage, sode and sasae, but Ilyasov has managed to keep him at a distance until he wanted it and that moment came one minute for the end when he had a very strong ashi waza but it didn't lead to a score. Cho has shown his dangerous sasae as well but both couldn't score in the first four minutes. A clash over styles and after 90 seconds in extra time it was Cho to dive under Ilyasov for the first time for a wazari and moved on to the final.
Ramadan Darwish launched a strong uchi-mata with good grip steering Jorge Fonseca to his back. Ippon for the Egyptian against the Portuguese who was more expected to reach the final stage. The spectacular Fonseca couldn't stop this power uchi-mata by Darwish who won bronze at the 2009 World Championships in Rotterdam, in the country where he comes and trains so often with his Dutch girl friend.
Aaron Wolf won his first repechage against Dutchman Michael Korrel who took the seventh place which will be much lower than his expectations for the former world number one. Korrel lost for the third time against the Japanese World Champion although this contest was actually not so bad as he took the initiative but Wolf claimed a wazari for yoko-otoshi after three minutes fighting.
Related judoka and events
Related Judo Photos
Related Judo Videos
Related Judo News

Fabienne Boffin (FRA)
57 years
| Result | City | Date |
| --- | --- | --- |
| 1 | Prague | 19 Nov |
| 1 | Budapest | 25 Oct |
| 1 | Perth | 2019 |
| 1 | Wuhan | 2019 |
| 3 | Tokyo | 2019 |
| Result | City | Date |
| --- | --- | --- |
| 2 | Prague | 19 Nov |
| 7 | Budapest | 25 Oct |
| 3 | Qingdao | 2019 |
| 3 | Odivelas | 2019 |
| 5 | Abu Dhabi | 2019 |