The latest Judo News offered by JudoInside.com
European Judo Championships Preview U52kg: Kelmendi for the triple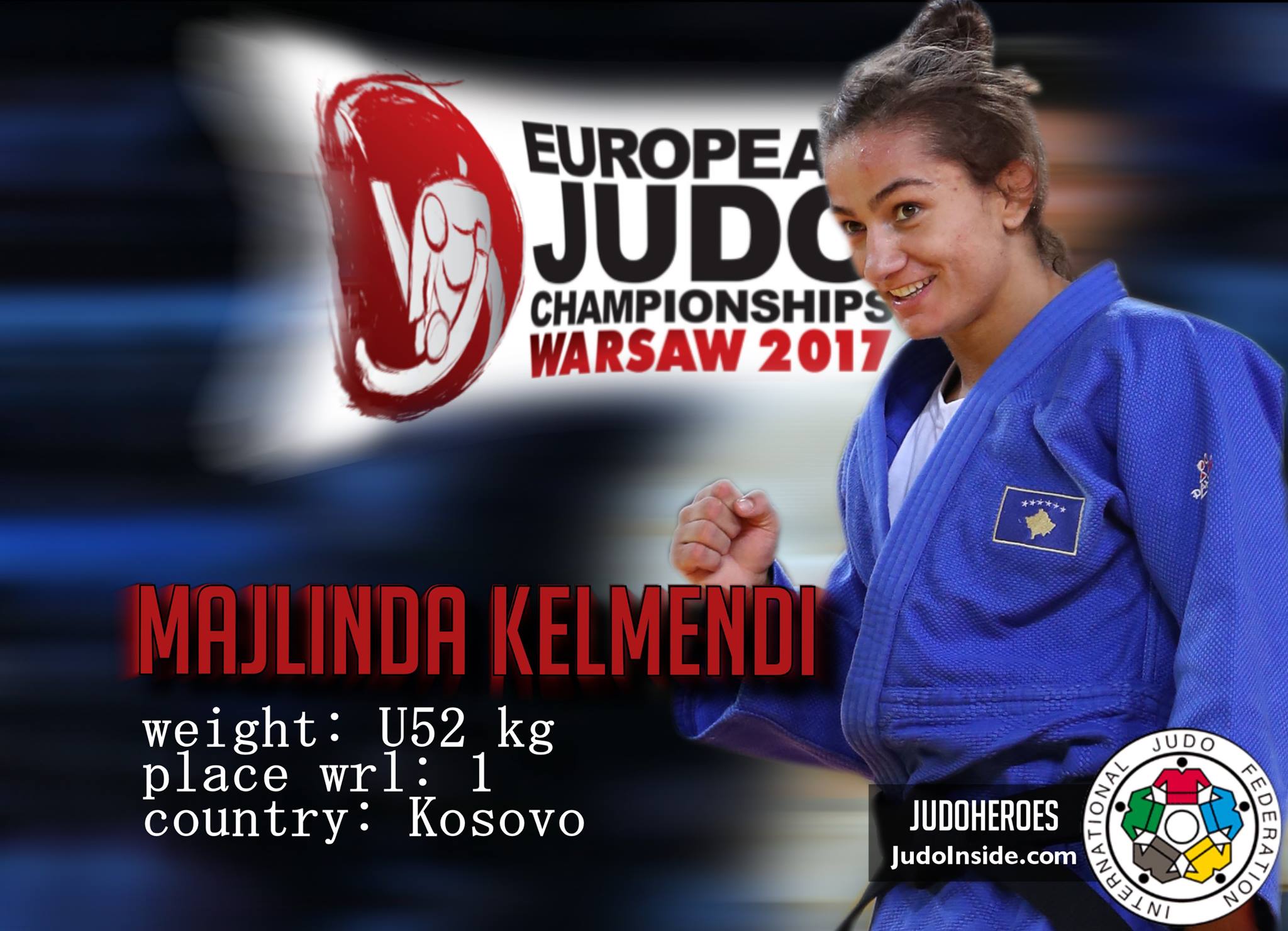 Majlinda Kelmendi is the best ambassador of Kosovo. At the European Championships in Warsaw Kelmendi will start as the number one seed and, despite her Olympic title, she will be eager to win her third European championship and keep the title in Kosovo. But even that isn't as easy as it looks with a few eager challengers seeking revenge.
Kelmendi was judo world champion in 2013 and 2014 and the 2014 European Champion. Double winner of the Grand Slam in Paris in 2015 and 2016. Kelmendi was always coached by Driton Kuka. The flagbearer for Kosovo at the 2016 Olympic Games in Rio won the Grand Slam in Paris for the fourth time this year.
Gili Cohen of Israel is always close to the top. In 2014 she won European bronze in Montpellier but hasn't been successful at the previous European Championships since then. Also, this year has not started off easy for Cohen, but she is still seeded third in this field. She won European silver at the U23 in 2013. She took bronze at the European Championships in Montpellier in 2014. She won World Cup medals in more than 10 different cities, including the Grand Slam in Baku in 2016. She won bronze at the Grand Prix in Samsun in 2016. Gili Cohen is a multiple Israeli Champion. If she can compete with the best in Warsaw is the question.
Kelmendi's compatriot Distria Krasniqi is definitely another title contender. Although she never defeated Kelmendi, Krasniqi knows all her skills. The current World Junior Champion won the Grand Prix in Samsun in 2015, while she was still a junior of 19. She won silver at the Grand Prix in Zagreb in 2016. She won European Junior bronze in 2013 and 2015 U52kg. This year she captured bronze at the Grand Slam in Paris. Krasniqi won bronze at the European Open in Sofia in 2017 and her last and best result was gold at the Grand Slam in Antalya. We're sure the U23 European Champion can take out a lot of other favourites.
Alexandra Larisa Florian of Romania is an outsider. She took gold at the Grand Slam in Baku and bronze at the Grand Prix in Düsseldorf in 2017. She won both the European Cadet and U23 title, so she has enough experience. But the real danger for Kelmendi will come from the women just under the top 4 seeds.
Andrea Chitu of Romania won the European title in 2012 and European Games winner in 2015 and won four European medals. She was World silver in 2014 and 2015. In 2015 she reached the #1 position U52kg in the IJF World Ranking. Coached by Florin Bercean. She finished 7th at the Rio Olympic Games, so she will be eager to prove herself in Europe.
KELMENDI Majlinda (KOS) 1. seed (1. place WRL)
COHEN Gili (ISR) 2. seed (3. place WRL)
KRASNIQI Distria (KOS) 3. seed (4. place WRL)
FLORIAN Alexandra-larisa (ROU) 4. seed (8. place WRL)
CHITU Andreea (ROU) 5. seed (9. place WRL)
GIUFFRIDA Odette (ITA) 6. seed (10. place WRL)
BUCHARD Amandine (FRA) 7. seed (11. place WRL)
SKRYPNIK Darya (BLR) 8. seed (16. place WRL)
Related judoka and events
Related Judo Photos
Related Judo Videos
Related Judo News