The latest Judo News offered by JudoInside.com
Golden Chkhvimiani takes gold on home soil
by Mark Pickering - IJF IJF Media Team / International Judo Federation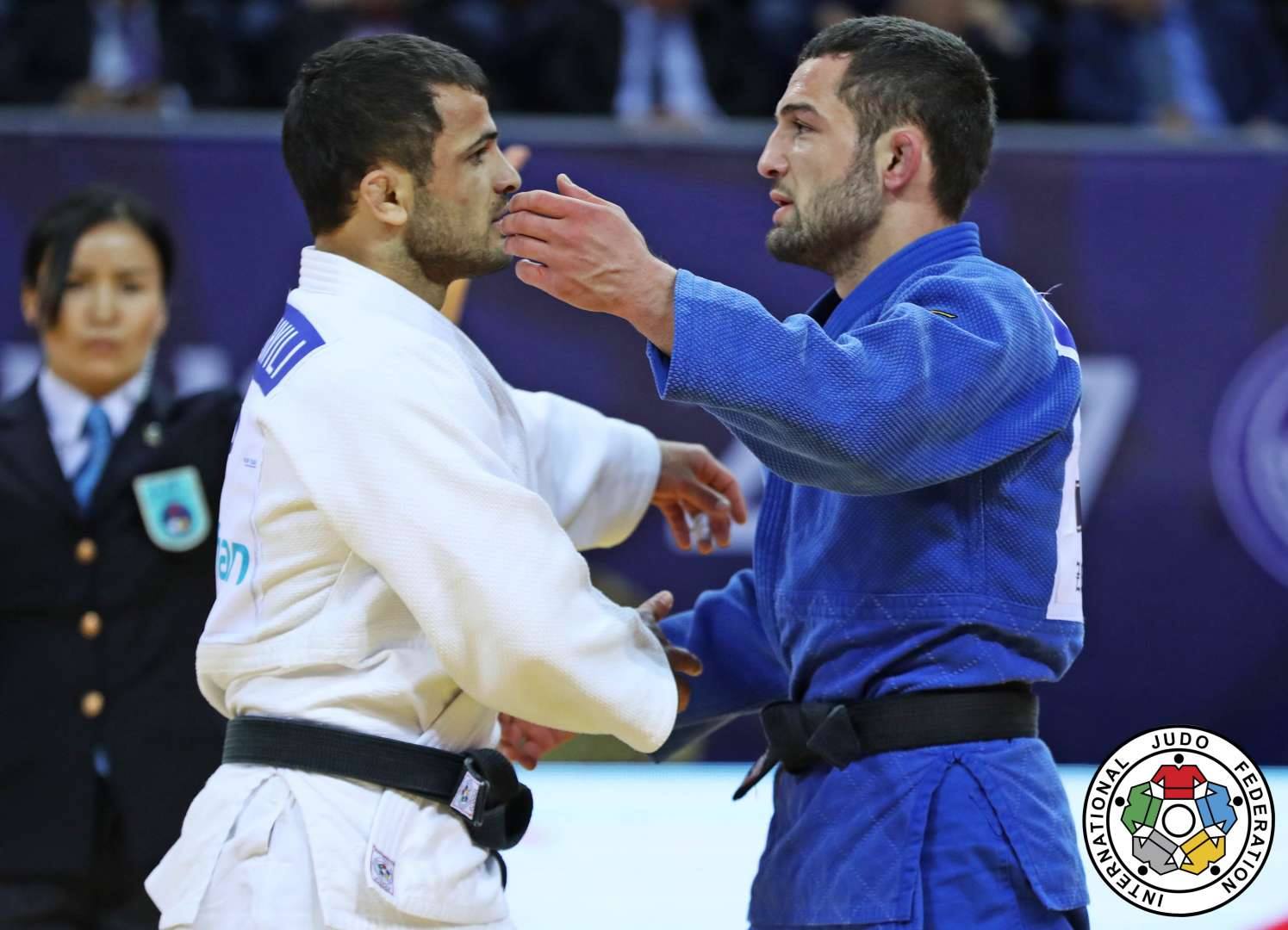 Top seeded athlete and home judoka Amiran Papinashvili (GEO) was expected to be in the final by the whole public of the New Sports Arena and he did not disappoint his fans as the -60kg Georgian qualified for the last fight of the category with a win over Albert Oguzov (RUS). The final produced a 100% Georgian show as the second athlete qualified was Lukhumi Chkhvimiani, also from the host country.
Chkhvimiani took the lead against Mukhriddin Tilovov (UZB) to face his teammate and already two-time Grand Slam winner, Papinashvili.
After less than a minute in the final, Chkhvimiani was penalised with a first shido for passivity. But Chkhvimiani scored the first in what looked like a weak attack, but on the edge of the competition area Papinashvili, released his pressure and had no other choice than to follow his teammate for waza-ari. Being obliged to take risks in order to win, a few seconds before the end, Papinashvili was counterattacked for a second waza-ari and a surprising win for Chkhvimiani.
The first bronze medal contest featured Phelipe Pelim (BRA) and Mukhriddin Tilovov (UZB) fighting for a place on the podium. The first four minutes of regular time were not enough to differentiate the two athletes who entered the golden score with a shido each. Almost two more minutes later, the score was still the same and both Pelim and Tilovov seemed incapable of finding a slight opportunity to finally score. But after 1 minutes and 55 seconds, the Brazilian went under the centre of gravity of his opponent with a super yoko-tomoe-nage for a winning waza-ari. Pelim won his third medal in a Grand Prix here in Tbilisi.
In the second bronze medal match was a Russian story as Islam Yashuev (RUS) was opposed to Oguzov. The danger came after less than 20 seconds, from Oguzov who launched a flying juji-gatame from which Yashuev easily escaped. Half way to the end, Ogozov was penalised with two shades for passivity though. Then it was Yashuev's turn to be penalised for a forbidden groundwork defence. After a last sequence where both athletes blocked their opponent to build positive judo, they were penalised one more time. With only two penalties on his side, Yashuev won the contest to step on the podium.
Related judoka and events
Related Judo Photos
Related Judo Videos
Related Judo News