The latest Judo News offered by JudoInside.com
Tokyo Preview men U60kg: Naohisa Takato poised to win fourth world title
by JudoCrazy and JudoInside JudoHeroes & IJF Media / Copyright: www.ijf.org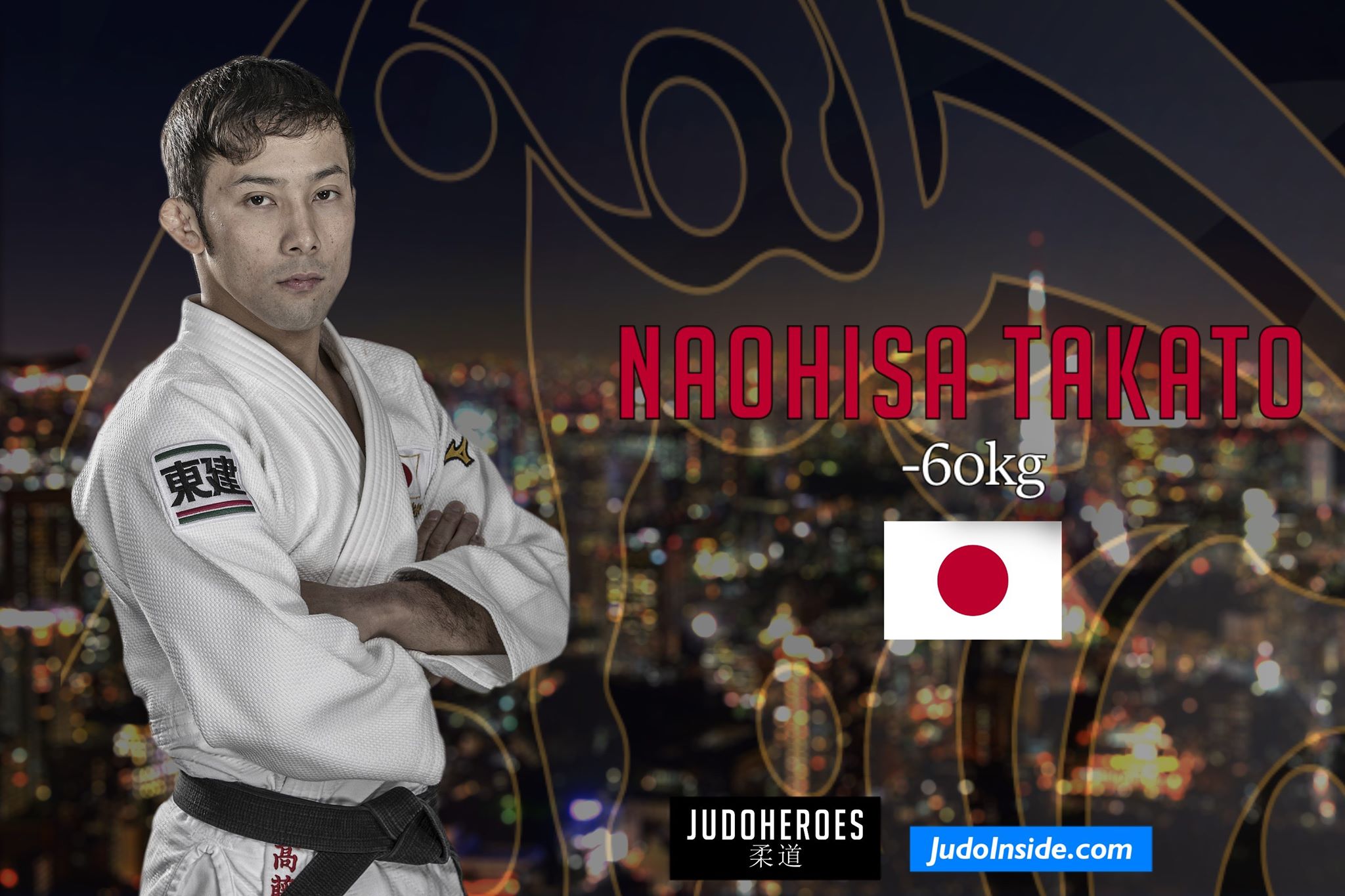 Without a doubt Naohisa Takato will be the one to watch at the first day of the World Championships in his category U60kg. Takato captured three World titles since 2013 and is still the most skilled athlete in this men's lightweight category.
Naohisa Takato is described as a unorthodox player who doesn't fight like a Japanese, he has some good traditional techniques like sode-tsurikomi-goshi, uchimata, sumi-gaeshi and kouchi-gari but also in his arsenal of throws are more European-style techniques like side takedown and the front uchimata (made famous by Georgii Zantaraia of Ukraine). Takato also has an unusual but effective ouchi-gari.
Takato is in the poule with Walide Khyar (FRA) and Tornike Tsjkadoea (NED) for the 1/4 final he could meet with Lutfillaev (UZB).
Since the start of 2017, he has been beaten only once, by Kim Won-Jin of South Korea in the 2018 Osaka Grand Slam where he lost in Golden Score by penalties. He has fought the World No. 1 Robert Mshvidobadze three times and won all three times. Mshvidobadze suffers a knee injury and we don't know how fit he is. His main rival is actually his compatriot Ryuju Nagayama, who doesn't have as stellar a track record but has beaten Takato in international and domestic events. They will be in opposite sides of the pools so it could very well be an All-Japan final.
Other top players to look out for besides Mshvidobadze are Amiran Papinashvili of Georgia, Yeldos Smetov of Kazakhstan who is in the same poule with Nagaya,a and of course Kim Won-Jin who is ranked No. 41 but has all the skills the reach the last eight. However he will be the first opponent of Nagayama, so what an amazing poule of death!
Exciting players who could provide some upsets include Amartuvshin Dashdavaa of Mongolia, Sharafuddin Lutfillaev and Diyorbek Urozboev of Uzbekistan and the two Brazilians Takabatake and Kitadai. Azerbaijan sends Davud Mammadsoy instead of Orkhan Safarov, at least remarkable. Mammadsoy will face Dutchman Tornike Tsjkadoea in the first contest.
Dutchman Tornike Tsjkadoea might have a chance to penetrate in the top eight. He has a Georgian name but is 100% Dutch. The second Georgian though is Lukhumi Chkhvimiani is the pool with world number one Robert Mshvidobadze of Russia but they can only meet in the quarter final
Related judoka and events
Related Judo Photos
Related Judo Videos
Related Judo News
All judo results of
Teddy Riner
,
Daria Bilodid
,
Tadahiro Nomura
,
Shohei Ono
,
Ronda Rousey
,
Majlinda Kelmendi
,
Clarisse Agbegnenou
,
Ilias Iliadis
,
Flávio Canto
,
Fabio Basile
,
Joshiro Maruyama
,
Naohisa Takato
,
Hifumi Abe
,
Uta Abe
,
Rafaela Silva
,
Lukas Krpálek
,
Tina Trstenjak
,
Kayla Harrison
,
Tsogtbaatar Tsend-Ochir
,
Nemanja Majdov
,
Jorge Fonseca
,
Nikoloz Sherazadishvili
,
Guram Tushishvili
,
Varlam Liparteliani
,
Sagi Muki
,
Noël Van 't End
,
Saeid Mollaei
,
Christa Deguchi
,
Manuel Lombardo
,
Marie Eve Gahié
,
Lukhumi Chkhvimiani
,
Distria Krasniqi
and
142000+
other judoka in
628000+
results and
420000+
judo matches including the recent
Grand Slam Düsseldorf
,
Grand Slam Paris
,
Grand Slam Osaka
,
World Championships Tokyo
,
World Championships Baku
and
15000+
major judo events. More judo info than you can analyse 24/7! Share your results with your judo network.
Become an Insider!