The latest Judo News offered by JudoInside.com
IJF President Marius Vizer opens Referee and Coaching Seminar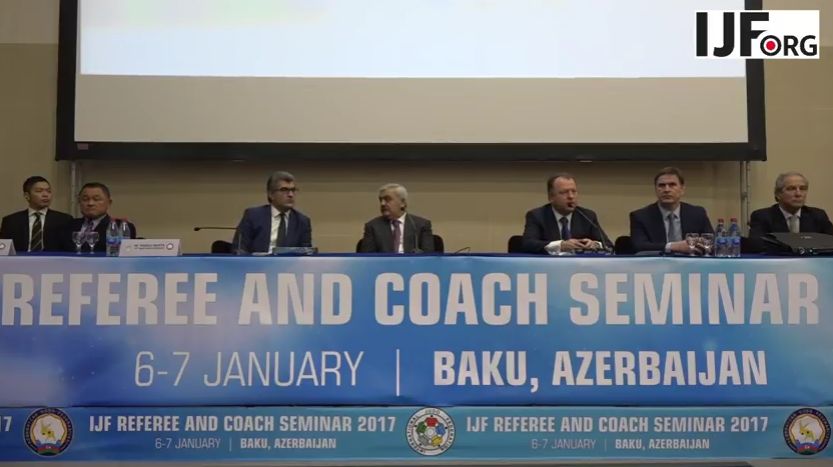 IJF President Marius Vizer and Azerbaijan President Abdullayev have opened the IJF Referee and Coaching seminar in Baku. Vizer spoke about the forthcoming changes in the IJF.
"Thank you to the organising president and happy new year, health and success to everyone. We had a successful year 2016. We closed the year with lot of progress, important steps and development for our sport. We are now in a moment that all the parties in the world involved around judo, sponsors, media, fans, judo promotors, they expect us to come to the next step. In the next four years we will deliver the jump to the quality of all our projects initiated in 2009."
"When we speak about changes in our sport, you have to take into consideration that the impact of the technical changes are not only related to the athletes and referees. They are related to a lot of circumstances, especially marketing and media. But also other sectors in the IJF that initiate various projects. Everything what was achieved was because of your passion and dedication and the success of our athletes. The changes which we planned to do they are major changes because we have to open the judo more for the public, not our own community. We have to be an open sport, much easier to understand, much more flexible in our approach. And always change according to the Olympic Chart."
"When you consider in the past (a bit further away), all changes were a terrible story. Our conservative mentality and also too much individual interest of nation, coaches, referees, but now we are a total different organisation, with an open mind, with vision and creativity, and that is the reason that the impact of the changes of the last period have a huge effect also in the finances, media and marketing and the development of our sport."
"We will make the application of the new rules starting immediately and of course on the way if there are some "important weaknesses" in the effect of the application, we will make a conclusion and evaluation and why not a final decision after the world championships in Budapest. I ask all of you to watch all the strategies of the IJF, always based on the proposals of the federations and continental unions and IJF executive members for the benefit of judo in the future."
"Next year we will organise in Baku the World Championships, our most important event and I will like to thank the national federation and its president Abdullayev for the partnership and with the partner SOCAR, another important partner of the IJF."
"I see a an impressive participation here of countries, that means that the interest of the countries are increasing more and more. "
After the opening the seminar started led by IJF Head of Refereeing Juan Barcos where clarity was given about some open questions.
Related judoka and events
Related Judo Photos
Related Judo Videos
Related Judo News