The latest Judo News offered by JudoInside.com
Ludwig Paischer retires after great career with World and Olympic medals
IJF Media Team / International Judo Federation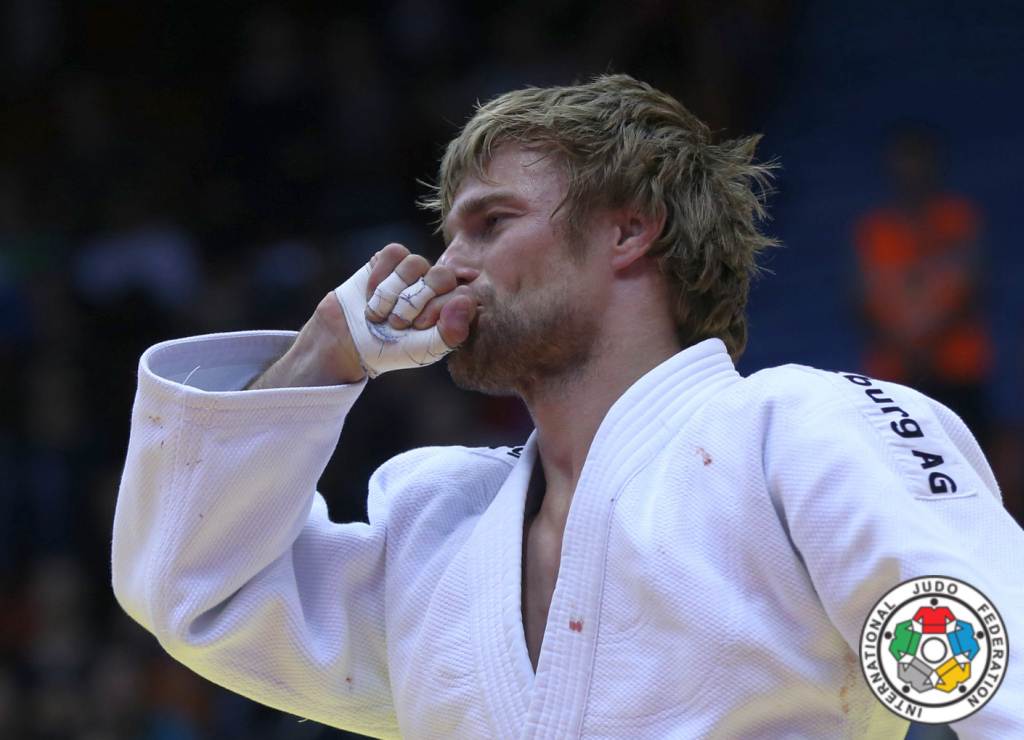 After Four Olympic Games, nine World Championships, thirteen European Championships and countless judo events all around the world, Ludwig Paischer retires. A monument in Austrian judo who produced so many highlights for more than 15 years fighting in the senior division. Today Lupo Paischer definitely quit.
Paischer spoke at a meeting he organised for friends in his old dojo and reflected his awesome career. Paischer is 2008 Olympic finallist and double World medallist, finallist in 2005. Double European Champion in the Olympic years 2004 and 2008. "Lupo" won on 7 European medals. Participated in four Olympic Games and won 11 national titles U60kg. Twenty years of judo is enough for the body and the mind. "The body would hold it for a year, but you must know that each athlete has a expiration date, and the weight is okay with me, I can still make 60kgs,but it requires discipline and thanks to my nutritionist I can keep it up, but it's tough."
Together with the two-year-old Sabrina Filzmoser, he was the frontrunner of the Austrian judo scene for many years. Especially after the death of Claudia Heill, Olympic silver medal winner of Athens 2004, and the child abuse allegations against the doubly Olympiasieger Peter Seisenbacher, which recently led to an accusation, Paischer and Filzmoser provided at least some glance for Austrian judo. With their unpretentious and modest kind both Lupo and Sabsi made many friends in and outside of the sport.
After the Olympic Games in London Paischer had the feeling he should quit. It was a tough period in his life. Although the pressure wasn't too high in London, as he already had an Olympic medal, the feeling to quit hurt him. Also it was a hectic period where he realized he had to take care of his career after judo and finished his university studies. But he continued and was still close to the European top and felt, he tried to qualify for a fourth time and succeeded.
"The difference at the Olympic Games is the shape of the day, secondly mental shape and third you got to have a little luck. A good start is very important with fast ippons and it helps in self confidence that day. You have to look for the opponents moves and all assets of him."
Paischer was born in Salzburg, the city where he trains. His mother was a judoka and he started judo at the age of six years. He liked judo from the start but was a multi sports boy doing football and tennis as well. At Cadet level he won two national titles, but in 1998 he won an international medal at the World Youth Games which made him realise he could gain medals at international level, and so he did. At Junior level he won the Austrian title and took silver at the World Championships in 2000 in the final against later World Champion Joao Derly.
Meanwhile Lupo is a four time Olympian, but would have liked to end his career with a great fireworks show. The 34-year fighter realizes there won't be a fifth anymore, nor an Olympic medal. After the Olympic Games he has been living in Japan and works for a marketing company.
Paischer debuted in 2001 at the World Championships in Munich with four matches, but only two contests in 2003 in Osaka. But the next edition in Cairo delivered him silver in the final against Craig Fallon (GBR). The next edition in Rio resulted in bronze which was a great confirmation of his shape in advance of the Olympic Games. In 2008 he was in the Olympic final against Min-Ho Choi of Korea, who also blocked his road in 2004, but in 2008 it was the final. Paischer had taken revenge for 2004 in Paris in 2007. "One of the hardest defeats was in Athens in 2004, but in the end it was the most memorable defeat. I learned the most of it. It was against Choi Min-Ho, the same opponent in the 2008 Olympic final" Paischer said.
This year started well with a seventh place at the Grand Slam in Paris and a great victory at the European Open in Oberwart, his first victory at the Austrian Open since 10 years, but it was immediately the highlight of the year as the two other tournaments ended in the first round, European Championships in Kazan and the Olympic Games.
Paischer: "Well, I don't want to talk about prizes, I rather want to talk about judo, so the most memorable is that judo gave me the personality that I am now. I learned every day, I travelled the world, I still feel amazed that I've gone through it all thanks to judo. I retired from judo, but I didn't lose the judo style, it will be with me my whole life. However Winning in Oberwart was a very special moment because my first time to win a slightly bigger international medal was also in Austria and now 15 years later I managed to win gold again."
Paischer won 14 World Cup medals of which the victory in the Tournoi de Paris was the sweetest moment in 2005. But he also won the German Open three times and his victories in Austria mean a lot as mentioned.
At European Championships Paischer captured seven podium places including the European title in 2004 and 2008, both Olympic years and also in 2012 he was close to the podium with a fifth place. This year was different though. At the Games the dream ended after only 27 seconds against Davtyan.
"I've had a wonderful stage at four Olympics and the numerous World Cups and European Championships."
After fighting tons of World and Olympic Champions such as Nomura, Choi, Galstyan, Mudranov, Fallon, Derly, Houkes, Zantaraia, Sobirov, Takato, Ganbat, Smetov....Ludwig Paischer has officially retired.
Related judoka and events
Related Judo Photos
Related Judo Videos
Related Judo News

Nihon Sport (NED)
58 years
| Result | City | Date |
| --- | --- | --- |
| 1 | Brasilia | 2019 |
| 1 | Montreal | 2019 |
| 1 | Marrakech | 2017 |
| 1 | Zagreb | 2017 |
| 3 | Budapest | 2017 |
| Result | City | Date |
| --- | --- | --- |
| 1 | Budapest | 2019 |
| 2 | Qingdao | 2019 |
| 3 | Brasilia | 2019 |
| 1 | Tokyo | 2019 |
| 3 | Montreal | 2019 |