The latest Judo News offered by JudoInside.com
British Judoka Danny Kingston retires
TWOJ, the world of Judo, by Barnaby Chesterman David Finch / Judophotos.com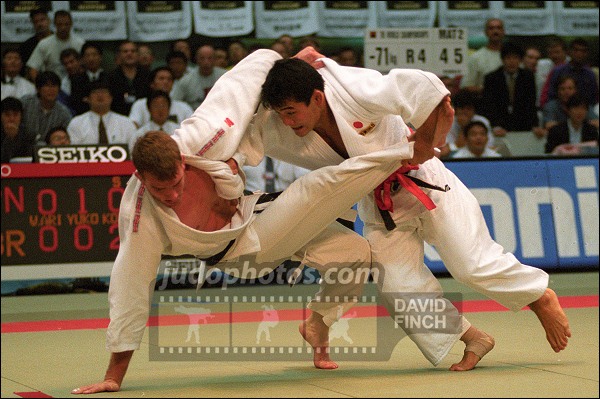 For the second time, Danny Kingston has announced his retirement from competitive Judo. But this time, on the verge of the Olympic Games, it looks as though he really means it. In recent years Danny has been one of Britain's most exciting and unpredictable fighters, but a consistent medal winner. In the last year alone he has won the British Open at -81 Kgs, beating World Champion Graeme Randall in the process, gone to decision against the Olympic Champion, Kenzo Nakamura, in the -73 Kgs at the World Championships.
Kingston anchored the British men's team to its Silver medal in the European Team Championships, winning all his fights at -81 Kgs. He still seems to be at the top of his form. So why has he retired? The World of Judo went looking for some answers.

TWOJ: Where did you develop your Judo?
DK: I started at a small local club in Hayes when I was 5. When I was 9 my parents moved to the country and I joined Pinewood JC and stayed there until I was 15 and a 1st kyu. Without many seniors to practice with I then decided to move to Camberley, where I got my 1st Dan (still my grade!) and stayed until I was 21.

TWOJ: Where have you trained since you left Camberley?
DK: After a short period at the Budokwai I moved to Holland to Kenamju and stayed there until my first retirement, because of personal problems, in 1997. When I came back to Britain later that year, I joined Wandsworth Lightning, but still continued to represent Kenamju as well.

TWOJ: Who has been the major influence on your Judo carreer?
DK: Cor Van der Geest, the coach of Kenamju in Holland. I think he is the best coach in the World and the BJA could learn a lot from the highly professional set up he has developed at his club, where in one small town he has over 150 senior members. He knows better than anyone how to get the best out of his fighters.

TWOJ: Do you have any heroes in Judo?
DK: Waldemar Legien the double Olympic Champion from Poland who was a fantastic tactician, and Germany's Udo Quellmalz, whose victory at the Olympic Games was the best series of wins at the Games I've seen.

TWOJ: What have been your best moments in Judo?
DK: I think I've most enjoyed myself on the training camps abroad with friends like Ryan Birch, Ray Stevens, Keith Davis and Nigel Donohue. The feeling of camerarderie on occasions like these is hard to beat, even when you win a big medal.

TWOJ: What was your most memorable contest?
DK: That's a hard question, but I remember very well my first really major fight, for the Junior World Bronze medal, against a German called Bucholz. I scored a Waza-ari in the first ten seconds and had to fight for my life for what seemed a never-ending 5 minutes. Then I caught him for another Waza-ari in the last ten seconds.

TWOJ: What do you think makes a great fighter?
DK: I think the fighter has to be very determined and an individual. You have to develop your own judo, let your individuality show and stamp your personality on the fight. I'm not really a team player, although I enjoy team contests and all the spirit that goes with that enormously.

TWOJ: Why have you retired now when you still have a very good chance to qualify for the Olympic Games?
DK: I don't believe that I can successfully make the weight enough times to qualify the weight and I've suffered through that before. Because of the selectors policy in 1995 I had to make the weight too many times before the 1995 World Championships and, as a result, wasn't able to prepare properly for the tournament. I think I could have pulled a better result there with the right preparation. I think I prepared really well for last year's Worlds and I still think I won the fight against the Olympic Champion, Nakamura, but the decision went against me, - that's judo.

TWOJ: So what's next, do you have any further ambitions in Judo?
DK: Right now I'm coaching Judo in some schools, but I only see myself doing that for a couple of years. I would like to be able to pass on my expertise, I think I've got a lot to offer, but I can't see that there's a realistic route open to working with top class fighters.

TWOJ: Are you still training?
DK: Yes, I really want to keep fit. I'm doing more weights now than I ever did while I was fighting. I will continue training at Wandsworth, and I'm taking the occasional class at the Budokwai.

TWOJ: Is there any way we could see you back in action again or is this really it?
DK: No, this is really it. But if something terrible happened, and Graeme got injured I think I would be the best person to deputise for him in Sydney. If they asked me to do that, I'd be there.

TWOJ: Is there anything else you'd like to say to our readers.
DK: I'd just like to wish all the lads the best of luck in the qualifying tournaments and hope everything goes well in Sydney.
Related judoka and events
Related Judo Photos
Related Judo Videos
Related Judo News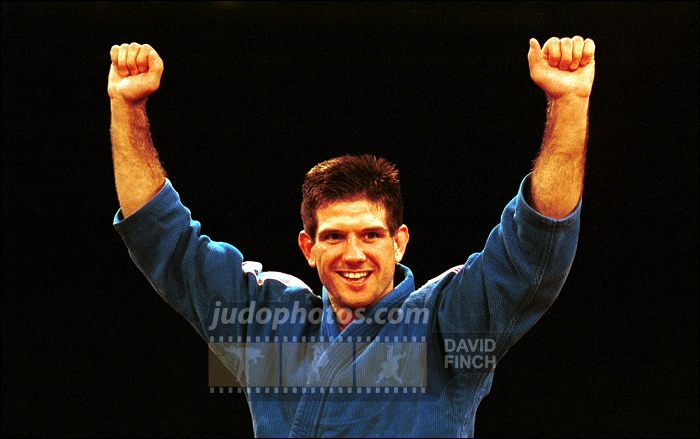 9 Oct 1999 22:10
The day promised much with Danny Kingston (-73kg), David Somerville (-66kg), Nicola Fairbrother (-57kg) and Debbie Allan (-52kg) all boasting strong medal hopes but it all went a little flat. Hothead Danny stole the headlines with a display of petulance more akin to footballers than Judokas. Danny comfortably beat Danny Fagan (AUS) in the first round, throwing him for ippon with ashi-guruma. Next up for Britain's errant wild-boy was the World and Olympic champion Kenzo Nakamura (JPN). Danny put up a spirited fight in a thrilling contest, but Nakamura's class was evident and he rightfully won the judges decision. Read more

Arnold Resch (GER)
28 years
| Result | City | Date |
| --- | --- | --- |
| 1 | Antalya | 1 Apr |
| 1 | Düsseldorf | 2020 |
| 1 | Osaka | 2019 |
| 1 | Tokyo | 2019 |
| 3 | Tokyo | 2019 |
| Result | City | Date |
| --- | --- | --- |
| 1 | Antalya | 1 Apr |
| 3 | Tbilisi | 26 Mar |
| 1 | Paris | 2020 |
| 1 | Budapest | 2019 |
| 1 | Tokyo | 2019 |