The latest Judo News offered by JudoInside.com
Report World Championships Birmingham Day 3
TWOJ, the world of Judo, by Barnaby Chesterman David Finch / Judophotos.com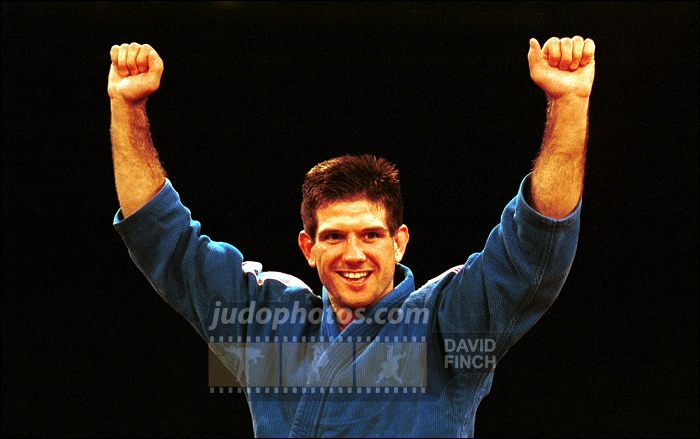 The day promised much with Danny Kingston (-73kg), David Somerville (-66kg), Nicola Fairbrother (-57kg) and Debbie Allan (-52kg) all boasting strong medal hopes but it all went a little flat. Hothead Danny stole the headlines with a display of petulance more akin to footballers than Judokas. Danny comfortably beat Danny Fagan (AUS) in the first round, throwing him for ippon with ashi-guruma. Next up for Britain's errant wild-boy was the World and Olympic champion Kenzo Nakamura (JPN). Danny put up a spirited fight in a thrilling contest, but Nakamura's class was evident and he rightfully won the judges decision.
After fighting so well Danny was clearly upset and stalked off the mat without bowing at the side. Despite repeated calls to bring him back Danny seemed oblivious to this and now started to storm off. This failure earned Danny a disqualification which, had Nakamura progressed any further, would have prevented him from competing for bronze through the repechage. As it happened the weight category did not follow the formbook and, following a series of upsets, Jimmy Pedro faced Vitali Makarov in the final. Pedro had been impressive all day and his all round fighting ability deservedly won him a gold medal.

David Somerville's combative ne-waza brought him good victories over Andre Korb (GER) and Anis Lounifi (TUN) holding both with yoko-shiho-gatame. In his next contest, however, the Brazilian Henri Guimaraes defeated him scoring yuko with harai-goshi. Guimaraes did not progress any further though, so David's tournament was over. The category was won by the exciting Frenchman Larbi Benboudaoud who threw Huseyin Ozkan with o-uchi-gari in the final.

Nicola Fairbrother tried hard to re-claim past glories but found the going very tough. Nicola was forced to battle throughout and only overcame Fillipa Cavalleri (POR) by virtue of shido. In her next fight she came dangerously close to being knocked out by Patricia Nagy (HUN). With time almost out Nicola trailed by chui to shido as she desperately tried to find a way to throw her opponent. Howls of derision could be heard from the crowd as in unison they screamed for Nagy to be awarded chui. In the last seconds their prayers were answered and, somewhat controversially, Nicola also then won the decision. Still Nicola struggled, though, and Roxana Garcia (PUR) was just beaten with yuko from uchi-mata.

Next up was the favourite Isabel Fernandez (ESP) and in truth Nicola could not get into the fight. Yet again, however, in an almost re-run of her Nagy fight, Nicola trailed by yuko to shido with seconds running out. Almost on the final bell Fernandez was penalised and again a decision was needed to separate the two fighters. It seemed too much to hope for a replica of the last outcome as Fernandez had clearly dominated. Even so one judge managed to allow the crowd to influence him enough to award the fight to Nicola but the other two were not quite so patriotic and the Spaniard deservedly progressed. Nicola still had the repechage to look forward to, but she did not do herself justice and was beaten by the lively Orit Bar-on (ISR). Fernandez went on to reach the final but was completely outclassed by the Cuban Driuli Gonzalez who claimed her nations second gold of the tournament to leapfrog Britain in the medals table.

New European champion Debbie Allan was hoping to add to her gold medal and she began in dominant form. In her opening two fights she strangled both Ivona Machalek (POL) and Fabiane Hukuda (BRA) as her power in ne-waza proved too much for her opponents. In her quarter final, however, she injured her shoulder and could do nothing against the tenacious Legna Verdecia (CUB). Verdecia scored waza-ari with seoi-nage and the injured Debbie could find no way back. Still she bravely fought on and beat Yakelin Diaz (VEN) with mune-gatame in the repechage to qualify for the Olympics before sensibly withdrawing from the rest of the competition. Verdecia appeared to be the class competitor of the category and was fully expected to beat Noriko Narasaki (JPN) in the final. Yet again, however, controversy reared its head. Verdecia had dominated throughout and produced the majority of the attacks. With 12 seconds remaining, though, the scores were level and Verdecia was penalised for dropping when attempting a drop seoi-nage. The Cubans were stunned and Verdecia even ended the contest with her hands on her hips refusing to fight on.
Related judoka and events
Related Judo Photos
Related Judo Videos
Related Judo News

Hong-Yuan Fang (CHN)
27 years
| Result | City | Date |
| --- | --- | --- |
| 1 | Düsseldorf | 2020 |
| 2 | Osaka | 2019 |
| 1 | Tokyo | 2019 |
| 1 | Tokyo | 2019 |
| 1 | Hohhot | 2019 |
| Result | City | Date |
| --- | --- | --- |
| 1 | Düsseldorf | 2020 |
| 1 | Osaka | 2019 |
| 1 | Tokyo | 2019 |
| 3 | Tokyo | 2019 |
| 2 | Fukuoka | 2019 |