Throwback 17 Sep 2000 with the turkish fairytale of Huseyin Ozkan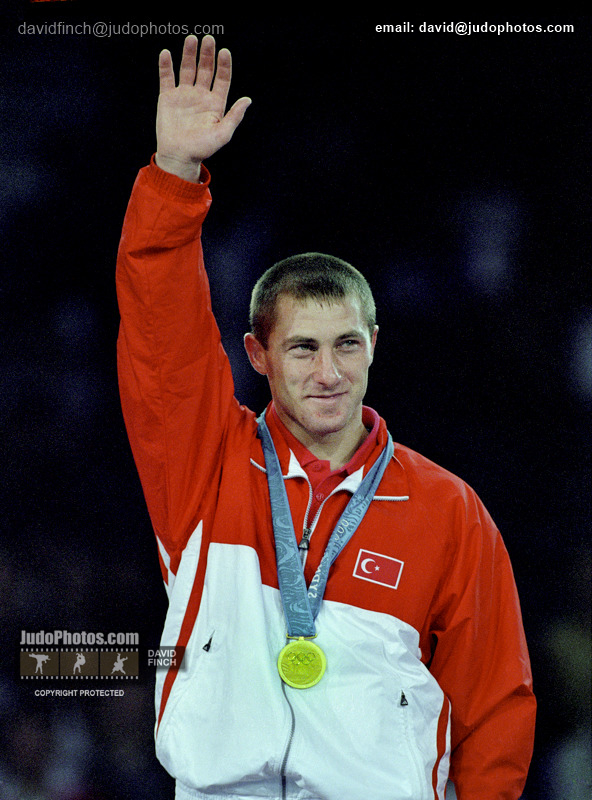 17 Sep 2020 08:55
TWOJ, the world of Judo, by Barnaby Chesterman
David Finch / Judophotos.com
At 17 September 2000 Turkey captured its first Olympic title in Sydney. An extraordinary stunt by Khasei Bisultanov aka Huseyin Ozkan. Adopted, cherished and still headcoach of Turkey. JudoInside witnessed the Olympic Games in Sydney with each day new miracles at perhaps the best ever Games. We throwback to 17 September 2000, drawn up by Barnaby Chesterman on behalf of The World of Judo Magazine.
There was an equally poignant story to tell in the men's event as Ozkan spoke about his family in Chechnya, which he left in 1993 to move to Turkey, who did not have the opportunity to watch his gold medal performance as Chechnya doesn't receive broadcasts from the Olympics. "They will have to wait to here about me on the news," he said. "They will be very happy when they hear I am Olympic champion because everybody knows me in Chechnya." Benboudaoud had looked the most dominant in the early stages of the tournament and threw all his opponents for Ippon, except David Somerville of Great Britain but he notch up three yukos to no reply against the diminutive Scot. Ozkan, however, had a string of tough fights, particularly against Gueorgui Gueorguiev of Bulgaria who he beat on a split judges' decision, but only after Gueorguiev gave away a late penalty for passivity.
Benboudaoud was clearly disappointed after the final, he said: "Obviously it is magnificent to win an Olympic silver medal but it is hard to take because I fought well all day but then I just made one mistake."
The Frenchman actually started the better in the final and scored Koka with Ouchi-gari. He kept on the pressure and Ozkan was penalised for passivity as he held on grimly, sometimes in mid-air, to stay in the fight. Still Benboudaoud pushed for the win but he was caught out as he tried to pick up Ozkan with a trade-mark Te-guruma. The Turk adjusted his body weight and turned Benboudaoud's momentum against him and into his own winning throw, an Uchi-mata for Ippon. "The first one to catch the other one was always going to win," said Ozkan. "That is my special technique, I am very fast with it."
The men's -66kgs category was full of upsets throughout the day as European fighters dominated the rostrum. Yukimasa Nakamura of Japan, the reigning silver medallist, was surprisingly beaten by the new European champion, Patrick Van Kalken of the Netherlands. Nakamura was penalised up to Keikoku and as he pushed forward for victory with time running out, Van Kalken countered him for Ippon with Te-guruma. Nakamura fought back through the repechage but was sensationally dumped for Ippon again with the same technique just 15 seconds into his repechage final against Arash Miresmaeli of Iran.
The Iranian was then narrowly beaten for a bronze medal by a unanimous judges' decision against the diminutive Italian, Girolamo Giovinazzo who broke down in tears of joy after his victory.
One of the favourites, Islam Matsiev of Russia, was eliminated by Hansoku-make in the last 16 round when the referees judged him to have fallen dangerously on his head. Another early favourite, Yordanis Arencibia of Cuba, was eliminated in the first round when he was strangled unconscious by Georgi Vazagashvili of Georgia. The veteran former European champion at both -60kgs and -73kgs, went on to claim the other bronze medal with an eventful victory against Van Kalken. Both fighters picked up chui in a tense opening but then the Georgian scored Yuko with Yoko-sutemi-waza. He was more attacking and looked the more likely to score again until a bizarre move when both fighters attacked and seemed to roll onto their backs.
It was impossible to dicifer who should have been awarded a score as it happened so fast and it really wasn't clear who made the initial impetus or who finished on top. Waza-ari was controversially awarded to Van Kalken so he moved in front. He was then penalised Keikoku to level the scores and then both fighters walked a tightrope as another penalty for either would have handed the bronze to the other. The tense was finally broken when Vazagashvili scored Waza-ari with another Yoko-sutemi-waza to deservedly win the fight. He celebrated in footballesque fashion, whipping off his jacket and performing a mini-lap of honour.
Cuba's Legna Verdecia and Husein Ozkan of Turkey spectacularly avenged their defeats at last year's World championships in Birmingham with convincing victories over their former conquerors at the 2000 Olympics in Sydney.
Verdecia made up for her controversial defeat in Birmingham by throwing Noriko Narasaki of Japan for Ippon with a drop Seoi-nage to win the women's -52kgs category. Narasaki actually slid off Verdecia's wrong shoulder but the full score was given and Verdecia jumped around in delight before bounding into the delirious arms of earn charismatic coach, Ronaldo Veitia.
Narasaki almost won the fight in the opening seconds when she threw the Cuban for Waza-ari with a swift left-sided Osoto-gari attack. But it wasn't to be and the Cuban it was who won her place on the top step of the podium. Narasaki had actually been the more impressive of the two in the preliminaries with a string of Ippon victories, including the semi-final where she made short work of Yuxiang Liu of China. Liu scored first with Morote-gari to earn a Koka, but after another attack she made a mistake in Ne-waza and was pinned for Ippon with Mune-gatame. That disaster sparked a heated argument between Liu and her coach, although she bounced back to take a bronze at the expense of Deborah Gravenstijn of the Netherlands.
Verdecia struggled throughout the day but found her rhythm in the final. After throwing Miren Leon of Spain for Ippon with another drop Seoi-nage, she needed two judges' decisions to reach the final, the second of which, against the -48kgs gold medallist from Atlanta, Sun Hui Kye of North Korea, could easily have gone either way. But it was to be Verdecia's day and no-one could deny she deserved her crowning glory after the travesty of losing the World championship final last year when she was clearly the superior fighter. She said: "I prepared very well for the Olympics. It is a dream to win Olympic gold and it means so much for me and my family. It is so important for the Cuban people. Now I just want to keep on training for the World Championships in Munich next year."
Verdecia's defeated semi-final opponent, Kye, bounced back in fine style to take the other bronze medal with two stunning Waza-ari scores against Ioana Maria Dinea of Romania. First she used great power to score with a Bodavelli pick-up and then great speed and subtlety to score with a drop Seoi-nage. Kye was disappointed not to win gold, she said: "I am not terribly satisfied with bronze and I will try very hard in the future to win gold." Then she turned her attentions to the magnificent support she received from the energetic Korean cheerleaders who raised the roof for every Korean fighter, whether from the North or the South as they waved Korean peninsula flags and wore T-shirts brandishing a picture of the landscape of a united Korea. Kye added: "I am really thankful to the cheerleaders, they were so passionate. I feel we should not be separated. We are the same race and the same country so I am sorry I didn't get the gold for the South and the North."